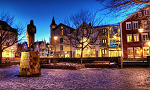 Iceland is located in the North Atlantic Ocean and is regarded as part of Nordic Europe. Despite the cool name, Iceland isn´t as cold as you might imagine and this is because of the warming effect of the Gulf Stream. Winters are similar to that of New England! Iceland is a visual treat for anyone who enjoys vast and eerie landscapes of unearthly beauty. Due to its proximity to the Arctic Circle, the sun sets only briefly each day at the height of summer, and during winter there are up to 20 hours of darkness – quite a contrast! Early or late winter can be a great time to visit, as you still get about 7 hours of daylight but you'll avoid the tourist seasons when it is more expensive to travel and stay in Iceland. Iceland is split into various regions, with Southwest Iceland being home to the capital Rekjavik and most of the island´s 320,000 inhabitants, and South Iceland featuring most of the tourist attractions, including the Golden Circle. If you'd like to see dramatic waterfalls and impressive lava fields, head to North Iceland, while West Iceland is where you can visit the Snæfellsjökull glacier and the islands of Breiðafjörður.
Apartments and Accommodation
Iceland has a well-developed tourism industry and throughout the island there are many accommodation options such as hotels and hostels. Hotels around the island tend to be fairly basic, but the major cities have a number of Scandinavian style hotels such as Nordica. Wimdu offers a great selection of self-catering apartments and cabin accommodation to suit all types of travellers and budgets. From an apartment in Rekjavik to a cottage in the amazing landscape of the South of the island, there are lots of appealing rentals to choose from.
Fun Facts!
Beer was illegal in Iceland until 1989 – what a crazy thought!
Icelanders exclusively address each other by their first names - even to the Prime Minister!
Icelandic people love the cinema – more of the population watch movies than any other country!
60% of the population live in Rekjavik.
The Icelandic language has remained virtually unchanged for 1,000 years.
Things to Do and See
Landmannalaugar is an area of amazing beauty that is situated near to Rekjavik – take a bus (or by 4x4) and get a good idea of what the rest of the less accessible and rugged interior area of Iceland looks like. The scenery is amazing and something you will not see anywhere else! Þingvellir National Park is also worth a visit – it's where the longest running parliament is held. It's also where you can see the location of the rift that is tearing apart the North American and European continental shelf plates – amazing! You can find the park 20 - 30 miles to the North of Rejkjavik.
Glacier hiking is a very popular thing for tourist and residents to do in Iceland, there are many companies that offer hiking all year round, but you should book online before you go as it often tends to be cheaper. The most popular area for this is Skaftafell in the Southeast, here you will find amazing glaciers. White-water rafting is also popular - North Iceland has some of the best rivers for rafting such as Vestari, Austari and Jokulsa, but be careful!
Iceland's Food Delights!
Icelandic cuisine has evolved in recent times - it used to primarily feature lamb or fish in one form or other. Today there are a number of vegetarian restaurants to be found in Rekjavik. Here are some traditional Icelandic dishes that are worth looking out for and trying (if you can stomach them!). harðfiskur, is a snack of dried fish pieces eaten with butter –yum! Hangikjöt, smoked lamb – delicious! Skyr, a flavoured or unflavoured dairy product similar to yoghurt, low in fat and high in protein. Svið, singed sheep's head. From late January to early February in Iceland visitors may be invited to a Þorrablót, a gathering at which Icelanders enjoy a selection of traditional cuisine which possibly contains the following: hrútspungar (pickled ram's testicles), hákarl (putrefied shark cubes), Lundabaggi (sheep's fat) and Sviðasulta (brawn [head cheese] made from svið). Don´t be afraid to refuse (politely) some of the more unpalatable delicacies - many Icelanders will choose not to eat them either! There will be plenty of more "normal" foods there as well - just ask! You also have the option of cooking in your self-catering accommodation.
Getting Around Iceland
The international airport is Keflavik and is located about 25 miles from Rekjavik. It is best to take the Airport Express to get to the city because it runs between the airport and various hotels in the city. Even if you are not staying in hotel accommodation, one of them may be situated close to where you are going. There is also a bus (eg. Netbus) which calls at the Blue Lagoon on the way from the airport and continues on to Rekjavik every half hour or so. You can also reach Iceland by ferry from Denmark via the Faroe Islands.
Getting around Iceland is best done with a car because there is no railway service and long distance bus trips can be more expensive - even more than flying! Flying is another popular way to get around the island and is widely used by the population. Be careful however if you´re entering one of the fjords - it can make for quite a bumpy ride. Taxis are available and a great way to get you to and you're your apartment.