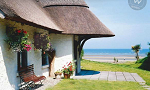 Ireland is one of the prettiest and most popular holiday destinations of Western Europe. It's the third largest island in Europe and lies west on the edge of Europe. The capital of the of Ireland is Dublin which is both a lively and sleepy Irish city. Ireland is a particularly lush and green part of Europe and its landscape is characterised by rolling hills, dramatic mountains in the west and stunning coastline all over. Irish people are known for their friendliness and hospitality and visitors to Ireland are guaranteed a warm welcome! There is plenty of accommodation options to choose from in Ireland, from country side cottages to self-catering holiday homes. Each city and town is host to many hotels and hostels also. Ireland is steeped in history, culture and language and there are many traditional music festivals that take place around the island throughout the year – they are not to be missed! Ireland is also host to many of the oldest historical sites in the world such as New Grange which dates back to 3200 BC and the Rock of Cashel, a castle which dates back to the 12th century. You will be sure never to be bored, with something for everyone to love on the green isle! Keep reading to find out why we love Ireland so much!
Self-Catering Cottages and Holiday Homes
Ireland welcomes many tourists to its shores every year and there are hotels, bed and breakfasts and youth hostels spread out across the island. Wimdu offers a great selection of accommodation all over Ireland such as beautiful Irish cottages and self-catering holiday homes to suit all types of travellers and budgets. Depending on what part of Ireland you would like to visit will also depend on the selection of accommodation. The west or Ireland is host to more cottages while the east and the cities have more self-catering holiday homes to offer. Check out our map to see what is on offer.
Fun Facts!
3 million pints of Guinness are brewed in Dublin every day!
The White House was designed by an Irishman – James Hoban!
Halloween began as an Irish festival originally called Samhain.
The Titanic was made in Ireland.
Ireland has some of the oldest historical sites in the world
The official first language in Ireland is Irish!
Things to see and do in Ireland
Things to see and do in Ireland
In Ireland you'll find a whole host of excellent cities to visit. The capital Dublin boasts many excellent tourist attractions including Guinness Storehouse Brewery and the Jameson Factory. Dublin is also host to some excellent parks including St Stephens Green and Phoenix Park (which is one of the biggest parks in Europe!). Nightlife in Dublin and Belfast is considered to be very good and Temple Bar is popular with stag nights and people on weekend breaks. In the west of Ireland the cities of Galway and Sligo are great seaside holiday destinations which both host excellent beaches, cosy pubs and great dining options. Galway is a popular arts town and many of Ireland's most popular writers and musicians reside in the town. Cork is the far south of Ireland hosts the famous Cork Jazz Festival and nearby fishing town of Kinsale is a typical picture postcard Irish town. Limerick is becoming increasingly popular with tourists due to its hip and modern city centre. Ireland has so much to offer in terms of excellent eating and drinking options and you should definitely explore some of the smaller settlements, particularly in the centre of Ireland. You'll receive a warm welcome from the locals and they'll be happy to tell what are the best things to see and do in their area!
Amazing Landscape
Ireland boasts some of western Europe's most dramatic countryside and landscapes. In the south of Ireland in County Clare you'll find the amazing Cliffs of Moher. These huge cliffs look out upon the Atlantic Ocean and nearly a million visitors visit the cliffs every year. In North-West Ireland near the city of Sligo are the epic limestone mountain of Knocknarea which dominate the local landscape. In the north of Ireland you'll find the amazing geological phenomenon known as Giant's Causeway. This amazing feature consisting of 40,000 interlocking basalt rock columns is extremely photogenic and is also very popular with tourists. To the south of Dublin are the Wicklow Mountains National Park that is a popular outdoor pursuits destination – it's also where the water used to make Guinness comes from! There is plenty of self-catering cottages on offer around Irelands country side, take a look at our map to see what's on offer!
Tasty Food and Drink
Ireland is well-known for its excellent cuisine including Irish stew, fresh seafood, soda bread, Irish breakfasts and tasty cakes! Guinness is without a doubt one of Ireland's most famous exports and you'll find this tasty pint of stout beer all over the world – quite an impressive feat for such a small island! Most pubs in Ireland have a kitchen serving up traditional Irish food and in recent years more and more focus has been put on modernising traditional dishes. An increasing European influence can be seen on menus across Ireland too!
Getting Around
Getting to Ireland has never been easier and there are major airports in Dublin, Belfast and Knock. You can get to Ireland from all over Europe and there are many flights flying from London, Amsterdam, Berlin and Barcelona. Most flights from locations in West Europe to Dublin take less than two hours - it's a very accessible holiday destination! You can also take a ferry to Ireland from Wales and England and ferries typically take 4 hours to get from mainland Britain to Ireland. Once you're in Ireland the best way to explore the country is by car. You'll find many car rental businesses in Dublin and Belfast and touring Ireland by car is popular with tourists. You can also get around Ireland quite easily and quickly by train and bus. Buses are the best value way of exploring the country and link cities such as Dublin and Galway, Belfast and Dublin, Cork and Limerick and Sligo and Galway. Cities in Ireland boast good public transport and Dublin in particular has a good tram system.