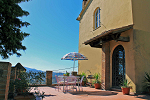 The Mediterranean country of Italy is one of Europe's top destinations and boasts some world-famous places, sights and top attractions. Italian culture and food is famous worldwide and Italian food such as pizza and pasta can be found all over the world. Italy played an important part in establishing European culture along with Greece and part of the attraction of visiting Italy is immersing yourself in the rich history that surrounds you. Italy is a country of contrasts and the north and south of the country are wildly different. Wimdu offer villas and self-catering apartments throughout Italy, so decide where you want to visit and search for accommodation!
Fun Facts
The pizza was first cooked in Naples in the 1860s
The piano hails from Italy
50 million tourists visit Italy every year!
Nearly 80% of Italy is mountainous or hilly!
The average Italian person consumes half a pound of bread a day!
Where to Stay in Italy - Apartments, Villas and Self-Catering Accommodation
Wimdu have a wide range of accommodation throughout Italy and we have something to suit every budget and need - whether you are looking for a villa in Tuscany or a self-catering apartment in the heart of Rome. Chose where you stay carefully – if you want to fill your days with culture and interesting activities then perhaps the north of the country is more suited to you. If you are looking to get away from it all and relax then the south of Italy or Sardinia is where you should head to! Our range of accommodation means that you can search for extra bedrooms, en-suite bathrooms, swimming pools and children's facilities, depending on what you need.
Italy – Things to Do and Places to Visit
Italy can be divided into several distinct regions, each featuring their own distinctive landmarks, culture and way of life. Let's begin in the north of the country…
North West Italy
In north west Italy you'll find some of Italy's biggest industrial areas as well as the beautiful Italian Riviera which includes the fishing village and popular yachting destination Portofino, and the area of Cinque Terre. Two of Italy's biggest and most financially significant are located in the north of the country – Milan and Turin. Milan is one of Europe's fashion and shopping hotspots whilst Turin is home to some of Italy's grandest boulevards. Lake Como is a hugely popular tourist spot and attracts many people who are drawn to the beauty of the lake and the surrounding area. Wimdu have some stunning self-catering apartments and villas in the north west of Italy, especially Tuscany.
North East Italy
If you thought the north west of Italy was full of interesting things to see and do, then you'll be amazed to hear about the north east! There are many interesting facets to this region including the Dolomite mountains and the ski resorts at Cortina d'Ampezzo, beautiful cities such as Verona and Palma, capitals of cuisine such as Bologna and of course Venice! There's enough in this region to keep you occupied for days. We're sure you'll be amazed by the beautiful canals of Venice and the food available in Bologna is among the best you'll find in Italy!
Central Italy
Central Italy is where you'll find its capital, Rome. Rome is without a doubt Italy's most famous and beautiful attraction and the city is a living and breathing museum with history on every corner. Wonders of the Roman Empire can be seen on every corner and the Trevi Fountain is a particularly staggering piece of design and so is the world famous Coliseum. In Tuscany you'll find the renaissance city of Florence with its spectacular Duomo, to its east lies the leaning Tower of Pisa!
Southern Italy
The further south you head in Italy, the more rural and agricultural the landscape becomes. Nestled in this beautiful and often hilly landscape are several of Italy's best loved attractions. Naples is a vibrant and busy town worth exploring, as is the ruined city of Pompeii which stands in stark contrast to Naples. There are many miles of beautiful, unspoilt beaches throughout the south of Italy such as at the romantic Amalfi Coast and Calabria. It might be Italy's least visited region but it's gaining popularity as word spreads of its magnificent beauty, peaceful way of life and great eating options.
Sicily
The fifth region of Italy is the large island of Sicily which sits off the southern coast of Italy. The island is famous for its beautiful architecture, vast stretches of exquisite coastline and great cuisine. Many people are drawn to the rugged beauty of the island and Sicilian wine in particular keeps people coming back year after year!
Sardinia
Lying 250km west of Italy is the tranquil island of Sardinia. It's a popular destination for holidaymakers and the island offers great swimming, yachting, camping and windsurfing opportunities. The beaches are perhaps the island's greatest asset and you'll find some of Italy's best beaches! There's always the chance that'll you'll stumble across your own deserted beach that you can enjoy all for yourself! Wimdu recommends the beaches of Cala Mariolu and Cala Goloritze.
Getting Around
Italy has several major airports and is often referred to as the battleground for the low cost airline companies who take tourists often on package holidays from various European countries to Italy. All of Italy's major cities including Rome, Bologna, Milan and Turin have airports – the country is very accessible. Getting around the country is straightforward thanks to a well-developed rail network and good roads. Hiring a car will allow you to choose exactly where you go and allow you to explore and discover interesting corners of the country! If you choose accommodation in a rural place, such as a remote beachside villa or mountain apartment then you will find a car to be absolutely vital.