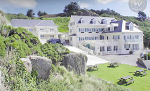 Jersey is an island located in the Channel Islands and is the largest of the several islands that make up the group of islands. It has over 45 miles of stunning coastline, several pretty towns and amazing flora and fauna. It is the Channel Islands most southerly island and lies just 14 miles off the coast of France. Jersey has a mild climate which has made the island popular with tourists for decades, and you can even find exotic plants growing on the island! Jersey is located close to Guernsey, another Channel Island also popular with tourists. Jersey has had quite an eventful history and was occupied by the Nazis during World War 2, this period of occupation saw about 8,000 islanders evacuated. There is something for everyone to love on the island of Jersey. Keep reading to find out more about what Jersey has to offer those who visit!
Accommodation in Jersey
Every year many people visit Jersey and the Channel Islands and the island relies on tourism to support its economy. There is predictably lots of accommodation on Jersey ranging from upmarket hotels, self-catering holiday homes and backpacker friendly hostels. If you are planning on visiting Jersey and are looking for somewhere good value to stay, why not consider Wimdu accommodation? We have a great selection of self-catering apartments, beautiful island cottages and guest rooms to suit all types of travellers and budgets. Check out our offers to see what's available, We're sure you'll find your ideal accommodation on Wimdu!
Fun Facts!
The word 'jersey' was originally used to describe any knitted clothing made from Jersey wool.
Jersey has one of the world's largest tidal ranges – when the tide is out the island grows by a fifth!
People from Jersey are sometimes called 'Crapauds'.
Under the poplar suffers beach St Ouen's Bay there is a prehistoric forest buried!
What to See and Do
The Battle of Flowers is an annual Jersey carnival that happens every year on the second Thursday in August. The festival consists of music, dancing, funfairs and of course, lots of flowers! Around 20,000 people attend the carnival which focuses around a huge parade of flower floats that move through the streets of St Helier. Since 1989 a Moonlight Parade has taken place every year where the floats are decked out with lights and are paraded around in the dark – it's great to watch and the party atmosphere is increasingly popular with tourists and locals alike. St Helier is Jersey's main town and many people enjoy relaxing in the cafes and pubs along the water front. You can also get a good dose of retail therapy in St Helier as there are many excellent shops stocking locally made trinkets and souvenirs. Elizabeth Castle is located in St Helier and was built in the rocky inlet in the 1590s. Visitors can enter the castle and learn about the important role the castle played in Jersey History. Several exhibitions tell the story and an onsite restaurant several tasty locally made food! St Helier's Maritime Museum is also worth visiting and contains some interesting exhibitions on shipwrecks and other local ship related stories. Jersey is famous for the many excellent water-sports opportunities on the island. St Ouen's Bay is a surfers paradise whereas Plemont Bay is popular with snorkelers. Perhaps the islands most famous beach is St Brelades's Bay and many locals and tourists alike flock to the beach when the weather is nice. Cafes and restaurants line the beach front and the place is well catered for visitors. You'll find lots of accommodation such as hotels and self-catering cottages here too! Check out our map to see what's on offer.
Eat and Drink
Jersey is home to some excellent restaurants that cater to nearly all tastes – there are over 300 restaurants in total in the Channel Islands! There are three Michelin starred restaurants on the island too! There are many French, Italian and Portuguese restaurants on the island. Jersey produces a lot of fresh produce also, when you visit you will see farmers baskets full with fresh fruit and vegetables along the roads. If you opting for self-catering accommodation, why not try cooking with some of the islands great produce. There are many pubs and clubs on the island which is surprising considering the size of Jersey. There is also a good music scene on the island and the town of St Helier is generally regarded as the best place for going out in.
Getting Around
Jersey Airport is the island's only airport and Airfrance, FlyBe and British Airways all operate at the airport and there are regular flights scheduled between Jersey and London. Aer Lingus also operate flights between Jersey and Dublin, Ireland. Getting to Jersey by boat is also popular and there are ferries connecting the island with mainland Britain and nearby Guernsey. You might be surprised to learn that there is over 350 miles of roads on the island of Jersey, despite its small size. If you are planning on driving on Jersey then be prepared - the roads are quite narrow so take caution whilst driving! Getting around the island with public transport is possible and there are two bus routes – one which goes to the east of the island and one that goes to the west. Car hire is popular and can be easily arranged – St Helier has several car hire businesses offering cars at decent rates.