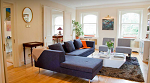 The London borough of Kensington and Chelsea began life as a small fishing villages on the banks of the Thames. In Victorian times the districts were frequented by 'Bohemian' residents such as Whistler and Oscar Wilde. Today Kensington and Chelsea are considered one of London's most exclusive neighbourhoods and are both part of the royal boroughs of London. Situated in the south of London, the districts are known to contain some of the most expensive houses and apartments in the world - being home to countless A-list celebrities (both British and international!), as well as a haven for successful businesspeople and other affluent members of society. The districts are also home to an array of museums including the Natural History Museum and the Science Museum as well as many great parks such as Hyde Park and the Chelsea Physic Gardens. Not to forget many upper-class shopping streets such as Sloane Street and King's Road, one of London's smartest fashion streets! Keep reading to find out why we love spending time in this high-class neighbourhoods!
Apartment Rentals and Guest House Accommodation
There is a great selection of accommodation available in Kensington and Chelsea, from up-market hotels to traditional English guest houses. If you would like to stay in this districts without paying premium prices then check out what Wimdu has on offer. We have stunning apartment rentals, studio rentals and guest houses to suit all types of travellers and budgets. With over 230 property rentals to choose from we are sure you will find your ideal apartment.
What to see and do
The district of Kensington and Chelsea is rich in culture and history, and this is evident from the amount of great museums the district hosts. No visit to would be complete without a visit to one or some of these fascinating museums. We recommend paying a visit to the National History Museum, which displays hundreds of exciting, interactive exhibits in one of London's most beautiful landmark buildings. The museum can be enjoyed by young and old and entry is free to all. If you still want to soak up some more history then head to the Kennington Gardens to visit the Albert Memorial. The memorial is a stunning example of ornate Gothic architecture and pays tribute to Prince Albert, the German husband of Queen Victoria after his death aged 42 in 1861. Not far from the Albert Memorial is Kensington Palace , once home to the late Princess Diana, the Palace gardens are open to the public. There is a huge amount of history that can be seen in the gardens from different members of the Royal Family who once lived in the Palace. The Royal Hospital located in Chelsea is another great attraction to visit, while in the neighbourhood. Designed by Christopher Wren and built as a place of refuge and shelter for veterans of the New Model Army who through long service, and, or disability had been reduced to poverty. Today it still the hospital remains unchanged and still used for veterans. To the South West of the hospital is the National Army Museum which can also be visited by the public. On the 29th of May every year, Chelsea pensioners in their distinctive red uniforms and three cornered black hats parade in the central quadrangle. If you are in Chelsea around that time it is well worth your time! If you have an eye for art, then make sure you don't miss visiting the Victoria and Albert Museum. Opened in 1857 by Queen Victoria is the world's greatest museum of the decorative arts. There are four million objects held at the museum and span some 3,500 years of human creativity!
Shop till' you drop!
The borough of Kensington and Chelsea is one of London's best shopping districts. The area is known for exclusive, high-end shopping streets as well as some of the biggest names in London's shopping centres which include Knightsbridge, Kensington High Street and Notting Hill to name a few! In these centres you will find big retail names and a wealth of quirky independent shops bars, cafes and restaurants that makes shopping in the Royal Borough unique. If you do plan on doing a spot of shopping around this area, make sure you bring a deep wallet with you, as prices for items can easily max out your credit card!
Eat and Drink
As you may expect, Kensington and Chelsea has an array of excellent bars and restaurants. It is very hard to go wrong when searching for a restaurant or bar in this district! And don't worry - although this bit of London is (generally) expensive, there's something for all budgets. Some of our favourite places to eat include: Balans, located on Kensington High Street, this restaurant serves an array of cuisines along with delicious home-made recipe cocktails. There is something for everyone to love at Balans! Bluebird is another great restaurant/bar. Bluebird is the place to be and be seen in Chelsea, it is a local neighbourhood restaurant on a grand scale, serving modern European cuisine. It comprises a restaurant and bar, café and courtyard, food store, wine cellar and bakery! Pasha also located on Kensington High Street, is a wonderful Moroccan restaurant that's as much a feast for your eyes (amazing decor) as for your taste-buds!
Nightlife!
Nightlife You will be in for a night of glamour and fun with the nightlife in Kensington and Chelsea. The district has plenty of refined late bars to high-profile nightclubs! Here is where we like to let loose when visiting the area: Boujis is a super stylish Kensington club serving a wide selection of drinks, including an impressive cocktail selection. A members only club at the weekends but open to the general public during week-days. Eclipse is another up-market club which oozes glamour and has become a must for every discerning cocktail lover, keep an eye out for the odd celebrity – they are known to party here! Embargo 59 is Kings Road's finest nightclub, famous amongst Chelsea's elite clubbers. The club boasts a unique and heady cocktail of glamour, serious partying and an inimitable, effortless style. Everyone should party in Embargo at least once while visiting the district!