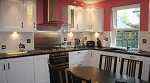 Keswick is the tourist hub of the Lake District National Park. It's a picturesque town comprised of pretty cottages and townhouses and set against a frame of beautiful mountains. Keswick is known for its excellent shops and high standard of restaurants. Many walkers, climbers and adverturers drawn to the Lake District find Keswick the perfect accommodation base for their daily excursions up into the hills and they enjoy returning after a long day to a good meal in a local pub or takeaway fish and chips in their own little apartment. Towering over Keswick is the fourth highest mountain in Britain, Skiddaw and the town sits on the edge of Derwentwater, one of the Lake District's most well-known lakes. Keep reading to find out some of the highlights of this excellent English town!
Where to stay
Due to the large number of walkers, writers and families visiting the area all year found, there is plenty of accommodation available in Keswick. Whether you are looking for your own little cottage or apartment, a no-fuss bed and breakfast or the freedom of self-catering, you will find a range of options to choose from on Wimdu. A traditional English cottage is the most popular option as it really adds to the charm of the village. Staying in self-catering holiday home also you have more space and access to your own kitchen and cooking facilities, which is perfect if you want to prepare some sandwiches for the walk, or put on a hearty casserole for when you return home: giving you the opportunity to really experience what it's like to live in Keswick. Take a look at Wimdu's list of accommodation in Keswick, we think you'll find something to suit your tastes!
Fun Facts
William Wordsworth, famous English author, lived and wrote in the Lake District.
Tourists spend nearly £1bn pound in the Lake District every year!
There is only one 'official' lake in the Lake District – It's called Bassenthwaite Lake!
Ian Taylor who founded Kingsmill bread company was born in Keswick!
What to see and do
A Beautiful town and lovely setting
Keswick town sits on the beautiful banks of one of the Lake District's most famous and beautiful Lakes – Derwentwater. There are two landscaped parks in the town that are enjoyable to walk around and above the town sits a small stone circle that is believed to be over 4,000 years old. Wherever you are staying in Keswick you'll find pieces of its history – St Kentigern's Church dates back to AD553 and market which occurs weekly was first established in the 13th century. Friar's Crag is an excellent viewing point with views over Derwentwater. With so many excellent pubs in Keswick , you're sure to find your nearest local only a short walk from your cottage, where you'll be able to sample fresh local cuisine including fish from the lakes and locally brewed real ale.
The Lake District
Get up early and make yourself a hearty packed lunch - you're going to need it if you go walking in one of Keswick's most famous parts. The beautiful Lake District covers 885 square miles of amazing mountainous landscape and attracts a great deal of keen walkers. There are walks for walkers of all abilities – short walks to Friar's Crag and around the lake for beginners whilst climbing Skiddaw is one of the Lake District's most challenging hikes. Another popular walk is the walk up Catbells Mountain. From Keswick Catbells looks both straightforward to climb and near enough to be accessible. Many walkers take a short ferry across the lake and begin their ascent on the other side of the lake. More intrepid walkers should attempt to climb England's highest mountain – Scafell Pike. It's certainly a challenge and there's always a buzz around of group of walkers who have just come down off the Pike. Hard-core walker or not it's easy to find yourself lost in the mountains, not to return to your cottage until sunset long gone!
Local Attractions
The Cumberland Pencil Museum documents 350 years of pencil making in the nearby factory that was established when graphite was discovered in the local hills. It's a great way to spend a few hours on a rainy day if you don't want to stay cooped up in your cottage with the kids. The Keswick Museum & Art Gallery is a Victorian museum with permanent collections and temporary displays covering local art and history. The Theatre By The Lake offers a great night out for those who like plays and theatre performances. It is open every day and during the summer the theatre puts on plays on consecutive nights. The Cars of the Stars Museum is well worth a trip to too! The museum displays a collection of classic cars from films such as Chitty Chitty Bang Bang and the James Bond franchise. So take a look at what's close by to your accommodation and plan your rainy day accordingly.
Getting Around
Keswick's nearest train station is in the nearby town of Penrith which is located east of Keswick. Regular buses connect Keswick with Penrith and the journey takes 30 minutes. Getting to Keswick by car is very fast – from the M6 motorway Keswick is just 17 miles along the fast moving A66. Parking can be problematic and it's expensive to leave your car in the centre Keswick, so if you're visiting with the family it might be worth choosing a cottage a little further out with driveway access. Further out of time you'll find free parking on smaller streets. Getting around Keswick is easy as the town is quite small. You'll find everywhere is accessible on foot and just a short distance away. Keswick is something of a transportation hub for the surrounding hills and towns and buses are available to all the popular destinations. On Derwentwater the Keswick Launch runs water taxis across the lake and to the seven jetties dotted around the edge of the water.