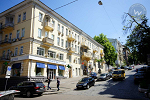 Kiev is the capital city of Ukraine, and with around three million inhabitants and a history dating back to the ninth century, it is one of the largest and oldest cities in Eastern Europe. Dive into Kiev's fascinating history and spend a long weekend heading out from your Wimdu apartment to explore the charming cobbled streets, and the many golden-domed churches and monasteries, before enjoying an evening out in Kiev's buzzing bar scene. There is so much to discover in this unique and interesting city - but if you are feeling especially adventurous you can take a guided day trip to the former Chernobyl Nuclear Plant and the dead city of Priyapat.
Fun Facts about Kiev
There is a local saying that Kiev is such a green city that you can walk from one end of Kiev to the other without ever leaving the shade of a tree
Visit the Museum of Miniatures to see Kiev's famous shod flea - a flea with tiny golden shoes
The deepest underground train station in the world is the Arsenal'na metro station in Kiev, which lies at a depth of 105 metres
Famous Russian novelist Mikhail Bulgakov said that "there is no more beautiful city in the world" than Kiev
Where to Stay - Apartments and Accommodation to Rent in Kiev
Banish all thoughts of dour Eastern bloc style housing blocks from your head, and check out the range of accommodation available to rent through companies such as Wimdu. Apartments are plentiful and perfect for those on a budget - you can rent an entire studio apartment for less than £30 a night. If you are going in a group you will easily find larger accommodation, with extra or en-suite bathrooms, and facilities for children.
Things to do in Kiev
No trip to Kiev would be complete without a wander around Saint-Sophia Cathedral. It is without a doubt the jewel in the city's crown, and has been recognised as such by UNESCO who have declared it a World Heritage Site. It was built in the eleventh century in an attempt to both honour and outdo Instanbul's Hagia Sophia.
For an insight into Kiev's long and turbulent history, check out the National Historical Museum, which is housed in an imposing building and contains exhibits from ancient to modern times.
The Kiev National Opera House is beautiful, and the architecture alone is worth the price of admission, so get a ticket for a performance!
For a sobering look at a 20th century tragedy, spend a few hours at the Chernobyl Museum for a fascinating and moving look at one of the biggest nuclear accidents to ever take place. No English signage, but there is a very good English audio guide available.
Take a walk down Khreshchatyk Street which is full of opportunities for people watching, along with lots of street entertainers. It is closed to traffic on some weekends, making it an even more chilled out and pleasant experience.
Please note that English is not widely spoken in Kiev, so it is recommended that you get yourself a Ukrainian or Russian phrasebook so that you don't have trouble being understood, especially in restaurants, bars and shops away from the main tourist areas. Most signs are also in Cyrillic script as well, which can cause some confusion if you are not used to it. Be adventurous and try out some Russian or Ukrainian though - you will find the people of Kiev very friendly if you are prepared to put in a little effort with their languages!
Eating and Drinking in Kiev
Kiev offers the range of international food options that you would expect from any large capital city, but Ukrainian cooking is really worth trying out during your visit. The most famous food to come from the country is of course borsch, the tasty soup with a base of beetroot, carrots, spinach and meat. It is usually served as an appetiser with bread.
Another local speciality is the varenyky, a type of stuffed dumpling which come in savoury varieties such as sauerkraut, potato, mushroom, salty white cheese or liver, or sweet with cherries, strawberries or fresh white cheese fillings.
One very traditional Ukrainian dish for meat lovers is salo, slabs of fatback pork, served either with or without skin. Try Shynok or Pervak for some really authentic Ukrainian food or of course just ask your accommodation's host for a tip for a local restaurant that is walkable from your apartment.
Once you have finished eating, head to one of Kiev's popular bars or clubs. Start at Blyndazh, a military themed bar, for some cheap drinks, then move onto Orech and try its selection of local beers. Also fun is Trolleybus which offers home-made vodka-based spirits. When you are in the mood for dancing, you could try out Bar Fidel which is open till 5am, or Art Club which offers live music every day.
Getting Around Kiev
You will probably arrive into Kiev via Boryspil Airport and you can get a bus or taxi directly from there to the centre of Kiev.
It is easy to make your way around the city. The usual buses and metro are available, as well as more unusual forms of transport such as trams, trolleybuses, riverboat and even a funicular (or cable) railway! The tram system is the oldest in Eastern Europe and is gradually being phased out but is still currently available. The wide range of transport means that wherever you decide to rent your apartment or holiday accommodation you won't find it difficult to get home after a day out.