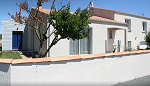 The beautiful town of La Rochelle is located on the southwest coast of France in the Poitou-Charentes region and is the perfect spot for a relaxed holiday en France. Beautiful beaches, clear blue water and excellent restaurants and nightlife make this one of the most popular tourist destinations in France. Between the 16th and 18th centuries, La Rochelle was the largest seaport in the whole of France, and the town's seafaring background can be seen in the different cultural influences in the town. Whether you are interested in the history of La Rochelle or would prefer to soak up the sun on the pristine sand, book your apartment today for a perfect holiday!
Fun Facts about La Rochelle
As well as being popular with other European holidaymakers, La Rochelle is also the tenth most visited place in France, by the French!
In La Rochelle, there are so many places to eat, that you can eat somewhere new every day for a year!
During the Second World War, Germany established a submarine naval base at La Pallice (the main port of La Rochelle)
Where to Stay in La Rochelle
If you can find an apartment in the old town, book it straight away! This is the most charming area of the town, and you will be within handy walking distance of loads of restaurants and bars - particularly useful if you are in self-catering accommodation. If you are travelling as a family, take a look at renting a villa on the outskirts - you can search on the Wimdu website for accommodation with swimming pools and the number of bedrooms and en-suite bathrooms you need, for the perfect holiday!
Things to Do and See in La Rochelle
La Rochelle's maritime history is really important to the character of the town, and is as good a place as any to start exploring! When you arrive, head to the Old Port with its harbour entrance towers, La Tour Saint- Nicolas, La Tour de la Lanterne and La Tour de la Chaine which stand facing the Atlantic and are the most important remains of La Rochelle's Mediaeval fortifications. To protect the port after sunset, a huge rope would have connected the two towers, preventing the enemy boats from entering! If you're feeling fit, climb up one of the towers for an incredible panorama of sea and city.
For an insight into La Rochelle's place on modern waters, head to Port des Minimes and check out the luxury yachts! If you have an interest in this side of the town's history, spend a few hours in the ´Maritime Museum which traces the long history of the city's ports.
Visit the Old Town
The old town is an absolute treasure just waiting to be explored. Start your stroll at the imposing structure of La Grosse Horloge - built in the twelfth century, it was the entrance of the city gate. For security reasons, it is no longer possible to enter it, but you can still admire the Gothic building from the outside. There's no need to make a particular plan for exploring the old town - be drawn down an interesting looking side street and spend an hour people watching at one of the many beautiful cafes. It's worth keeping an eye out for L'Hotel de Ville, or town hall, which is a splendid building.
Île de Ré
Take a day trip to this island, which lies off the coast of La Rochelle and is reachable via a 3 km road bridge, by car or bus. It's a lovely place to visit, with a population of 20,000 people spread over the island, and is especially famous for its fresh seafood - so make sure you visit one of the fish markets then take your catch back to your villa to barbecue for a gorgeous evening meal!
Festival Season
La Rochelle offers a packed events calendar throughout the year, so you might want to time your holiday for one that looks particularly interesting to you, and book your accommodation to coincide with it. The biggest music festival is Les Francofolies in July and which attracts over 150,000 music lovers. Other festivals worth checking out include the Festival International du Film for cinema buffs and the Grand Pavois boat show, but the full schedule of events has something for everyone.
Getting Around
You can take the train direct from Paris, or take a ferry to Caen and then take the train from there. Once you are in La Rochelle, you can easily explore by foot - or you can rent a bicycle. Check with your Wimdu host, as some guest houses and pensions will come with bikes. If you intend to use the bus regularly, consider buying a 20-trip ticket for €20.