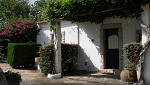 Lagos is a popular coastal tourist town in Portugal's gorgeous Algarve region, famous for its fresh and tasty seafood, excellent weather and relaxed way of life. If you want a holiday in the Algarve, then the ancient maritime town of Lagos is a great place to base yourself and make the most of the activities on offer - whether that means an action packed week of surfing and partying, or a more relaxed holiday exploring the history of the area and enjoying some good food and great weather. The Algarve is a very popular tourist destination, and after a week in a Portuguese villa you will realise why!
Where to Stay in Lagos
Lagos isn't a huge place - its non-tourist population is just a little over 30,000 - so the town is very easy to get around on foot (although taxis are everywhere should you need one). This means that you don't need to worry too much about where your holiday accommodation is situated and you can concentrate more on exactly what you need for your perfect vacation! Booking your holiday home through Wimdu means that you can search for exactly what you want - from a cliff-top villa with a swimming pool, suitable for a family holiday, through to an apartment in the beautiful old town in the centre, full of windy streets and cute little neighbourhood cafes. You can specify if you want en-suite bathrooms, extra bedrooms or children's facilities, or if you are looking for self-catering rooms or a bed and breakfast guest house.
Fun Facts about Lagos
The Algarve holds over 20% of all Portugal's hotels, restaurants and travel agents!
The website TripAdvisor made Lagos their number one travel destination in 2012!
Portugal is the largest producer of cork products in the world!
Things to Do and See in Lagos
Lagos is a great town for a wander - the architecture is very typical of historical towns in the region and is very aesthetically pleasing, with beautiful soft colours that shine and shimmer in the bright Portuguese light. If you are interested in local history, don't miss out on a visit to Igreja do Sao Sebastiano, which is a church with a bone chapel - Capela dos Ossos - on the side. The Church of St Anthony - Igreja de Santo Antonio - with its glorious gilded wood interior is another local must-see.
Head to the Beach
The beautiful beaches and clear (but cold!) blue waters of Lagos are one of the biggest draws for tourists to the area. Whether you are happy baking on the sand with a cocktail or would prefer to get up close and personal with the surf, Lagos can provide! You can rent surfboards, windsurfers, sea kayaks and anything else you could want from various places in the town - and book yourself in for some lessons as well, if you need them - but it is also worth checking with your Wimdu host, as many self-catering apartments come complete with a wetsuit or two and a surfboard or canoe.
The most popular beach for tourists is Meia Praia which is one of the largest open bays in the whole of Europe, and is surrounded by high cliffs which provide shelter from the Atlantic winds. You might also want to book in for one of the town's popular Dolphin Tours which is a great way to see the coast from the sea, whether or not you are lucky enough to spot a dolphin!
Eating and Drinking
Lagos is a seafood lover's paradise, and the sardines especially are famous for being some of the best in Europe - enjoy a simple lunch of fresh grilled sardines with a salad for a real taste of the Algarve! Chicken piri piri is also a regional speciality and well worth a try at one of the many family-run restaurants in Lagos. When you are done with seafood, make sure you try a burger at Nah Nah Bah which has been voted one of the top fifty burger places in the world!
Another option for a tasty meal is to explore some of the local markets in Lagos, and grab yourself a bagful of local delicacies, including fresh seafood, and then head back up to your villa and throw the fish on the barbecue with a little lemon juice and pepper, for a gorgeous evening meal!
Getting Around
The city itself is within easy reach of both Faro and Portugal's capital city of Lisbon. The nearest airport is Faro and then it is a one hour drive. If you take the 125 road you will go through some of the most interesting towns in the Western Algarve, including Albufeira. If you fly into Lisbon, then you can take a train or a bus - the train takes about four hours and the trains are very comfortable. However you arrive, you are sure to fall in love with this most charming of Algarve towns. Book your accommodation today and start planning!