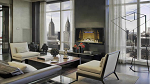 Fifth avenue. Broadway. Park Avenue. West Side Highway. Manhattan has become so famous that even its street names are known by everyone. Manhattan is a long thin island and is only one of New York's five boroughs, but it is this island that holds some of the world's well known buildings such as The Empire State Building, The World Trade Centre site and The Rockefeller Centre. Manhattan also has one of the most famous and impressive skylines in the world, that features on many movies and can be found on countless postcards, posters and pictures. It is this famous skyline that represents New York city and the United States of America! Tourism is has always been huge in New York city and there are a lot of accommodation options available to visitors coming here from, up-market hotels to cost friendly hostels and New York city apartments. There is so much to do and see on this small island that you could spend a week on it and still not get around to all that it offers. Manhattan has a population of 1.6 million people and in 2013 New York attracted more than 56 million tourists to the city. New York as a whole has a countless number of offerings it can show off to the visitors that flock here, but it is truly Manhattan that brings this city to life.
Accommodation in Manhattan
With the island of Manhattan being one of the more popular places visitors like to stay while visiting New York, there is plenty of accommodation options to choose from. The island has some of the most extravagant hotels to cheap hostels you can and cosy bed and breakfasts, but these accommodation options can often become overcrowded during peak seasons. Wimdu offers a great selection of holiday apartments, flat rentals and guest house accommodation to suit all types of budgets and travellers. Why not stay in a down town New York city apartment with the with the hustle and bustle of the city right at your door step, or check out our short term flat rentals, in the heart of New York city! Whatever your accommodation needs are Wimdu has you covered.
Fun Facts!
Manhattan means "island of the hills" in the language of the Algonquin Indians!
Manhattan zip code 10021 has generated more money for presidential campaigns than any other zip code in the country.
Times Square is named after the New York Times Building.
The Federal Reserve Bank on New York's Wall Street contains vaults that are located 80 feet beneath the bank and hold about 25 percent of the world's gold bullion!
An average of 4.9 million people ride the New York City subway each weekday.
Things to Do and See
When deciding on what to do and see while in Manhattan it's hard to know where to start. We would recommend starting off your day by taking in Manhattans breath-taking skyline, one of the best places to do this is by taking a boat tour of the Manhattan bay. There are several companies that do offer boat tours and run seven days a week at various times. While on the boat you can always stop off at the Statue of Liberty and Ellis Island. If you want to climb inside the Statue of Liberty, tickets are available when you enter onto the island, it can get quite busy during the day so we do advise you get there early. The views from the top of the statue are amazing and it is a great place to learn about the history of the statue. On your way back to shore you can stop off the Ellis Island, this is where most of the American immigrants came to register as they tried to gain American citizenship. There are countless stories from an array of country's that can be read about immigrants who left their home country in search of a better life in America. Once back on Manhattan island, take a stroll up 5th avenue, you can gaze at the tall sky scrapers and do a spot of shopping as you walk from one end of the street to the other. If the bright lights of 5th avenue is not enough for you, catch one of New York's iconic yellow taxi cabs to Times Square. A visit to the excitement of Times Square is completely free and it is a great place to people-watch and absorb and experience the energy of all that New York has to offer.
When you get tired of watching the bright lights of Times Square, why not catch one of the infamous Broadway Shows. There are a number of shows that are available to the public on the same night so, if you are in town for while you might want to come back to see one that you have missed! Tickets are on sale from a box office located in the centre of Times Square throughout the day and can be a little pricey depending on what show you are going to see and where you want to sit. If you don't have big money to see one of the big shows, don't worry, the box office will sell off tickets at a cheaper price a few minutes before each show if there is seats still available!
Explore Manhattans natural gem, Central Park! Central Park is home to 843 acres of verdant views, vibrant flora and hidden histories. The park is so big that the only way to see it all is to take it day by day! There are bike rentals available all around the park along with horse drawn carriage rides and Segway tours if you don't feel like walking. Manhattan is also full of fascinating museums, where you can spend hours of your day soaking up rich history, modern art and timeless paintings. Check out Metropolitan Museum of Art on 5th Avenue, entry is free and the museum always has great range of exhibitions. Another great museum to have a wonder around is the Museum of Modern Art (better known as MoMA). MoMA is home to the modern masters. The museum consistently mounts challenging exhibitions from the world's most provocative artists and, in summer, the always-changing architectural garden is a great sight to see.
Eat and Drink!
You will never be short of someplace hip and exciting to eat in Manhattan, the island is full of excellent international cuisines. From Michelin-Starred Restaurants such as JUNOON located in lower Manhattan and TORI SHIN located in upper Manhattan to street vendors like Morocho who sells great taco all the way from Morocco! There is so much food options on the island of Manhattan it is very hard to go hungry – in fact, there are enough restaurants in New York City for one person to eat out every night for 54 years and never visit the same place twice! If you are opting for a self-catering option, then check out some of Manhattans food markets. The Union Square Famers-market is open every Monday, Wednesday and Friday where excellent fresh produces can be found. You can cook to your hearts content in your apartment or flat rental and save that extra cash to see more of what Manhattan has to offer.
New York City is a nightlife capital, with some of the bars in the country clustered around bustling neighborhoods like the East Village and Williamsburg. Manhattan has thousands of bars to choose from whether you're looking for a fancy cocktail on a skyscraper rooftop or a pint in an corner bar – Manhattan has you covered. The island comes alive a night with an array of nightclubs and late bars where there is something for everyone to love.
Getting Around
As big as Manhattan is, it is very easy to get around. Taxis are the easiest way to make your way around the island, but they are not the quickest or the cheapest! Manhattan is notorious for traffic and a taxi fare can get pretty pricey depending on where you are going. Riding the Subway is the most economical way to travel, and the fastest. New York has an extensive subway network which runs 24 hours a day 365 days a year. The subway is quite save contrary to popular movie lore and is a great way to experience life as a New Yorker! Buses are also available and are a cheap form of transport, but just like taxis you can expect to get stuck in a few traffic jams along your route. Walking is a great way to take in the sights, but you will have to allow enough time to get from one destination to the next with the vast size of the island.