Top-Rated Lettings and Properties in Margate
Book Holiday Letting Offers with the Highest User Rating
Pet-friendly rentals in Margate
Explore best dog-friendly accommodation offers and enjoy holidays with your pet
Accommodation with Internet in Margate
Choose your ideal cottage with Internet and WiFi in Margate
Holiday cottages with pool in Margate
Discover best holiday homes and cottages with pool in Margate
Best holiday rental offers in Margate
Price and Availability Index for Margate
Click on any bar to see price and availability information
Holiday Letting Price Information in Margate
We analysed data from the last 12 months and built the graph above to show you accommodation prices in Margate. If you plan to book your accommodation in July, remember it's the most expensive period, with average prices of £214. However, there are periods when prices drop significantly. Booking accommodation for your trip is most affordable in January. In the period 27/01 – 03/02, you will pay on average £142 per night.
Rental availability information in Margate
Above, you can see what percentage of the holiday rentals in Margate are available at different times of year. The most popular time of year to visit Margate is May. The quietest time of year in Margate is December (09/12 – 16/12), when 84 of the holiday lettings are available.
Spend your vacation in the burgeoning coastal town of Margate
Due to the proximity of the coastal town to London, it is a good idea to plan a day trip to the English capital. From your vacation apartment in Margate you need less than 90 minutes to London. In Margate you should definitely visit the Dreamland Amusement Park. The amusement park is located in the center of the city and houses, among other things, the second oldest roller coaster in the world. In addition to the roller coaster, which opened in 1920, there are many other attractions for young and old. Shell Grotto is also a must-see. This is a cave whose walls have been decorated with over 4.6 million shells. A staircase leads down and after a 69 feet long corridor you come to a round room with a column. After that, you will reach a rectangular room that is 15 feet high and 20 feet long. The cave was discovered in 1835, however, its origin and age could not be clarified until today.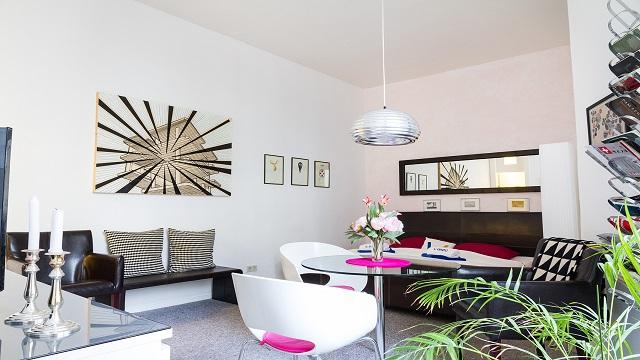 From your Margate vacation rental to England's top new art gallery

And if you are interested in contemporary art: Near the beach is the Turner Contemporary Museum. The art museum, which only opened in 2011, is named after the painter J.M.W. Turner, who spent his school years in Margate. During his life, he visited the seaside town regularly. Another museum worth visiting is the Margate Museum. It deals with the past of the coastal town in England. In the Hornby Visitor Centre you can rediscover old toys.

To get to know yet another coastal town, a trip to Herne Bay is recommended - in just 15 minutes you are already there! And also Margate's twin towns Idar-Oberstein, Split and Malmö are always worth a visit.
And we love our apartments
Other popular holiday destinations
Destinations worth visiting near Margate
Interesting destinations to consider for your next trip