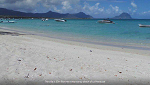 Mark Twain had the right idea, when he said that "You gather the idea that Mauritius was made first, and then heaven, and that heaven was copied after Mauritius". The small but perfectly formed island state lies 900 km east of Madagascar in the Indian Ocean. The island is now politically independent from Britain, but both English and French are widely spoken here. Mauritius is a true paradise island, with a fantastic tropical climate all year round, crystal clear waters, sandy beaches as far as the eye can see and beautiful scenery. Unsurprisingly, the island attracts thousands of tourists each year. Wimdu offer a wide range of apartments, villas and other accommodation on the island, so you can make your holiday in paradise as perfect as possible!
Fun Facts about Mauritius
Mauritius was home of the famous Dodo, before it was hunted to extinction. Despite not existing any more, it is still the national animal of the island.
Of all the countries in Africa, Mauritius is the most densely populated.
Mauritius' biggest money earner is sugercane which covers the vast majority of the island's farmland
Where to Stay on Mauritius
The capital of Mauritius is Port Louis and is a good place to base yourself, with a wide range of accommodation available. If you want something a little more relaxed, consider the Blue-Bay area of the island, in the south. It has some of the most beautiful scenery and wildest landscapes. Wimdu offer a good selection of accommodation there as well, and you can search for a villa with a swimming pools, or an apartment with extra bedrooms and en-suite facilities suitable for a family. Where ever you decide to stay you will have a wonderful and unforgettable time.
Things to see and do in Mauritius
Mauritius is a superb and enchanting holiday destination where you can experience a tropical world that feels a million miles from anywhere else. One of the island's main attractions is the abundance of nature, which offers majestic mountains, beautiful beaches and exotic flora and fauna. There are plenty of opportunities to experience the natural beauty closely. Approximately 13 kilometers northeast of the capital Port Louis, you can visit Seewoosagur Ramgoolam Botanical Gardens - make sure you check out the impressive giant water lilies that can reach a diameter of over three metres. The gardens here also contain beautiful flowers, exotic plants and - which no tropical island should be without - palm trees. If you continue north from here you can reach the island's northern coast where you will find the village of Cap Malheureux. Here you will find one of the island's most photographed buildings, the town church. In the southwestern part of the island, you can visit the huge Black River Gorges National Park, which covers more than 60 square kilometres of land. In the mountainous area you will find an incredibly varied terrain from lush rainforest to green highlands. Certain areas of the park have been fenced off to protect the many endemic and threatened plant and animal species that live naturally in the area. The area offers beautiful scenery, mountains, waterfalls and ocean views to the south and west making the national park an absolute must for your itinerary.
Sea and Beaches
Mauritius is a paradise for anyone who enjoys spending their vacation at the beach. The island is ringed with beautiful tropical beaches, with all the white sand and crystal clear waters that you could wish for. The beaches are also perfect for watersports, from kite-surfing to sailing and some of the best diving opportunities in the world. A few kilometres north of the northern tip of Mauritius is the small uninhabited island of Gunners Coin. The island's beautiful coral reef coupled with the clear waters make this the ideal place for scuba diving, where you can see and experience an amazing underwater world. There are diving opportunities for everyone, from complete beginners to more experienced divers, so make sure you make this trip for a holiday treat you'll never forget.
Food and drink in Mauritius
The culinary culture of Mauritius is rich and varied, with inspiration from a wide variety of cuisines around the world, most notably French and Indian. Obviously Mauritius' location in the middle of the Indian Ocean means that seafood takes a central role in Mauritian dishes. Although Wimdu villas all come with fully equipped kitchens, you will find yourself eating out most of the time, as you are tempted left, right and centre by the fresh and delicious local delicacies! Try the tasty shrimp Rougaille, a rich and spicy tomato soup with plump and juicy shrimp - this is a popular local dish that you will see on most menus. If you do decide that you want to barbecue or cook at your holiday apartment, head down to the shore of any of the large towns to buy fish caught fresh from the sea. Mauritian street food is also seriously tasty. Don't miss out on the dhal puri, a flat bread with yellow peas, chutney and curry. Mauritians like their food well spiced, and mazavaroo, a local chili pasta with shrimp is one dish to try if you like a bit of spice!
Transportation to and from Mauritius
The island's airport, SSR International Airport, is located in the southeastern part of Mauritius near the town of Mahebourg. When you arrive on the island, if you are able, we recommend that you organise a car rental so that you can explore the island to your own timetable. Foreign licences are accepted on Mauritius. If hiring a car isn't an option then you can use the decent bus services that serve the island. There are also metered taxis available, but be wary of unlicensed cabs. If you are relying on public transport, be sure to take this into account when booking your accommodation - you don't want to be walking for hours after a night out goes on a bit longer than you anticipated!