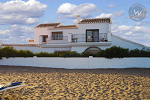 Mijas is a beautiful town in the province of Málaga and part of the autonomous community of Andalusia in Southern Spain. It is located in the popular Costa Del Sol region of Spain which sees many tourists descend on the sun drenched region every year. Mijas certainly is a golf lover's dream due to there being seven golf courses and four more under construction! Mijas is also one of the most famous traditional "white" villages in Spain and due to it overlooking the Mediterranean sea, it is no surprise that Mijas has been described as a jewel on the Costa del Sol. The beach offers many possibilities for visitors, from relaxation to intense activity. Mijas is also known for its exuberant festivals, Easter processions and donkey taxis. Another great feature about Mijas is that it is located between two other fantastic holiday destinations, Malaga and Marbella. Wimdu have a great range of villas and apartments in Mijas, Marbella and Malaga, so take a look and decide where to book!
Fun Facts
The Costa del Sol region has been occupied by so many civilisations including Phoenicians, the Vandels, the Greeks and the Romans!
Bull fighting is one of the region's most popular sports!
The Costal del Sol enjoys average temperatures of 17 degrees!
The world's smallest church is located in the nearby city of Malaga – it is 1.92m square!
The people of Mijas are called Mijeños
Where to Stay - Villas and Apartment Rentals in Mijas
There are three main centres of population in Mijas - Mijas Pueblos (a classic whitewashed Andalusian village, of Moorish origin),Las Lagunas and Cala de Mijas, which is where most of the municipal services are. With a population of less than 75,000, Mijas is small enough that you can get everywhere that you need to on foot, so don't worry too much about the location of your holiday rental, however Mijas Pueblos is definitely the most classically pretty. Wimdu have a large choice of villas and apartments, so look at what you need and go from there. If you are going as a group or family, you can search for villas with a swimming pool, extra bedrooms or children's facilities, or holiday apartments with extra bedrooms. Whatever you need from your holiday rental, look forward to your break in this most relaxed of Spanish coastal towns!
Things to see and do in Mijas
When visiting Mijas there is certainly a lot to take in! There are many attractions including the very popular Grotto of the Virgin de la Peña. This picturesque grotto has a legend attached to it dating back to 1536 when two children, Juan and Asuncion experienced an apparition of the Virgin with Child in her arms and a white dove on her shoulder. Today this grotto is visited by many tourists including pilgrims from all over the world and is a serene and peaceful place for religious contemplations.
Another popular attraction is the Mijas Museum of Miniatures which was created by travel adventurer and hypnotist, Professor Max and showcases the hundreds of pieces collected during his world travels. Visitors are always impressed by the incredibly detailed craftsmanship in the pieces including a reproduction of Leonardo Da Vinci's "The Last Supper" carved on a grain of rice!
If you feel like some outdoor activity, Mijas also has many of them such as rock climbing, nature walks, swimming and hiking. The Mijas traditional bullring and famous plaza located in the centre of the town are worth visiting too and small carts pulled by donkeys are available for short tours of the village.
There are some beautiful beaches located close to Mijas! You can see the sea from Mijas Pueblo and you can even see the African coastline and Gibraltar. The nearby coastline boasts 12km of sand and nine beaches – the breach of La Cala boasts a blue European quality flag! To get to the beach take a drive down to the town of Fuengirola which is located on the coast – it's just a 15km journey!
Getting Around Mijas
The nearest airport is Malaga International and from there you can take a train to Fuengirola and then a bus to Mijas, 8km down the coast. However, if you are able to, the easiest way to get around is by car, and there are various rental places available. If you are limited to public transport, then several buses connect the town with the Costa del Sol coastline. The AP-7 highway runs along the coast and links the major resorts of Fuengirola, Marbella and Malaga. There are plenty of places to hire scooters as well, which is a great way to see the landscape and the warm rush of wind around you are you scoot around is an amazing experience!