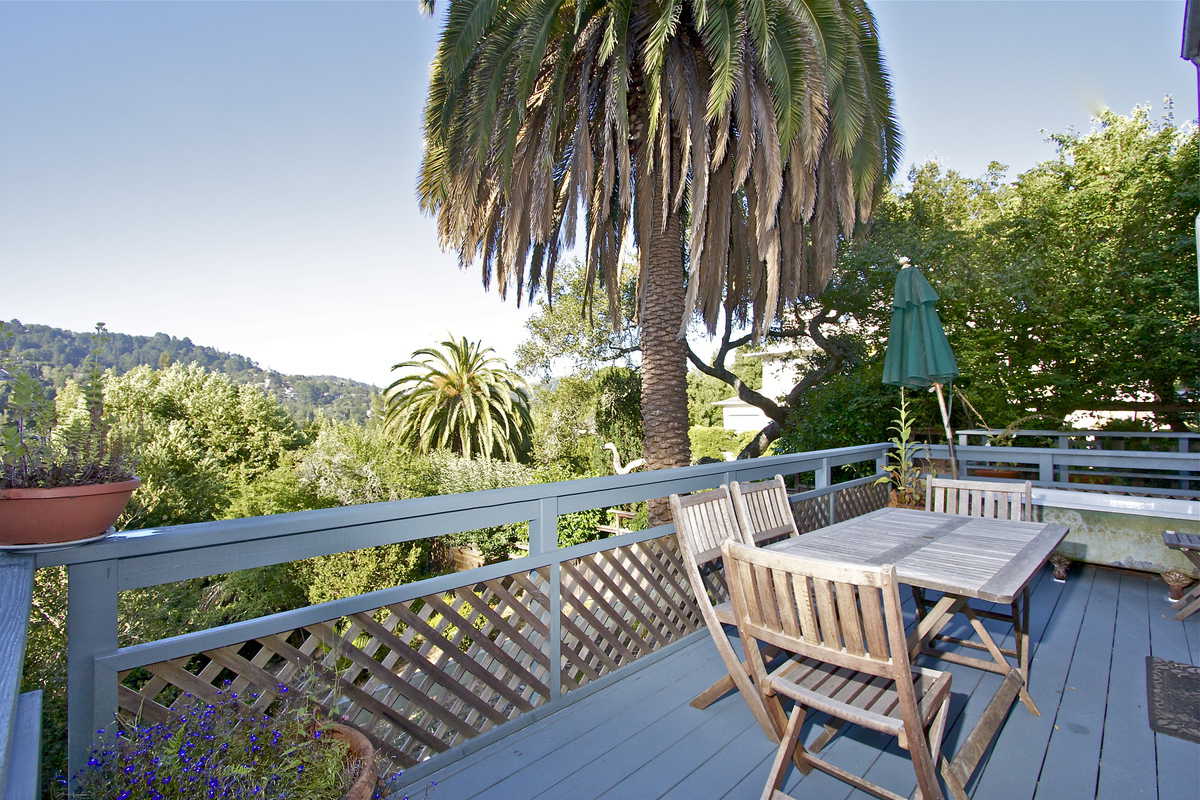 Mill Valley is a Californian city that can be considered as the rural artistic getaway of the stars. From rock stars, such as Janis Joplin, Huey Lewis and Michael Bloomfield, to bestselling authors, including John Gray, Jack Kerouac and Cyra McFadden, this city has been home to many household names. Mill Valley is perhaps most renowned for its deeply artistic culture, and visitors to the city will find a vast range of art galleries, musicians and trendy independent coffee houses. If looking for an apartment rental or holiday accommodation in Mill Valley, be prepared to be immersed in the relaxing energy of this unique city. Surrounded by ancient woodland, you will be enchanted by natural beauty and soothing tranquillity that Mill Valley has to offer. The city can be anything you want it to be, a relaxing getaway or a wild weekend with friends! There is something for everybody to love here.
Fun Facts!
In the early 1970s, John Lennon and Yoko Ono summered in a Mill Valley holiday rental and left graffiti on the wall - "The Maya the Merrier".
The Mill Valley Film Festival is unparalleled within the San Francisco Bay Area, and has attracted Hollywood actors such as Helen Mirren and Billy Bob Thornton.
Mill Valley starred in an episode of sci-fi drama Quantum Leap in 1991.
American author Richard Laymon based his horror novel 'The Lake' in Mill Valley.
Iconic beat poets Jack Kerouac and Gary Snyder shared a Mill Valley rental in 1955.
Apartments and Rentals in Mill Valley
Mill Valley offers a great selection of accommodation, there are plenty of hotels around the city, but they can often become overpriced during peak seasons. Wimdu offers apartments, bed & breakfasts and other forms of rental accommodation all over the city, to suit all types of travellers and budgets. Choose from apartments in the hustle and bustle of the city or check out our rentals in the country side where the tranquil scenery provides a popular getaway for those seeking to escape from their daily stresses in exchange for peace and natural beauty.
Things to do in Mill Valley
For lovers of the silver screen, the Mill Valley Film Festival is a must-see. Established in August of 1978, the festival has become well regarded for its reputation for launching new films and kick-starting the careers of up and coming filmmakers. The festival attracts approximately 40,000 visitors every year, and is renowned for the high quality of its programming. Named as one of the Top 10 US film festivals, it attracts over 200 filmmakers per year and runs for 11-straight days. The Mill Valley Fall Arts Festival also takes place annually, and features over 100 artists - exhibiting everything from sculptures and textiles to photography and paintings. The festival also attracts musicians, who perform throughout to keep the crowds entertained. The Children's Grove offers puppeteers and magicians, to bring magic and excitement to people of all ages.
Another thing that Mill Valley is particularly famous for is its spectacular nature trails! Winding paths through isolated woodland, over the ancient landscapes, offer a recreational beauty that is unsullied by the unattractive imprint of mainstream tourism. The forests and parkland of the city have a truly magical appeal. Scattered amongst the towering redwoods of the Cascade Canyon area, visitors will find picturesque fairy-tale cottages and houses.
Take a visit to one or several of the many art galleries that the city boasts. Check out the illumigarden open-air gallery. Described as an 'Outdoor Lighting & Sculpture Garden', this unique gallery fuses conceptual art with commercial landscape design. The complex and intriguing LED structures are a pleasure to behold. The Room Gallery is also a must-see when visiting the area, and displays popular travelling exhibitions, from a range of world-famous artists.
Old Mill Park is home to the city's beautiful public library, where visitors can stop in and visit the Lucretia Hanson Little History Room, free of charge. This area of the building features artefacts, photographs and newspapers that detail the long and varied history of Mill Valley. The library is also the perfect place to admire views of the surrounding area, from the enormous windows that overlook the forests of Canyon Creek. Relax in an armchair by the grand open fire, and enjoy a book, or gaze out at the picturesque view.
The Muir Woods National Monument features 554 acres of woodland, protected by the National Park Service, and forms part of the Golden Gate National Recreation Area. The woodland has a long and varied history, and now in the conservation era its scenic hiking trails and majestic redwoods attract more than 1.5 million visitors per year. Founded in 1913, the Mountain Play Association is a non-profit theatre company that stages annual theatrical performances in the stone amphitheatre atop Mount Tamalpais. Initially performed on the natural mountain face, the structure was updated in the mid-20th-century to form a stone amphitheatre that can seat up to 4,000 people. Productions take place in May and June of every year, and have included shows such as The Sound of Music, Hairspray and Fiddler on the Roof.
Other attractions include the Mill Valley Golf Course, which is considered to be a hidden and little-known gem for lovers of the sport. While staying in rental accommodation in Mill Valley, this recreational ground is certainly worth a visit. This well-maintained, short-hole course is guaranteed to challenge every aspect of your game. While staying in the area, why not pay a visit to the nearby cities that line the bay area, such as San Francisco or Richmond?
Where to Eat
This charming city offers a wide selection of open-air cafes and trendy bars to be enjoyed by weary travellers. For a taste of authentic Italian-American cuisine, pay a visit to La Ginestra. Established in 1964, the restaurant provides a cosy and inviting interior with excellent cuisine that is perfect for couples, friends and family dining. For contemporary American cuisine and speciality cocktails, take a trip to Bungalow 44. This trendy restaurant is regarded as one of the best that Mill Valley has to offer, and is a popular nightlife hot spot for those who enjoy evening entertainment. If you feel like dining in, you always have the option of cooking in your self-catering apartment or rental accommodation. If you decide to stay in a bed and breakfast, make sure to ask the owner for rates on evening meals. You can often get a better rate before you arrive.
Getting Around
Located just a 15-mile drive from San Francisco, the city can easily be accessed by trains, planes and automobiles. San Francisco International Airport is a 25-mile drive, making it a convenient flight destination for visitors to Mill Valley. The city of Richmond is also only 15 miles from Mill Valley, offers easy rail access to neighbouring cities, such as Oakland and San Jose. Getting around Mill Valley its self is relatively easy, there are plenty of public busses that run all over the city. If you plan to rent and apartment outside of the city then, it would be best to rent a car to make your way around. Taxis are plentiful but can be a little expensive.