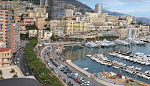 The principality of Monaco lies along the French Riviera in western Europe, sharing its borders with France and the Mediterranean sea. With its warm Mediterranean climate, shimmering wealth, fabulous luxury apartments and impressive city scape set against picturesque ports, Monaco makes for a popular tourist destination. It is a predominantly urban city-state, popular with gamblers and casino goers looking to make some big bucks at the famous Monte Carlo Casino - as seen in films such as James Bond's Golden Eye and Alfred Hitchcock's To Catch a Thief. As a tax haven and predominantly Roman Catholic state, Monaco has attracted many wealthy Europeans to its shores, including several famous Formular One drivers. Just take a look at the apartments for rent!
Where to Stay
Most people who visit Monaco will head to Monte Carlo, the most populated area and host to the famous Monte Carlo Casino. Though Chemin des Revoires on the slopes of Mont Agel and the district of Fontvieille with its large lake and port are also beautiful spots to stay in Monaco. Monaco is categorised by its juxtaposition of elegant modern buildings and traditional French architecture, with newly renovated apartments standing proudly alongside charming white-stone townhouses. Whether you're looking for glamour or authenticity, Monaco has plenty to offer in terms of accommodation. From beautiful villas overlooking the sea to luxury apartments on the race tracks of the Grand Prix. You can choose to stay a stone's throw from the sparkling glamour of the Monte Carlo casino or tucked away in an artisan French rental high in the hills.
Fun Facts
Monaco is the second smallest country in the world and ahead of Australia, the most densely populated.
Monaco's land border stretches only 4.4 km long.
Along with the Vatican City in Italy, Monaco is one of Europe's only two sovereign states.
Things to see and do
Double your money
No visit to Monaco would be complete without a night with the high flyers at the Casino de Monte Carlo. Whether you're there to try your luck or just watch as the money changes hands in this extravagant marble and gold casino, you will certainly be made to feel like a real life James Bond star. So why not finish off a night of gambling in style with a glass of port on the rooftop of your villa, overlooking the Mediterranean below.
Sport
Held annually in the streets of Monaco is the Monaco Grand Prix, with a reputation as one of the most distinguished events in the automobile world. Witness the daredevil racers speed around the narrow circuit, dodge the deadly corners and defy death on what is considered to be one of the most demanding racing tracks in Formula One. Or watch the action from a safe distance on balcony of your high-rise apartment, overlooking the race-track.
Oceanographic Museum
Set into the side of the mythical 'Rock of Monaco' the Oceanographic Museum is an impressive nature and wildlife museum boasting a huge collection of oceanic exhibits from aquariums to Shark Lagoons. The museum showcases some of the best of what are considered to be two of the driving forces of civilisation: art and science. Well worth a visit for a bit of educational respite from the glitz of the city.
Explore spectacular scenery against a city backdrop
If you're lucky enough to bag yourself one of Monaco's stunning seafront apartments or a villa with a rooftop terrace you may not need to venture far from your accommodation to take in some of Monaco's most spectacular views. If you do want to explore the French Riviera in all its glory, Monaco Ville is definitely a point worth visiting. Here the Le Rocher palace sits strategically atop a spiky rock piercing the skyline and overlooking the deep blue Mediterranean coast below. Alternatively you can take to the skyline in the wealthy man's transport of choice - the helicopter. From 2000ft up you will have breathtaking views of the city, it's high-rise holiday apartments and some of the city's key sights as you soar above the crystalline waters of the Mediterranean sea.
Nightlife
Start your evening at the microbrewery, the 'Brasserie de Monaco' and cleanse your palate with locally brewed ale as you nibble on the traditional french antipasti plates. Next stop: cocktails at sunset in one of the chic bars by the harbour. Here you will find a wealth of glamorous bars catering for Monaco's elite, with black sand floors and guest list on the door. If you prefer something a bit more low key, head to one of Monaco's famous piano bars with an authentic French atmosphere and jazz music to accompany excellent wine.
Cuisine
Combining the best of French and Italian cuisine, Monaco has an amazing array of food to sample, from king crab to pork loin stew, sauteed potatoes to sea bass, accompanied by the very best of French wine. With a reputation for some of the Riviera's best restaurants, you will be hard pressed not to find the perfect place to eat out: choose between a glitzy star lit bar with spectacular sea views or a traditional piazza tucked down a side street. Whatever your taste, Monaco has it covered. If you prefer to dine in on the other hand, why not pick up some fresh fish locally and invite the neighbours to your villa for a traditional French/Italian style family get together.
Getting around
As Monaco is so small there is no need to rent a car, everywhere is accessible by foot or taxi - or helicopter! It doesn't matter where your apartment is situated, it is easy to make your way around this tiny city-state. Monaco is served by the SNCF, the French national rail system, with travel by helicopter to the nearest airport, Côte d'Azur Airport in Nice, France. You can cruise around the city itself an air conditioned minibus on one of the sightseeing tours, or cruise around the coast for that matter in your very own luxury yacht- or speed boat, if you're more of a thrill seeker. Everything about this city says style, so why not experience life like a local today and see Monaco accommodation suits yours.