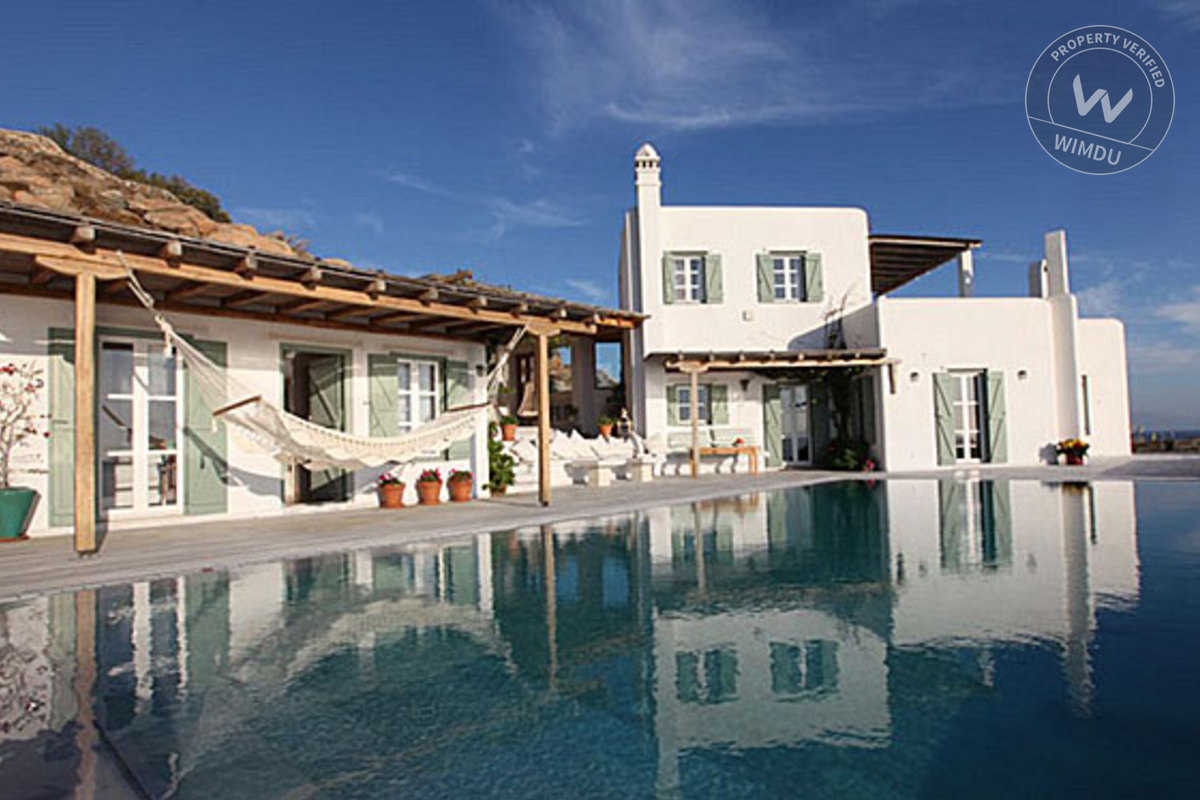 Visitors to the Greek island of Mykonos are drawn to its capital by its reputation as one of the most cosmopolitan holiday resorts in Europe. Celebrities, backpackers and tourists and families flock to the island, which is set within the Cyclades group of Greek islands. Mykonos is accessible via ferry from Athens or by air into the international airport situated on the island. With its bleached white buildings and sandy beaches the island is the closest thing to paradise. Set out on a journey to discover the island where glamour meets simplicity. Whether you're a party animal, or want to relax in front of the beautiful scenery and soak up the sun, or explore the islands history and traditions, Mykonos is the place for you. There is something on this island for everyone to love. Wimdu offers a great selection of accommodation such as seafront villas private and holiday apartments to rent to suit all types of travellers and budgets. Tourists can explore the island by car, or for the more eco-friendly traveller cheap bike hire is available. We recommend taking your time when discovering the island as you don't want to miss anything this island has to offer.
Fun Facts!
According to mythology, Mykonos was formed from the terrified bodies of giants killed by Hercules.
Mykonos was liberated in 1980, the island was underprivileged after the war and it wasn't until tourism picked up that the island began to thrive again.
The first known settlers on the island were Ionians, the came in the 9th century BC.
There are only 31 taxis on the entire island.
You cannot flush toilet paper down the toilet anywhere on the island.
Finding the right Accommodation for you
For such a small island there is a great selection of accommodation available for visitors and tourists. To avoid the hordes of tourists and overcrowded hotels, we recommend staying in one of the beautiful villas or self-catering apartments Wimdu has to offer. Renting a Mykonos villa will give you the privacy and the comfort everyone wants as well as stunning views of the island. We also offer private and self-catering apartments to suit all types of travellers and budgets whether you're travelling with a big or small group. An extra benefit is, your Wimdu host will be able to give you great local tips on the best way to make the most out of your visit.
Things to Do and See!
There is a lot to do and see on the island of Mykonos, it's hard to know where to begin. We would first recommend strolling around the narrow marble streets to take in all what the island offers and to soak up the atmosphere. There is a lot to admire such as the small white washed houses with colourful doors and window frames, you will see beautiful bougainvillea trees everywhere which adds real character to the island. Pay a visit to the castle which is located above the harbour and after you can visit the Archaeological, Folklore and Maritime Museums take in some local culture and history. There is great pedestrian shopping streets of the Hóra, which are always busy with shoppers. The more glamorous shops are located on Matoyánni Street. Here you will find high end brands, stylish restaurants and pretty cafes, you may even spot an odd celebrity!
If you are looking for more of an adrenaline rush, the island has excellent water sport activates to be enjoyed by everyone. The island attracts many suffers and sailors from all over the world to swim, surf and sail in Mykonos clear blue waters. There is an array of sporting activates to choose from such as volleyball, tennis, jet skiing and for the brave sea parachuting! Many of the beaches offer different activites so make sure to check them all out. You may even see some tourist sea parachuting from your villa or apartment!
Where to Eat
There are many bars and restaurants serving international food to suit all tastes but we would recommend trying some of the local dishes which are rich in flavour. The islands trademark is the pepper flavoured kopanistí, a soft cheese seasoned with pepper, you can find this most places and is highly recommended. For meat lovers, you must taste the "loúzes", a fillet of pork streak seasoned with fresh local spices. There is also local sausage sprinkled with pepper which is a hit with all visitors who come to the island. Restaurants are plentiful and prices vary depending on location and quality, but good food is everywhere on the island. If you don't fancy eating out, you can always cook your own meals with fresh Mykonos produce in your self-catering apartment or villa.
Night Life
Mykonos comes alive after dark and for those to want to continue late into the night there is plenty of bars and nightclubs to choose from. We recommend checking out Paradise Beach or Paradise Club, these are both very popular night clubs often featuring international well-known DJ's. The views and of the beaches and ocean from the clubs are spectacular and is probably the reason with they are so popular with tourists. If you are still not ready to go home then, head on to the Yacht Club. This club is a regular bar by day and a bustling nightclub by night, here the party doesn't stop until you are ready to go home – it is the perfect place to end the night.
Getting Around
Mykonos airport is 4 kilometres away from the main town and is easy accessible by taxi or bus. There are flights throughout the year from the international airport in Athens and the flight time is no more than 45 minutes. Mykonos is a small island, so making your way around it is relatively easy. Taxis are available and although they are the most efficient they are also the most expensive. There are local buses which serve between most popular towns and villages and is very inexpensive. Bus journeys are short and very scenic, which make them very popular with tourists. You can visit all of the beaches on Mykono by boat, it is a fun way to see the islands coast and services are regular and reasonably priced. No matter where you find your accommodation whether it is a villa or an apartment, it will always be easily reachable within the island.