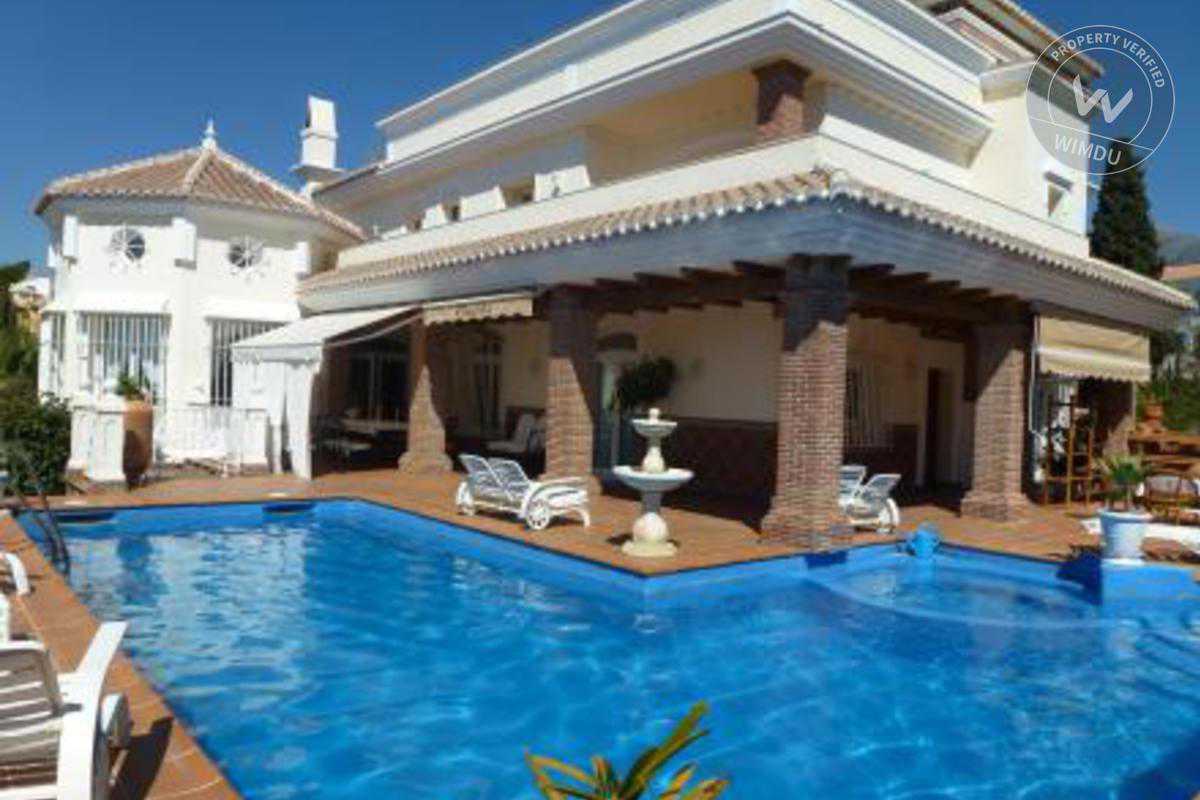 Nerja is a resort situated on the eastern tip of the Costa del Sol in the province of Malaga in Andalucia, Spain. This popular town has resisted the urge to build a wide variety of accommodation such as massive concrete hotels, high-rise apartment blocks and villas, thus garnering the title of "Jewel of the Costa del Sol" and attracting mainly visitors seeking a more cosmopolitan and authentically Andalusian seaside holiday. Nerja used to be a fishing village, however these days its main industry is tourism with only a few fishermen´s boats left down by the beach. The town nevertheless retains a central historical area and is relatively quiet compared to other resorts along the coast. It is popular as a holiday destination not only with northern Europeans but also with many Spanish visitors. The average temperature in Nerja is 30 °C in summer and 15 °C in winter, kept relatively mild as it lies at the foot of the impressive Sierra Almijara mountain range.
Holiday Apartments and Villas in Nerja
There are is a great choice of hotels, seafront villas and also apartment rentals from which to choose from in Nerja. Many of the self-catering options even long rentals over the winter period for those seeking to escape the colder Northern climes. Wimdu has a number of charming apartments, holiday home rentals and villas on offer in the area, where guests can make themselves at home away from home. Your host may even have some insider tips on the area, such as where to get the best paella, or the way to a secluded beach only the locals know about! Wimud's accommodation options are available to suit every type of traveller on every kind of budget. Whether you're travelling in a group, with that someone special or a family getaway, Wimdu has you covered.
Fun Facts
The grand central column in the Nerja Cave´s Sala del Cataclismo reaches 32 metres in height and is the world´s largest.
Nerja´s local council ensures that all new building projects blend in with the existing town environment, thus retaining its charm.
The town has a population of about 12,000 inhabitants.
Nerja is home to over 300 restaurants and bars.
Things to do and see
Things to See and Do
1) You definitely shouldn´t miss the Balcony of Europe, a promenade built onto the headland which gives amazing views along the coast. This used to be the location of a Moorish castle before it became a promenade in the late 15th century. There are many cafes and ice cream shops situated here to cater to the many people who come to just take in the serene setting. Keep an eye out for your apartment, you may spot it from the viewing point!

2) Grab your towel and head to one of Nerja´s beaches. Pebbly beaches prevail, however these are also less crowded (eg. Calahonda Beach, Carabeo Beach). If you prefer a bit of soft sand between your toes, then make your way to Del Salon Beach or Carabeillo Beach. Burriana and Torrecilla Beach have both been awarded the blue flag for their clean waters.

3) Unleash your inner geologist on a visit to the Caves of Nerja, but note that this is not suitable for those with walking difficulties, as there are many stairs to climb. Inside the caves you´ll see stalactites, stalagmites and tall columns.

4) There is lots of fun to be had in the water, the beaches host a range of water sporting activities such as windsurfing, kayaking, abseiling and more! If the water is not your thing don't worry, there is many more activities on land. Why not take a horseback ride along the beach or take a buggy tour of the town it's a great way to explore.
Nerja's Food Delights
The Restaurante California is a good place to eat if you are craving some English style cooking, or something international. The friendly staff serve up great food, and due to its popularity it´s best to make a reservation. El Pulgilla is a typical Spanish fish and tapas restaurant with a mostly Spanish clientele. The seafood is excellent and the tapas are free, plus the drink is cheap! One of the newer but maybe the best restaurant in Nerja is Sollun Restaurant, with its chef formerly owning a Michelin-starred restaurant. If you don't feel like eating out you can always cook in your self-catering apartment or villa with some delicious fresh produce.
Getting To and Around Nerja
The closest airport or train station to Nerja is in Malaga. From the train station you can easily catch a bus to Nerja. From the airport you can also first catch a bus to the city of Malaga itself and then a connection to Nerja. A taxi can cost you anywhere in the region of €65-€100 euro, depending on whether it is pre-booked.
Once in Nerja, the easiest way to get around is on foot. Take some time to get lost in the back streets where you will discover and experience the real Spanish flavour of the town, but you'll also find those little, hidden-away 'plazas' and a host of typically Spanish bars and restaurants. As the town is situated on the side of a hill, there are gradual to steep hills to tackle on your way around, so remember this when choosing your footwear, and don´t forget to bring water on your walks. There is no specific centre to the town, so you will find shops, banks, bars and restaurants scattered all around. There are also some buses that you can take up and down the hill. Town is relatively small so your accommodation will always be in reach no matter where you go in the town.