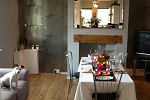 Newcastle is a city in the north-east of England and is situated on the banks of the River Tyne. It is a vibrant city with a great deal of history and culture. Like many former industrial towns, Newcastle rose and then fell with the coal and steel industry but has picked itself up and gone through a process of reinvention. The region's eventful history is in evidence at the city's castle and keep which are fine examples of northern castle building. The neighbouring coastline is stunning and is popular with walkers and outdoor sports enthusiasts. Newcastle is known as the cultural centre of the north and lovers of film, music and theatre will find the city buzzing with many events and attractions. Wimdu have a wide range of accommodation available, from apartments to private rooms, so whatever your needs and budget you'll find a great place to stay!
Fun Facts about Newcastle
The inhabitants of Newcastle have been voted the politest group of people in the UK Newcastle had the first street to be lit with gas lamps
The world's first organised dog show was held in Newcastle in 1859
The North-East has 47 varieties of ginger hair – more variety than anywhere else in the world
Where to Stay in Newcastle - Accommodation, Apartments and Rooms
If, like many visitors to Newcastle, you're having a holiday there to take advantage of the famous nightlife, then we recommend that you look for accommodation in the city centre or the Quayside area - the centre is really walkable, and you will be able to explore everything that a night out on the Toon has to offer, and still be able to stumble back to your apartment afterwards without joining one of the enormous taxi queues! However, Newcastle offers most things to most people, and maybe you would prefer to stay a little further out and avoid the craziness of a Saturday night in the city centre - in which case look for rooms in Heaton, Ouseburn or Jesmond, all of which offer character and local bars, restaurants and pubs. Wimdu have apartments available all over the city, and you can search for extra bedrooms, en-suite bathrooms, or accommodation suitable for children, depending on what you need for your Newcastle break.
Things to See and Do in Newcastle
The eleventh century castle keep is as good a place as any to start exploring Newcastle. It is a fine example of a Norman Stone Castle keep and it is located in the historical heart of the city. Newcastle has had quite an eventful past and the building provides a compelling insight into its history. Views from the castle of the River Tyne are also spectacular. The Black Gate is worth seeing and is another important building from Newcastle's past, standing in the centre. The Black Gate is architecturally complex and quite something to look at. It has been the home of the Society of Antiquaries for over 100 years. We enjoyed taking a tour down the Victoria Tunnel, a 19th century wagon-way which runs underneath the city from Town Moor to the Tyne. It was built to transport coal from the Colliery to the river and was converted into a bomb shelter during World War 2. Book a guided tour and delve into Newcastle's murky underground history – it's fascinating!
There are more theatres in Newcastle than anywhere else in the UK per person. The city's diverse schedule of plays and performances make Newcastle an important cultural hotspot. The Theatre Royal is the regional home of the Shakespeare Company and is situated in a stunning grade 1 listed building. Over 380 performances occur every year in front of over 300,000 people. It is known as one of the UK's finest theatres and is always on the itinerary of international touring acts. We recommend you visit a show – there's something to suit everyone's interests! For those interested in poetry, the Morden Tower is a place we suggest you visit. There are frequent poetry readings from international poets and often there are experimental music performances.
Newcastle has several good museums. The Great North Museum is free entry and incorporates collections from several Newcastle museums. Amongst these collections you'll find displays illustrating the animal and plant kingdoms, a planetarium, artifacts from ancient Greece and also Egyptian mummies. There is also a large, interactive model of Hadrian's Wall. The Discovery Museum has proven to be a big hit with tourists. It is a science and local history museum and hosts a variety of exhibitions. The museum also features the Turbinia, a 34 metre ship used as a prototype steam ship. Entrance is free so you have the freedom to dip in and out of the museums vast array of displays at your pleasure.
Eating and Drinking in Newcastle
Newcastle is famous for its nightlife and has been named Britain's best tourist attraction by the Rough Guide to Great Britain. It is hard to argue with this claim when you spend an evening in the city centre. There are plenty of restaurants, bars, clubs and cinemas and other attractions to suit a variety of tastes. We'd recommend you visit the Quayside area which is where a lot of Newcastle's bars and clubs are located. We also suggest you visit the Big Market area of the city centre for restaurants. We particularly like Al Basha, a Lebanese food restaurant with friendly service. Newcastle food festival EAT! occurs in August and September and is a great celebration of local food and drink. Grey Street is an area of Newcastle famed for its restaurants. The street features some amazing architecture and the aforementioned Royal Theatre is close by.
Getting Around
Newcastle International Airport is a small but busy airport located to the north of the city. The best way to travel to or from the airport is via the metrolink which takes approximately 25 minutes. Newcastle city centre is relatively compact and it is easy to navigate on foot. There is also a metro system which is quick and reliable. Buses also operate in the centre and a Quaylink bus service links the city centre with Gateshead quay.
Outside Newcastle, the Northumberland, Yorkshire Dales and Lake District National Parks are all located close by, as are the picturesque towns of Whitby and Scarborough. Trains and buses serve these areas and we recommend you make full use of your time in Northern England! Wimdu have apartments, rooms and all sorts of other accommodation in all these places too!