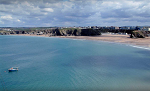 The small but buzzing seaside town of Newquay is the UK's surf capital. Its collection of beautiful sandy beaches attract everyone from sun-bleached surfers through to tourists who prefer to just sit back and soak up the town's chilled out vibe. Newquay is also famous for its 'Run To The Sun' event which is held on the last weekend in May – people from all over the UK drive their iconic Volkswagen Camper Vans and VW Beetles to the town, making quite a spectacle! Whether you are looking for some gnarly breaks, or just want to kick back in a Cornish cottage and enjoy some fresh seafood, a few drinks and some beautiful cliff walks, Newquay is the place for you.
Fun Facts about Newquay
William Golding, author of Lord of the Flies, was born in Newquay in 1911
Cornwall's famous Cornish Pasty is worth £150 million pounds to the local economy each year!
Cornwall is home to 75,000 cows
Where to Stay in Newquay
Newquay is heavily reliant on tourism, and tourists provide the town's main source of income. Newquay's 22,000 population swells to 100,000 during the summer months, and unsurprisingly there are many types of holiday accommodation to cater for demand, from cottages in the surrounding countryside through to apartments and flats in the town itself. With Wimdu you can search for exactly what you need, whether that is a place with extra bedrooms and childrens facilities, or a surf shack with all the equipment you need for a weekend on the waves!
Things to see and do in Newquay
Let's go surfing now, everybody's learning how… it's impossible to get away from surfing in the UK's surf centre - so you might as well embrace it! The town is full of surfing shops where you can hire or buy equipment, and most of them also offer surfing lessons. Some of the UK's best and most well-known surfers reside in Newquay and you if you're lucky you can witness them riding the waves on the beaches around Newquay. Fistral beach is perhaps the most famous of Newquay's beaches, but there are another seven within a few minutes walk of the town centre, and then another four if you want a slightly longer walk - check out Porth Beach, Towan Beach and Great Western Beach. For a dryer seaside experience visit the Blue Reef Aquarium for a glimpse of what lies under the waves! Check out Oasis Fun Pools when the weather is bad- it's an indoor water park which is fun for all the family!
When you want a break from surfing why not consider checking out the Japanese Garden & Bonsai Nursery – it's a tranquil place where you can get away from the hustle and bustle of Newquay – important when it gets busy in the summer! There's much more to see in Newquay too on a rainy day – check out the Newquay Zoo which is great for children! Classic Air Force is also worth a look – it's a big museum containing a variety of planes from across the history of the Air Force. Aviation fans will find it incredibly interesting. Classic Air Force is the charity which has collected the planes over the years and lovingly restored them.
The Eden Project
Open since 1991, the Eden Project is a collection of huge greenhouses containing a large collection of plants from around the world. It's one of Cornwall's most popular tourist attractions and over 9.5 million people have visited it since it opened. It's not often that you get the chance to walk through a rainforest and the Eden Project is loved by children and adults alike for its authentic recreations of several of the world's climates. The 'Rainforest Biome' is hot – you'll find yourself taking your jumper off due to the heat! Entry is half price between 3pm and closing time.
The Great Outdoors
The 630 mile South West Coastal Path passes through Newquay. It's a beautiful coastal path walk is one of England's longest footpaths and starts at Minehead in Somerset and stretches all around the coast, ending in Poole in Dorset on the south coast of England. Thousands of people plan their holiday around the South West Coastal Path every year - book accommodation along the route and enjoy a daily walk along some of the most beautiful coastal landscape in the world, finishing off in a seaside cottage every evening.
Nightlife
Newquay is famous not only for surfing but also for the nightlife! Check out the nightclubs Berties or Tall Trees – world famous DJs often play in town and you'll more than likely find them playing in one of these places! Being a seaside town it shouldn't be a surprise to hear that Newquay's restaurant offer excellent locally caught seafood! Cornwall is home to some excellent small breweries and you'll find most pubs in Newquay sell them – check out Doom Bar Bitter – it's excellent! The town is small enough to navigate on foot, so don't worry too much about where you book your holiday accommodation - you'll still be able to stumble home easily enough!
Getting around
Getting to Newquay is easy thanks to the railway station that connects Newquay, which is situated close to the beach and town centre. Take a short train ride from Newquay to Par, and then go direct to London Paddington. Newquay is also linked to other cities in the UK such as Bristol and Birmingham by National Express coaches and local bus services connect Newquay to nearby towns such as Padstow. There is an airport in Newquay – Newquay International Airport – from where you can fly to Gatwick or Edinburgh. Newquay itself is easy to walk around, so base yourself centrally and you'll be able to get to all the main attractions from your holiday accommodation.