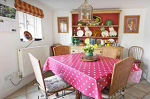 The rural and predominantly flat county of Norfolk is a popular holiday destination with tourists and there's plenty to see and do in this typically English county. The region is known as East Anglia and shares borders with Cambridgeshire in the southwest, Lincolnshire in the west and Suffolk in the south. There are over 800,000 people living in Norfolk and the capital of the county is Norwich. It's a popular tourist destination and people love walking through the pretty streets of the city, with its thatched cottages and traditional guest houses. Norwich is something of a cultural centre for the region at large and there are many theatres and music venues in the city. The Norfolk Broads are the county's main tourist attraction and the many waterways and wetlands are popular with boaters, bird watchers and fitness enthusiasts.
Where to stay
Due to the great number of tourists and university students who visit the county each year, you will find plenty of accommodation to choose from in Norfolk. If you are planning on visiting the area and are looking for somewhere to stay, it may be worth considering a self-catering holiday home or traditional English cottage as an alternative to the many bed and breakfast chains around. You'll get more space for your money, a better choice in location and the chance to experience what it's really like to live as a resident in Norfolk. Check out Wimdu's excellent selection of holidays homes in Norfolk to get an idea of the opportunities open to you.
Fun Facts
Famous comedy character Alan Partridge is a resident of Norfolk.
Norfolk is the fifth largest county in England!
Norfolk's capital of Norwich is known for its amazing amount of old buildings – over 1500 in total!
The name Norfolk originates from 'North Folk' which was used to describe the tribes living there.
What to see and do
Norwich's capital Norfolk
Norwich is situated on the river Wensum and is a historical city with many attractive medieval streets to amble down. The city is famous for being the most complete medieval city in the UK with over 1500 historical buildings in the city centre. Norwich's rich and illustrious history that includes not just the medieval period but also the industrial period in the late 19th century. Visitors to Norwich should definitely head to Norwich Cathedral, it's 900 years old and is the most striking building on Norwich's skyline. Around the castle are many pleasant cafes and restaurants too. Norwich Castle should also be seen – the castle is open for visitors and a museum inside tells the impressive story of William the Conqueror and his relationship with Norwich. Self-catering options are popular in Norwich as many families rent out their townhouses here while staying elsewhere. But if it's greenery or seaside living you hanker for, its worth venturing a little further out to the Norfolk coast, where you will be able to find more traditional family cottages, stately holiday homes set in the countryside, and beautiful traditional villas on the seafront.
The Norfolk Broads
The Norfolk Broads are a popular tourist destination and offer many fun attractions for visitors. The Broads are a historic and scenic part and consist of many navigable rivers, lakes and marshes and are a National Park. The Broads were originally thought to be natural but it was proved that they were the result of large scale excavations of peat bogs long ago. Today the Broads are known for the exceptional flora and fauna in the area, excellent boating opportunities and scenic countryside. They are popular with recreational boaters who enjoy leisurely travelling along the various waterways. There are loads of pretty self-catering cottages available around this area. Better be quick though- they get snapped up fast in the summer months!
Regional Cuisine
Head to Norfolk's coast to try the local cuisine. You'll find excellent seafood in the many restaurants and pubs along the coast. Cromer is particularly popular with crabs. A lot of Norfolk is good for growing fruit and vegetables and apples and pears grown in the county are particularly tasty. So why not spend a day in the bogs crab fishing, then stop off at your local market for some fresh fish and veg to take home for a hearty Norfolk dinner by the fire in your little cottage.
Getting Around
Norfolk is relatively straightforward to get around. Norwich International Airport is the main airport in the region but it quite small – there are however daily flights from Norwich to Schiphol Airport in Amsterdam. It is possible to get to Norfolk by ferry from Europe and the Harwich – Hook of Holland ferry terminal is located just over the border in Suffolk. Norfolk is very accessible by train and two main lines connect Norwich and Kings Lynne with London. There are 35 daily trains between Norwich and London and the journey takes 2 hours. It is also possible to get to Norfolk by bus and National Express run coaches from cities such as London, Cambridge and Coventry. Wherever you are staying in Norfolk, exploring is best done with a car, especially if your cottage is situated in one of the more remote parts which are not served by public transport. Many of the holiday homes and bed and breakfasts here will have ample parking through, so no need to worry about fitting your car down one of the narrow side streets.