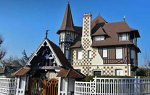 Just off the British Channel coastline, and the place many of us might associate with school trips to France in our younger years, Normandy refers to the North eastern region of France where rolling French countryside meets the buzzing trade hub and passageway of the channel. Despite being one of the main entry points to France from Britain, and a massive throughway for tourists, Normandy has retained its authentic French charm, refrained from being taken over by commercialism and remained distinctly French in many ways.
About
The name Normandy originates from the old French for North Man. The region covers a total of 30,100 square kilometers of land, including islands Guernsey and Jersey belonging to the British Crown dependency, and French towns .Le Havre, Caen, and Rennes. The region is a mix of old and new, with old farmhouses and fishing boats sitting alongside designer yachts and newly renovated holiday homes. The harbour boasts a range of high class restaurants and expensive gift shops, nestled among magnificent gothic churches. Normandy is typically characterised by its cobbled streets, traditional French market stalls and bakeries and a rich history that can be seen both in the buildings and old relics peppered through the area.
Where to Stay
Whether you want to be on the coast, or more mainland, there are plenty of accommodation options to choose from. The beaches off the Channel coast, with their powder white cliffs, pebbled shore and beautiful views of greenery in the background, tend to draw the most tourists. Calvados is famous for its tapestry, Seine-Maritime for its clifftop walks, Rouen for its elegant spires, Caen for its involvement in the Battle of Normandy, Honfleur a charming seaside town, Bayeux again for the tapestry, Le Havre for its modernism, Manche for its beautiful rocky coastline, Trouville & Deauville as a popular tourist destination for Parisians, Dieppe a lively sea-side resort, Côte d'Albâtre for its similarity to the White cliffs of Dover, Mont-St-Michel for the mount of course, Cerbourg as a monumental port, Fecampis known for its history as a fishing village, Giverny for its village charm and Etretat for its twin cliffs and dramatic scenery.
Sightseeing
There are plenty of things to see and do in Normandy. If you're an art fan, the Museum of Modern Art is a fantastic space housing an impressive collection of impressionist works, which is actually considered to be one of the greatest collections outside Paris. The Maison de Claude Monet and , both homes and gardens of the the impressionist artist Monet, are also worth a visit, housing a collection of many of the works he painted there. If you'd like to discover more about the history of Normandy, the buildings on the northern side of Mount Merville tell their own story. These buildings date back to the 13th century. For those interested in tapestry work, the Bayeux Tapestry, the considered one of the world's best, dating back to the 11th century.
Shopping
.
Food
Normandy, of course, is best known for its cheese. A selection of speciality cheeses can be found here, from camembert to blue stilton, roquefort to edam, there are so many to choose from. And it's not just the cheese that's famous here, but dairy items in general, with thick creams, milk and butter produced in abundance in the area. You also find fresh bread and meats readily available at many of the market stalls. The restaurant scene is brilliant here too, catering very well for tourists, with lots of metropolitan bars and restaurants lining the port areas.
Getting In and Around
As the central transport throughway for vehicles crossing the Channel, Normandy is well served by transport links. Normandy can be reached from the UK by plane, train or ferry, with the Eurostar getting you there in just over two hours. Once in Normandy, there is a good network of buses that run regular services from village to village. Residential trains can take you further inland, where you can explore further regions of France. Cycling is also a great way to get around Normandy, and very popular with the locals. Bikes can be rented easily here from one of the many bike rental shops in the area.