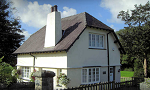 Mountains… beach resorts… gorgeous coastline… beautiful scenery… mountain biking, walking, climbing and water sports - it's no surprise that North Wales is one of the UK's most popular tourist destinations! If you don't mind gritting your teeth through the somewhat unreliable weather, North Wales is a great place for a seaside holiday, and the coast is speckled with a range of seaside towns such as Llandudno, Rhyl and Colwyn Bay that are geared towards tourism and have a great range of self-catering and bed and breakfast accommodation. Head inland and marvel at the scenery, which includes Wales' highest peak, Snowdon, in the Snowdonia range of mountains. As well as all this, there are great places to eat, cute cottages to stay in, cosy country pubs and general good living. There's so much to enjoy on your holiday to beautiful North Wales!
Fun Facts
The Welsh motto is 'Cymru am byth' which means Wales Forever!
St Asaph in North Wales is one of Britain's smallest cities – only 3,400 people live there!
Pryce Jones of Newtown, Montgomeryshire created the world's first mail order business!
The wettest place in Britain is in North Wales on Crib Goch, a mountain by Llanberis
There are 4 times as many sheep as people in Wales!
Where to Stay in North Wales
North Wales relies on tourism and so there are all sorts of places for holidaymakers to choose from to stay. Wimdu have a huge variety of accommodation for every type of holiday - whether you are looking for a retro seaside holiday with friends and are looking for a place with extra bedrooms on the coast, or whether you want a cottage big enough for a family holiday, or a cosy bed and breakfast for a romantic weekend away. Just search for exactly what you want and Wimdu will provide!
Things to See and Do in North Wales
Explore some great towns
Llandudno is a splendid little town on the northern coast of Wales and is home to some excellent beaches and quaint cafes. We suggest you take a tram to the top of the Great Orme hill for a beautiful view over the town and sea. Llandudno is home to a lovely beach promenade too – it's ideal for a stroll on a sunny day! Caernarfon is known for the Caernarfon Castle which is one of Wales' best castles. It's a typical Welsh town and is home to some excellent restaurants and good nightlife. Parc Glynllifon is one of Caernarfon's hidden gems – this historical manor houses gives visitors the chance to step back in time and experience what it was like live in a manor house in the 19th century. The gardens surrounding the house are also nice to walk around.
Bangor and Anglesey
The student town of Bangor is getting increasingly popular with tourists who enjoy using the town as a base for exploring the wider region. There's much to see in Bangor including the pier, cathedral and Penrhyn Castle. Bangor is located right next to the island of Anglesey which is connected with the mainland by two bridges. Anglesey is popular with walkers who love exploring this wild and fairly flat corner of the country. Holyhead is Anglesey's only town and is the centre for life on the island. The town is home to many pubs as well as a busy ferry port which connects North Wales with Ireland.
Snowdonia National Park
Speaking of walkers, the Snowdonia National Park is hugely popular with outdoors enthusiasts and many people take up the challenge to climb Wales' highest mountain, Snowdon. If you're not feeling in the mood to climb the mountain you can always take the Snowdon Mountain Railway which takes the 4.6 miles scenic route up the mountain to the summit. At the top you can enjoy a refreshing cup of tea and slice of cake in the conveniently located café!

Further inland towards the east of Snowdon is the popular town of Llangollen. This quaint and historical market town is nestled in the surrounding hills and is home to lots of excellent food shops - great if you're in self-catering accommodation - and great pubs. The hills above the town are great for exploring and there is a lot of holiday accommodation to cater for the large amount of visitors who come every year!
Getting Around
North Wales is located close to Liverpool's John Lennon Airport and the distance between the airport and Bangor is one and a half hours by car. North Wales is also very reachable from Manchester Airport and the journey takes roughly 2 hours. North Wales is also accessible via public transport – there is a train line that runs from Swansea in South Wales through Cardiff and then north to North Wales calling at Chester, Rhyl, Llandudno, Bangor and ending in Holyhead. Holyhead has a ferry terminal where you can catch a ferry to Dublin in Ireland.
North Wales has many good roads but you'll find the more rural you go, the lower the quality of road tends to be. If you want to explore more remote areas, then you really need to rent a car, as public transport is at best limited to services that connect the various towns.