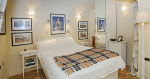 Paddington is a district in central London, within the City of Westminster. It is a highly desirable area, with stately homes, stylish apartments and much to see and do. Surrounded by Bond street, Baker street, Bayswater and Blomfield, Paddington is right at the heart of one of the classiest parts of London. Here you are only 5 minutes walk from Hyde park, a stone's throw from some of the best shopping in the neighbourhood and conveniently connected to all the commuter services to the west of England. If you're looking for the perfect place to stay in the city centre, Paddington is guaranteed to deliver a high-quality memorable experience. Welcome to London's 'Royal District'.
Apartments
Paddington apartments - well, central London apartments in general really - are known for their bachelor-pad appeal. We're talking open-plan, minimalist, modern furniture, stylish set-up, spectacular views, spotless. They are not so much about the space, but who needs space when you're in such an absolutely fantastic location, right on the cusp of Hyde Park and just moments from so many great cafes, bars and restaurants. This is of course not to say that the apartments lack character. Many of the Paddington studios available on Wimdu are situated are contained within elegant London mansion blocks with beautiful laminate wood flooring and large bay windows; reminiscent of Victorian London accommodation.
Fun Facts
Paddington was integrated with Westminster and greater London in 1965.
The fictional character of Paddington Bear, who was 'discovered' in Paddington station by the Brown family, is an icon of the area and is featured as a bronze statue in the station, designed by Isambard Kingdom Brunel.
Since 1998, the government have been working on a major project in Paddington to regenerate former railway and canal land through and surrounding the borough.
Westminster Abbey, near Paddington, is considered to be one of the most noble religious buildings in the United Kingdom.
There are several Anglican churches in Paddington, including St James's, St Mary Magdalene's and St Peter's.
Things to see and do
Paddington is a great place to find your feet in London, especially if you've never visited the city before. Staying so central means your time spent navigating the complex underground routes is already significantly cut and you can focus on the important things, like shopping, sightseeing or sipping cocktails in one of the many cosmopolitan bars.
Hyde Park
As central London's largest open space, Hyde Park is a popular spot for tourists and locals to enjoy the tranquility away from the city and indulge in some outdoor sports, such as boating on The Serpentine Lake, or indulging in a traditional English picnic on the grass. Wimdu even has several Paddington apartments with views over the park itself, making you feel like you own your own piece of high-end London estate and the grounds to match!
Regent's Park
Smaller than Hyde Park, but still large enough to host its own boating lake, open air theatre and zoo, Regent's Park is a great place to visit if you're staying in Paddington with the family.
National Gallery and National Portrait Gallery
If you're an art fanatic, or just interested in getting an insight into different aspects of British lif from historic past to present day, The National Gallery and National Portrait Gallery are two galleries not far from Paddington which are really worth a visit.
The British Museum
The British Museum houses various collections from across human history and culture. If you are interested in British history, then be prepared for a serious day's education, as the permanent collection alone contains over 8 million works and is one of the most comprehensive in the world. We suggest you leave someone at home to cook you dinner; returning back to your Paddington flat after a visit to the British Museum will definitely have you making the most of that king-size comfy leather sofa - they're not just for show, you know!
Victoria and Albert Museum
The Victoria and Albert Museum is definitely a must-see for anyone staying in London. The museum boasts an impressive collection of ancient artifacts, statues and even a grand room containing sections of ancient-historic buildings that will leave you wondering why your apartment doesn't have 20ft columns either side of the door welcoming you in when you get home.
Westminster Abbey
Westminster Abbey is considered the most impressive church in London, not to mention the most iconic! The church was the traditional burial and coronation site for a number British monarchs.
London Eye
The London Eye is hard to miss from any part of the city (it can probably be seen from your apartment even, if you're staying in Paddington), but it's a whole different experience looking down from the top. With Westminster Embankment only a short walk from Paddington, you'd have to have a good reason not to check it out.
Shopping
If you love to splurge, then you're definitely in the right location for it. Paddington is actually probably more well known for its shopping than anything else. With an apartment in Paddington, you're only a little way off Oxford street, Camden, High Street Kensington, Harrods and Portobello Road. Oxford Street is your 'one stop shop' (see what I did there) for big brands, with super-size versions of your favourite high street chains and an endless array of restaurants and eateries. A trip to Harrods can be a bit hectic, but well worth checking out if you've never bee before, even if just to marvel at the ridiculous lavishness.
Getting around
With an apartment in Paddington, you are very well connected. Most of the London underground lines run directly through the centre, so you'll never be far from a route to whichever part of London that takes your fancy. Alternatively, you can grab one of the famous London black cabs to take you a few blocks, but bear in mind convenience city-cab style comes at a price in these parts.