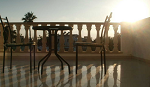 The beautiful town of Paphos on the island of Cyprus really is an amazing place with so much to offer any holiday maker. Located in the west of Cyprus in the eastern Aegean area of the Mediterranean sea, it boasts cosmopolitan neighborhoods with historic architecture and beautiful authentic Greek villas. Whether you are a sunseeker looking for a place to relax and call home for the week or an explorer looking for an apartment right in the centre of things, Paphos has something for everyone at any time of year. In recent years Paphos has become extremely popular with tourists and many package holiday companies offer holidays to the area. But if you're looking for something a bit more personal, short-term holiday rentals can offer something particularly special in Paphos.
Villa or apartment in Paphos?
As the climate in Paphos can reach up to a scorching 30°C, it is important to find some comfortable living accommodation that you'll be happy to return to after a day in the sun. Whether you're looking for an authentic Greek villa in Old Paphos or a swanky city apartment in New Paphos, Wimdu has a range of short term rentals available. Not sure which is best for you? Renting a villa can be a great option if you're traveling as a family, as it gives you more space, the luxury of your own pool and the freedom to cook whenever you want. If, on the other hand, you're traveling solo, or a couple, an apartment might be a better option, giving you the convenience of a great location. You will find the accommodation in Paphos is very reasonably priced and with the range to choose from on Wimdu, you're bound to find the perfect villa or apartment to suit your tastes.
Fun Facts
Paphos' average year round climate is 25 degrees.
Paphos was the capital of Cyrus for seven centuries.
Cyprus won its first Olympic medal in the London 2012 Olympics.
Cyprus is the third smallest country by population in Europe.
What to see and do
Paphos has an incredible history dating back more than eight thousand years which means there is a wealth of ancient treasures for visitors to explore. Many of the ancient monuments are among the UNESCO Global Heritage List and range from remains of the Stone Age, Roman Times and Byzantium. Must see locations are the Medieval Castle of Paphos which was originally a Byzantine fort built to protect the harbor and an accommodation base for the army. There is also Paphos Archaeological Park which includes sites and monuments from prehistoric times through to the Middle Ages and Roman period. If ancient archeology isn't really your thing, there are plenty of beautiful beaches in Paphos, perfect for spending a day soaking in the sun's rays. Most of the beaches on the island are pebbled, and well known for their clear waters where small fish can often be seen swimming in the depths. If, on the other hand you are looking for something more active, you won't be disappointed. Paphos has many activities including biking, horse riding, hiking, sailing, golf and bird watching. And there is nothing like returning to your cool air-conditioned villa for a dip in the pool after a day's adventure.
Getting Around
Paphos is home to a small airport, Paphos International Airport, which serves charter flights from several companies based in the UK. You can fly to Paphos from smaller cities such as Exeter, Glasgow, Edinburgh and London. Companies such as Easyjet and Ryanair schedule flights to Paphos. A dual carriageway links Paphos with one of the other major airports on the island, Larnaca – the journey takes 1.5 hours. Regular bus services connect Paphos Airport with the touristy area of Paphos, Kato Paphos. Buses run hourly in the summer and cost just one euro! You can also get a bus from the airport to Limassol. Getting around Paphos is straightforward – the town is made up of two areas.
'Kato Paphos' is the lower part of the town at the harbour – it's where many holiday rental apartments can be found, a stone's throw from the buzzing nightlife. The upper town is called 'Ktima Paphos' and is the main administrative, commercial and modern hub of the town and outer region. The market is located in the upper town in the bustling market square. Paphos is a small place so you'll find it is relatively easy to walk to most places from your villa. Buses also connect both areas so if you don't feel like making the trek up the hill then you can always take a bus! If you'd like to explore the outer region then you can take a bus to places like Coral Bay and Polis. For the more adventurous why not hire a scooter, bike or car and explore the surrounding area at your own leisure? We think you'll appreciate the air conditioning in the car – it gets very hot in the summer. Just check that your villa has a place to put the car.