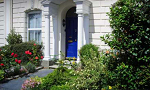 Even before the Pilgrim Fathers boarded the Mayflower and left Plymouth for the New World back in 1620, Plymouth was synonymous with maritime adventure. Captain Cook, Charles Darwin, Napoleon and Captain Bligh are just a few more of the famous figures who have headed off from Plymouth - some with happier endings to their voyages than others! Plymouth's unique place in world history is combined with beautiful countryside, a stunning coastline, and plenty to do and see for all the family, making it a great UK holiday destination!
Where to Stay in Plymouth
Look for holiday accommodation in The Barbican, which is the oldest area of Plymouth. It has tons of restaurants, bars and galleries and a good range of holiday apartments available. Booking your bed and breakfast cottage or self-catering guest house via Wimdu means you can search for exactly what you need, whether that's a cosy apartment for a romantic weekend away or a flat suitable for a family holiday. Whatever you need, Wimdu can help!
Fun Facts about Plymouth
The UK's first ever woman MP was Nancy Astor, who represented Sutton, in Plymouth!
Other famous Plymothians include Olympic diver Tom Daley, George - of art duo Gilbert and George - and comedian Dawn French, who lived here for a while
Napoleon sailed from Plymouth in 1815, to be exiled in St Helena
Things to Do and See
Once you are settled into your holiday apartment, head down to the Mayflower Steps and take a boat tour. Plymouth's beautiful natural harbour is one of Europe's best, and a trip on the water will give you a new perspective on the city and the surrounding coastline. If that has piqued your interest in all things watery, head to the UK's biggest aquarium (and the deepest in Europe), Plymouth's National Marine Aquarium. Keep an eye out for "Mad Jack", a 12-pound lobster who is thought to be over a hundred years old!
If you are visiting in August, don't miss out on the British Firework Championships! This incredible sight is the biggest free fireworks display in Europe and attracts tens of thousands of onlookers. In 2006, the event made it into the Guinness Book of Records for the biggest number of fireworks to be set off simultaneously.
If you want to get out and stretch your legs, hire a bike and head out for the day along the Plym Valley cycle path which will take you through the beautiful Plym valley along a disused railway line, and all the way to the pretty town of Tavistock. Keep an eye out for birds of prey and other wildlife - and take a picnic, as there are no shops (or even villages) on the way! When you get back from your epic ride, head to the newly restored saltwater Tinside Lido on the waterfront at Plymouth Hoe and join the locals in a refreshing dip!
One hidden gem that you shouldn't miss out on is the Elizabethan Gardens off New Street in the Barbican. It's a small but perfectly formed garden filled with herbs and flowers, and beautiful cobbled walkways - the perfect place to stop off and relax after a busy day exploring Plymouth. Another reason why booking your bed and breakfast in the Barbican is a great idea!
Eating and Drinking
No trip to Devon would be complete without ordering one of the county's famous cream tea, one of the greatest culinary inventions known to man… And make sure that you have a loud argument about whether the jam goes on top of the cream, or vice versa! Plymouth is also home to the oldest commercial bakery in the world, called Jackas Bakery - it's located on the Barbican, so make sure you pop in for a snack. Head to the Black Friars gin distillery (the oldest gin distillery in the UK) for one of their interesting guided tours… and the chance to create your own sample bottle!
For a good selection of bars and restaurants within walking distance from each other, head to the Barbican - a lovely area to while away a summer's evening before heading back to your holiday home for a well deserved night's sleep!
Getting Around
The nearest airport to Plymouth is Exeter Airport - you can take a train directly from Exeter to Plymouth. You can also take a night sleeper train direct from London, which will drop you off in Plymouth in the morning, well rested and ready for the day! The centre of Plymouth itself is small enough to be walkable - so don't worry too much about where your accommodation is located as long as it is fairly central - and there are bus services covering the whole of the town. If you want to explore the surrounding area, then you'll find hiring a car useful, as public transport is patchy in the south-west of England.