Top-Rated Lettings and Properties in Portsmouth
Book Holiday Letting Offers with the Highest User Rating
Pet-friendly rentals in Portsmouth
Explore best dog-friendly accommodation offers and enjoy holidays with your pet
Accommodation with Internet in Portsmouth
Choose your ideal cottage with Internet and WiFi in Portsmouth
Holiday cottages with pool in Portsmouth
Discover best holiday homes and cottages with pool in Portsmouth
Best holiday rental offers in Portsmouth
Price and Availability Index for Portsmouth
Click on any bar to see price and availability information
Holiday Letting Price Information in Portsmouth
Check the graph above to find out what's the best time to travel and find accommodation in Portsmouth. August is the priciest month to book a holiday rental, so make sure to book in advance for this period to get the best offer. However, as presented on the graph, holiday rental prices in Portsmouth are at their lowest in January and amount to £130 per night on average.
Rental availability information in Portsmouth
Above, you can see what percentage of the holiday rentals in Portsmouth are available at different times of year. The busiest week of the year is in August (17/08 – 24/08). In contrast, the month with the highest availability rate in Portsmouth is January.
Conquer Hampshire with our Portsmouth vacation rentals
Far from its reputation as a cold and bland city, this port city offers everyone a memorable experience for a family holiday or a romantic weekend in the south of the UK. You'll find great attractions, cultural sites and historical monuments!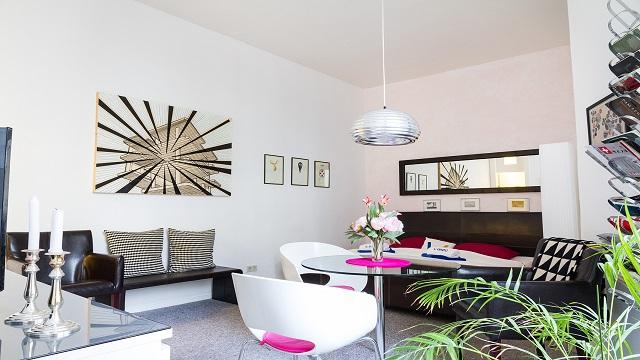 Family fun within walking distance of our Portsmouth vacation rentals

Our vacation apartments in Portsmouth are ideal for a fun-filled family holiday. The city has plenty to see, both indoors and outdoors. First of all, a walk along the beautiful waterfront is a must. It's the perfect place to walk along the beach and have an ice cream, while admiring the various ships passing by, from giant liners to warships. Nearby, finish your walk with a nice picnic at Southsea Common, a large green area, to see the kites and enjoy the playgrounds.

A vacation rental in Portsmouth is the perfect way to get a change of scenery and get closer to nature, especially the sea. The city is full of places to do outdoor activities and sports. Windsurfing for thrill seekers or water park for fans of giant slides, you can choose the program that suits you. And why not escape to the Island-of-Wight to discover its beautiful white cliffs and enjoy a little cruise?
And we love our apartments
Other popular holiday destinations
What are the top neighbourhoods in Portsmouth?
Destinations worth visiting near Portsmouth
Interesting destinations to consider for your next trip