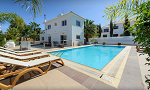 If you are looking for a family friendly yet exciting holiday destination then Protaras may just be the place for you. The popular resort, in the east of Cyprus, stretches along the picturesque Fig Tree Bay in the Turkish part of the vast island. The bay and its surroundings are famous as one of the more beautiful stretches of Mediterranean coastline. Water and beach sports are particularly popular and the resort attracts a good mix of all ages. Further down the coast lies Ayia Napa and those looking for a party should check out our apartments in that resort. Protaras is still an exciting resort with bars aplenty but the clubbing heartland of the island remains in Ayia Napa. An apartment in Protaras or a villa in the surrounding areas are the most popular form of accommodation for visitors.
Accommodation in Protaras
Self-catering accommodation is quickly overtaking hotels in terms of popularity, staying in more local-like properties is now seen as the best way to visit places and really get to know the region you are visiting. An apartment in Protaras offers all the household amenities you would expect from your own home, and the cooking and washing facilities that you don't get at a hotel. For those traveling as a couple or individual, the financial benefits of staying in a room in a host department are also compounded by many other great benefits, such as your hosts knowledge of the area- a great source of information that you could not find in a guide book. This benefit can be replicated around the world, no one knows an area as well as a local and to be able to get first-hand information is the best way to really discover the true essence of a city.
Fun Facts!
The oldest known pet cat was discovered by archaeologists on Cyprus – it was buried with its owner 9,500 years ago!
Cyprus is home to 20 species of rare orchid!
Cyprus is one of the only places on earth where green turtles and Loggerhead turtles nest!
Things to See and Do in Protaras
People come from all over the world to Protaras to enjoy the relaxed pace of life, amazing beaches and excellent water sport opportunities. Fig Tree Bay is one of the best beaches in the area and the calm Mediterranean water is a pleasure to swim in. Facilities are provided on the beach including showers, toilets and sun loungers. There are also numerous bars and cafes along the length of the beach where you can enjoy a relaxing light meal, beer or cocktail – the views out to sea are stunning! Away from the beach, Protaras town has much to offer holiday makers. There is a large variety of shops in the town selling all manner of tourist souvenirs, authentic Cypriot jewellery, traditional clothing and locally made pottery. Looming over the town is the Protifits Ilias Church and it's something of a landmark of the local area. It's perched on top of a 100m hill and there are glorious panoramic views to enjoy looking over the sea and countryside. A villa offers increased privacy and a chance to take in Cyprus lovely countryside. Most villas have great access to the main resort, but also offer a great chance to explore the wider region. Away from Protaras centre there are many attractions worth visiting. Top of your list should be Cape Greco, this headland is an area of outstanding natural beauty and is arguably the prettiest area on the whole of Cyprus. It lies between Protaras and Ayia Napa and the spectacular views from the cliffs draws travellers from all over the world. Some villa's in Protarus even have their own pool, but for those that don't the clear and warm Mediterranean sea will more than make up for it. Wimdu also has villas in other areas of the island. So why not check out our villas and villas and apartments all over Cyprus and book great accommodation today.
Getting Around
Protaras is located at the heart of Cyprus' party hotspots and neighbours clubbing mecca Ayia Napa. Larnaca International Airport is the nearest airport and is located 4km outside of the town of Larnaca. It is situated around the bay to the west of Protaras on the other side of Larnaca Bay. As Protaras is a popular tourist resort it shouldn't come as a surprise to hear that getting to the resort from the airport is straightforward. An airport shuttle runs between the airport, Ayia Napa and Protaras. Renting a car is possible at the airport if you're travelling with a family or with lots of baggage. Getting around Protaras itself is easy and the resort is small enough to explore entirely on foot – perfect when the main aim of your holiday is to relax and take it easy!