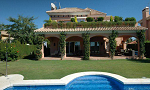 Puerto Banús is a beautiful marina situated in the area of Nueva Andalucía, southwest Marbella on the Costa del Sol; the southernmost coast of Spain. Having only been established as recently as 1970 by property developer, José Banús, the marina is a modern, cosmopolitan complex, purpose built as a luxury shopping centre and yacht port, for Marbella's elite. As a result, Puerto Banus is home to some truly high-class accommodation: you will find many luxury apartments and villas here. With a hot Mediterranean climate, deep blue waters, and an array of restaurants, bars and clubs, you'd be hard pressed not to find plenty to keep you busy in the entertainment capital of Marbella.
Villas in Puerto Banus
Marbella is considered to be one of the classiest and most expensive resorts in the Costa del Sol - and Puerto Banus is even flashier still. Every way you turn you will see evidence of extravagant wealth: from brand new mercedes cars to impressively big luxury yachts, modern glass-fronted shopping malls to expensive restaurants on the quayside. And the accommodation here is certainly no different. Holiday villas in Puerto Banus simply ooze luxury. To give you an idea: your typical Puerto Banus villa would be a large and elegant cream-while estate, surrounded by expertly kept grounds, with a generous private pool and stunning views. The apartments are the same: modern, chic and exquisitely decorated. Puerto Banus rentals are a high-class affair in every way. So whether you're searching for a family villa with a spectacular sea view or a private apartment for two, you will find yourself embarking on a luxurious lifestyle in Puerto Banus!
Fun Facts
Puerto Banus is one of Costa del Sol's largest centres for entertainment.
Puerto Banus was originally a tiny coastal fishing village, with nothing more than a few Spanish villas and fishing boats.
Puerto Banus enjoys a microclimate as a result of being protected by the coast mountain range of Cordillera Penibetica.
Puerto Banus port is a popular tourist destination, visited by more than 5 million people per year
Many of the most lavish sea-front villas in Puerto Banus are owned by wealthy Arabs who moved to the area after its renovation by José Banús in the 1970's.
Things to See and Do
As one of the UK's favourite tourist destinations, drawing millions of Brits to the area each year, you will find plenty to keep you busy in Puerto Banus. From high-end shopping to extravagant yacht parties, Puerto Banus is home to the best of Marbella's up-market entertainment. So line your wallet, dress to impress, and hit the town!
Shopping
Puerto Banus is home to many expensive shopping malls around the marina. The main shopping complex itself is a lavish affair designed to cater for the hugely wealthy Europeans, Abars and Spanish tourists who flock to the area with wallets bulging. The streets of Puerto Banus are lined with lavish boutiques showcasing all the major high-end brands including Dolce & Gabbana, Gucci, and Christian Dior. You will also find two of the largest Hipercor's and El Corte Ingles department (high-end Spanish brands) stores here. Or if expensive cars are more your deal, Puerto Banus has several showrooms displaying the exotic supercars that cruise the town.
Water Sports
As a town purpose built around its harbour, there is always plenty going on on the waterfront. From daily ferry cruises from Puerto Banus to Marbella Maria, to speed boat racing and water skiing - not to mention the glamourous boat parties on the yachts that go on long into the night - you will always find something happening here. So if you can tear yourself away from your villa pool for a few hours in favour for the panoramic views of the Mediterranean, you're bound not to be disappointed.
Live Like the Spanish
The main reason so many Brits flock to this part of Spain for their summer holidays is, more than anything else, simply to relax in the sun and soak in some rays. With so many excellent cafes, bars and restaurants in Puerto Banus, it doesn't matter what time of day you finally make it out of the villa, you can stroll down to the quayside, and chill in the sunshine with a spot of brunch or a cool beer. Besides, you're going to need a break from all that shopping some time!
Eat Like a King
Spain is well known for its food and the Puerto Banusl is by no means an exception. You won't have to venture far from your villa to find some truly excellent restaurants here. From traditional tapas bars to michelin style eateries, there is something for everyone. If you want to continue the theme and eat like a king, lobster is definitely a must. Stake your spot on the terrace, overlooking the sparkling Med, pop a bottle of Marbella's finest and chow down to your heart's content. If you really want to push the boat out though, literally, so to speak, you can even rent one of the extravagant yachts moored in the harbour for a more swanky setting for your evening meal. Alternatively you could keep things a little closer to home and make use of your own apartment balcony for a more intimate dinner affair. Particularly perfect if you're staying in Puerto Banus as a romantic getaway.
Getting Around from your Villa
As Puerto Banus is only a small port, everything is relatively accessible from your villa, no matter where you're staying. Even so, renting a car for your holiday is very much the 'done thing' in this part of town. You can rent a car from the airport, or wait until you get to the port itself and opt for something a little more swanky. No need to worry about parking. Most of the villas in this area have more than enough parking space available, as it's customary here to own more than one car!