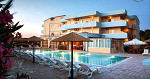 Beautiful Rhodes is one of the largest of the Greek Islands and is famed for its fertile land, excellent historical landmarks, fantastic mild and sunny climate, and beautiful beaches - making it an ideal holiday destination. There are two sides to Rhodes, so take that into account when booking your holiday accommodation – the northern region is popular with package tourists from all over Europe while the south is more tranquil and quieter. Officially Rhodes is part of the Dodecanese islands but it often thought of as a separate entity due to its size, which is big enough to offer everything you could wish for in your Greek island holiday!
Fun Facts about Rhodes
Greek is an extremely old language – it's been spoken for nearly 3,000 years!
Rhodes is given the nicknames of 'The Emerald Island' due to the large number of forests there, and also 'Island of Roses' due to the abundance of rock-rose plants that grow there
Tourism is the primary source of income for the island – it accounts for 75% of the island's economy!
The 1961 action film The Guns of Navarone was filmed on Rhodes!
Where to stay
Rhodes is a very popular tourist destination, and there is a huge range of holiday accommodation available, for every taste and budget. Wimdu give you the opportunity to really "live like a local" by renting out authentic Greek villas, as well as town apartments, bed and breakfast accommodation, beachfront guest houses - whatever you want! Organising your Wimdu holiday home through Wimdu also means that you can specify exactly what you need - you can search for a self-catering apartment with a swimming pool, or a family friendly villa by the sea. Northern Rhodes is busier, while the south is quieter, so take that into account while making your booking as well.
Things to see and do on Rhodes
Excellent Beaches
Perhaps the main draw of Rhodes are the gorgeous beaches which are widely regarded as some of the finest in the Dodecanese. The best can be found on the east coast where the wind is less strong – most beaches in this area are suitable for families and children. Prasonisi, a beach on the south coast of the island, is loved by surfers, and there are various places you can rent surf equipment - your Wimdu host should be able to point you in the right direction, or your villa may even have surfboards already included in the price!
Historical Landmarks and Culture
Like all of Greece, Rhodes is dotted with fascinating historical landmarks that give an insight into life in Ancient Greece. Take a trip to the church of Asklipio, which is located near the village of Kiotari. Inside the church you'll find displays honoring Asklepios, son of the Greek God Apollo. He was known for creating the art of medicine and he still has a devoted cult following of people fascinated by his healing powers.
Another interesting part of Rhodes to visit is Lindos where you can see the ruins of an Acropolis. It is not quite as impressive as the Acropolis in Athens but it's certainly worth a day trip! Kamiros is the 'Pompeii of Greece', an ancient city that was inhabited by the Mycenaean Greeks. The city was destroyed by a powerful earthquake and was discovered by excavators in the 19th century. Today you can visit some of the ruins and get an idea of what life was like in Ancient Greece!
Nightlife and Eating Out
Nightlife on Rhodes is particularly good and Rhodes Town is where the island's best bars, liveliest clubs and most authentic Greek restaurants can be found. The area of Rhodes Town called Lindos is where most of the wildest partying occurs. Throughout Rhodes you'll find quaint, authentic Greek tavernas giving you the chance to sample some of the local food and drink - especially useful if you are in self-catering accommodation! Make sure you try traditional Greek food such as moussaka, gyros and souvlaki – it's delicious! The local wine is also tasty and the sparkling variety is popular throughout Greece. Pick up a bottle of the local drink 'soima' to take home with you – it's made with local grapes!
Getting Around
Rhodes International Airport is the island's only airport and is located 14km from Rhodes Town on the west coast. It receives flights from all over Europe and there are regular short-haul flights from Crete, Athens and Thessaloniki. During the Summer months low-cost airlines such as Easyjet and Ryanair fly to Rhodes from Italy, England and The Netherlands. Another way to get to Rhodes is by ferry – there is a complex and busy network of ferries operate routes between Rhodes and Turkey, Rhodes and nearby islands such as Tilos and Bordrum and from the Athenian port of Piraeus.
There are a number of ways to get around the island of Rhodes – bus and scooter. The bus service that connects all the towns operates primarily from Rhodes Town – you'll find clearly marked bus stops in every town. Hiring a scooter is perhaps a more fun way of seeing the island and you'll be able to explore at your leisure and discover some of Rhodes best kept secrets. There are many scooter hire businesses on the island and you'll be on the road in no time!