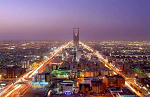 Discover the exotic and intriguing Saudi Arabian capital of Riyadh! It's an increasingly popular tourist destination and there's much to see and do in this special eastern city. Try some of the region's excellent cuisine, explore some of Riyadh's historical landmarks and witness the collision between conservative, straight-laced Saudi Arabia and increasingly influential western values. Riyadh used to be a small, walled city but has expanded tremendously dynamic metropolis that is currently one of the most prosperous cities in the world. It has a punishingly hot climate, especially in the summer when temperatures often exceed 50 degrees. Luckily the heat is not humid which makes visiting the city tolerable, and your holiday villa or flat will definitely have air conditioning!
Fun Facts about Riyadh
Saudi Arabia experiences very little rainfall – it's one of the world's driest countries! Riyadh is also known as the 'queen of the desert'
Very few entertainment options like cinemas and discos are allowed in Riyadh – it's a strict place!
There are 8 million people living in Riyadh and expats make up 25% of the population!
Where to stay
Once you have decided whether you would like to stay inside one of the ex-pat areas, where you will experience more freedom in terms of what you can wear and do (especially for female visitors), or in an area with more local flats and villas, check out Wimdu's selection of accommodation to rent. We have a wide range of properties including beautiful penthouse flats, apartments for rent, and luxury villas. You will have a real sense of what it is like to "live like a local" by staying in a Wimdu property.
Things to See and Do in Riyadh
Visiting monuments and landmarks in Riyadh can be frustrating – opening hours are limited during prayer time and weekends (Thursday and Friday) and visiting is segregated between men and families. Most landmarks are open to 9pm however which is something at least!
Perhaps the most striking thing you'll notice about the city of Riyadh is the difference between the old buildings and the new, modern architecture. Perhaps the best place to notice this juxtaposition is in the Al-Bathaa district of the city. It's the old town area of the city and also the centre. In the heart of Al-Bathaa is the 19th century Masmak Castle which is one of the city's main attractions. The castle is built in a traditional Nejdi style with conical towers, red brick walls and a sparse design. It's open to the public – take a look around. The buildings inside the castle contain traditional clothes and tools from previous centuries. Also in the area is the Riyadh National museum which is popular with tourists. Learn all about the history of Islam and the life and times of the founding king of Saudi Arabia.
Shopping
The Olaya District is where you'll find most entertainment and accommodation options. There are many famous Arabic shopping malls in this district that are worth experiencing including the Kingdom Centre and the Al Faisaliyah Center. The Sheraton, Al-Tamimi Shopping Centre and Haif Shopping Centre are also popular nearby destinations in the area.
Heading out to the desert
Daytrips to the vast desert that surrounds Riyadh are popular with both locals and tourists. You can do lots of things such as off-road driving and walking. The Hash group offer excursions to the desert for foreigners and it's a great chance for women to remove their 'abayas'(full body veils). Paintballing is also popular and the desert setting offers a nice change from the typical paintballing destinations familiar with players. Also in the desert you'll find some excellent golf courses that a more popular with expats than local Saudis!
Food, Drink and in Riyadh
You'll find the food in Riyadh to be exotic and unusual! Try the Arabic coffee – it's the not the kind of coffee you're used to! It's made with spices including cardamom! Dates are a big deal in the Middle East and its one of the few fruits to thrive in the desert landscape. Date shops often resemble jewelers and you can dates dipped in chocolates and flavoured dates – delicious! Also make sure you try camel meat if you're visiting Riyadh – it's an experience! Most meals are served with traditional Arabic flatbread and meals are often huge – big enough for two people to share! If you'd like a traditional shopping experience head to a local souk (market) – Souk Al-Thumairi is perhaps the most well-known market and sells everything from carpets to spices. You could even take ingredients back to your apartment or villa and see if you can recreate the food.
Getting around
King Khalid International Airport is Riyadh's main airport and is located 35 miles to the north of the city. The airport receives flights from all over the world including London Heathrow Airport, Dubai, Frankfurt in Germany and Addis Ababa in Ethiopia. Riyadh is a long way from any other significant parts of Saudi Arabia so almost all visitors arrive by plane. Take a taxi from the airport into the city, the journey in good traffic takes 30 minutes.
Riyadh is definitely a city for cars and public transport is generally underdeveloped. Hiring a car is an option for getting around the city but carry a GPS system as plenty of streets are marked only in Arabic. White taxis are the official taxis of the city and most visitors should rely on them for getting around. English is spoken by plenty of taxi drivers but don't be surprised to encounter those who don't. White taxis run on meters in general and most local landmarks are known to the drivers. Getting around Riyadh on foot, particularly in the modern north on the city is not advisable as cars are in abundance. The host of your holiday apartment will be able to advise you as to the nearest stops for public transport, and most flats have parking if you decide to hire a car.