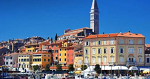 The beautiful city of Rovinj sits on a peninsular in the Adriatic sea, Croatia, bordering the town of Zadar. The city has a rich history and many historical influences can still be seen in Rovinj today. The city is not your typical tourist hotspot, providing much more of an authentic experience of Croatia than some of the more crowded parts. Despite the lack of commercialism though, the people of Rovinj have really got it covered in terms of tourism infrastructure, most of the locals speak several languages at least and information points are readily available, in most cases only a short distance from your apartment. Rovinj is full of character and strikingly beautiful. The city is characterised by its tall buildings that dominate the peninsula's coastline, surrounded by lush natural forests of evergreen alpine trees. Culture and history is a big part of Rovinj. It is simply full of striking historic architecture and ancient ruins. The various historical structures, picturesque stone abodes and palaces of gothic and venetian style are one of the main attractions of the city, drawing foreigners to the area over other parts of Croatia. Rovinj is an unspoilt, non commercialised, seaside town. the main thing you're coming to Rovinj for is to relax.
Apartments in Rovinj
You can choose from a range of architectural styles when it comes to accommodation in Rovinj, from old buildings to new-build apartments and more modern abodes. The apartments in Rovinj are like the place itself, understated, authentic, relaxing and naturally beautiful. Tucked away in the tall buildings that perch on the cobbled streets of the city, the apartments are typically small in size and sweet in character. They are comfortable, homely and provide you with everything you need for your stay.
The Wimdu experience
Because so many languages are spoken in Rovinj, and the locals are so friendly and willing to help out, your stay in a Wimdu apartment will certainly be a memorable one. Your apartment host will be there to greet you upon arrival and give you good advice about how everything works in the apartment and what you need to know while staying in Rovinj.
Fun Factsj
The peninsular upon which the city sits was originally an island, separated from mainland Croatia by a channel that was filled in in 1763.
Rovinj is one of the few places where the ancient 'romance' language of Istriot is still spoken.
Rovinj is a tiny city with a population of around only 14,294 people.
During the summer months, from May through to September, Rovinj sees over 10 hours of sunshine per day!
Before being captured by the Romans, Rovinj was a settlement of Illyrian tribes.
Things to do
Rovinj is close to several archaeological sites and monuments and still has many authentic marks of historical influence including traditional arches, stone fountains, rooftop cornices, narrow paved alleyways, neoclassical buildings and stone churches. Described frequently as a authentic and charming village, Rovinj is a tranquil and idyllic holiday location, particularly suitable for a relaxing break from the hustle and bustle of the 9-5 life.
St Euphemia Church
The old beautiful St Euphemia Church is the largest monument in the city and is well worth a visit. Sitting on top of the tower is a large copper statue of St. Euphemia. The church itself is Venetian Baroque, restored in the 1700s. It is definitely worth checking out the spectacular views over the Adriatic Sea provided by the church, and to wander through beautiful cobbled streets that surround it, leading back down to the apartments below.
Pebble Beaches
Rovinj is characterised by its beautiful beach coves, hidden bays and unspoilt pebble beaches lined by alpine trees. The beaches are far from commercialised and provide a tranquil setting for relaxation. If you are looking for slightly more commercialisation though, there is Lone Bay, a very popular beach in Rovinj just fifteen minutes from the town centre with sun loungers and umbrellas.
Roman Remains in Pula
If you don't mind a bit of travelling and a day away from the apartment, it is well worth heading south to visit the ancient Roman ruin sites in the southern Croatian town of Pula. These evocative Roman remains are bound to take your breath away. Most notable of all is the impressive Roman amphitheatre set against the waterfront.
Scuba Diving
From the pier you can dive into the deep blue waters of the Adriatic sea and discover the thriving underworld beneath the water's surface. The waters here are ideal both for beginners new to the sport and experienced divers, with vibrant corals to drift past and surreal underwater caves to explore.
Food
Sea Food is the staple dish here in Rovinj. You can enjoy dishes such as lobster, fresh fish and crabs, washed down with delicious Istrian wine at one of the traditional tavern bay restaurants and look out over the turquoise waters of the harbour in the mild warm weather. If you're more of a meat eater, the mixed grills are fantastic with cured hams, steak and sausage, accompanied by local vegetables such as wild asparagus. Steak with truffle sauce is also a true delicacy which can also be picked up from the local shops and enjoyed back at your apartment if you fancy more of an intimate dining experience.
Getting Around
When visiting Croatia, you will most likely fly into the city airport of Pula, 20 miles south from Rovinj. You can also get to Rovinj by ferry from Venice, which takes just over an hour, following beautiful Croatian coastline. As Rovinj has excellent connection with the rest of Istria and other major cities in the region, it is easy to travel from one town or city to another. The town itself is best travelled foot though and in fact, many of locals prefer to get around the city by bike or scooter. The town is not very large and you will find many places easily accessible from your apartment.