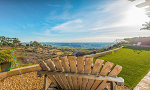 San Diego, the second largest city in California after Los Angeles, is just a hop, skip and jump from the Mexican border, on the Pacific coast. Its gorgeous climate and array of attractions make it one of the most popular destinations in the United States. Although it is home to well over a million people, San Diego has a very chilled out vibe and is a great place for a to book a holiday apartment. Whether you want an action packed holiday, taking advantage of the excellent surf and water sports, or you just want to kick back and explore the neighbourhood, you will have the holiday of a lifetime in this very unique American city.
Where to Stay in San Diego
San Diego is a big city with an array of diverse and charming neighbourhoods, each with their own distinct personality, so do a little research before choosing your holiday rental! Remember as well that booking through Wimdu means that you can search for exactly what you need for your holiday - whether that is a beachfront condo with a swimming pool and children's facilities for a family holiday, or a self-catering downtown apartment close to bars and clubs.
One of the most popular areas for tourist accommodation is Hillcrest, a very cool neighbourhood chock full of cute cafes and hipster bars. It is next door to Balboa Park which is the second largest urban park in the world! Downtown is also a great place to stay - it's San Diego's centre and a great spot to stay if you are intending on making the most of the city's happening nightlife! If you want to stay nearer the sea, check out Mission Beach and Pacific Beach, which are both great beach communities with tons of shops, bars, and surfing opportunities!
Fun Facts about San Diego
The lowest and highest points in the US are both in California! Start off at 282 feet below sea level in Death Valley and you can be at the top of 14,494 foot Mount Whitney in less than a day!
When San Diego's Coronado Bridge was opened in 1969, the first person to drive over it was Ronald Reagan!
San Diego County is the producer of the most avocados of any region of the United States!
Things to See and Do in San Diego
Before doing anything, get yourself a San Diego card, which will give you free admission (and queue jumping) at over fifty city attractions including the San Diego Zoo - generally considered the best zoo in North America with thousands of animals over 1800 acres. If you are on a family holiday, combine a visit to the zoo with a trip to SeaWorld at Mission Beach.
Beach Life
San Diego has miles and miles of beautiful pristine beach, perfect for swimming, surfing, scuba diving, sailing and general relaxation! You can hire any equipment you need at one of the countless surf and water sport schools, although it is worth checking with your Wimdu host as many beachfront holiday rentals come complete with a few surfboards, canoes or windsurfers. There is even a "clothing-optional" beach in La Jolla. If you are visiting in February, make sure you take a whale-watching trip as the California gray whales migrate south down the coast at that time.
Eating and Drinking
Craft-brewing beers is big in San Diego, so make sure you scope out some of the micro-breweries, most of which have a bar attached, or are run by a bar. It is illegal to sell alcohol past 2am in San Diego though, so you might want to start a little earlier than you might in other cities! As you would expect from a city of this size, you will be able to find any cuisine you desire, which is why booking a self-catering guest house is a good option! We recommend that you go to at least one decent seafood restaurant - California is rightly famous for its seafood and eating freshly caught fish in the Californian sun is one of life's great pleasures!
Getting Around
San Diego International Airport is just a few miles outside the downtown area, so a really easy trip into the city. Once you have arrived, public transport is an effective way of getting around - but of course you are in California where car is king! To really take advantage of San Diego and the surrounding areas, you might want to consider renting a car for your stay. If that isn't an option, then just make sure that your bed and breakfast accommodation isn't too far off the beaten track. San Diego has a reliable but patchy bus network, and the San Diego Trolley - a light rail network - is a cool way to get around! One of the best ways to explore the city is by bike, however. The weather is perfect for cycling, and the city is flat. A lot of self-catering accommodation comes complete with a bicycle or two, so check with your Wimdu host before you arrive.