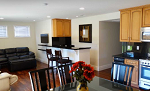 Santa Monica is a beachside city in west Los Angeles (LA), California, the sunshine state of the USA. It shares its borders with Malibu, Brentwood, the Pacific Palisades and Venice. In keeping with much of the rest of LA, Santa Monica is a mix of students, surfers, professionals, wealthy families, and celebrities, all looking for their own slice of the good life. Perhaps not as well known world-wide as Hollywood or San Francisco, Santa Monica is actually home to many of Southern California's best attractions, and as the official Santa Monica tourist board describes it, 'the perfect place to get away'.
Where to Stay
As one of the wealthier of the Californian cities, Santa Monica is used to catering for a host of wealthy tourists and celebrities that grace its shores, and specialises in luxury accommodation. If you're looking for something a bit different; a unique apartment or studio rental in Santa Monica, Wimdu has plenty to choose from. From seafront guest houses with stunning ocean views and stately homes Friendly service is renowned in Santa Monica wherever you stay. Whether you're looking for a relaxing break in the sun or a wild party holiday on the seafront, Santa Monica can accommodate. If you opt for a private studio, you can guarantee the hosts who own it are bound to have thought of every little thing you need.
Fun Facts
By the 20th Century, Santa Monica was deemed a famed 'resort town'.
Santa Monica enjoys a whopping 310 days of sunshine a year!
The famous Santa Monica Pier is over 100 years old; built in 1909.
Being situated on such a vast and open bay, a thick fog can loom over the city in the summer months.
¾ of Santa Monica's public work's vehicles run on biofuel.
What to See and Do
A well famed resort town, Santa Monica is the place to come if you're looking for some fun in the sun - or the sea for that matter! It is LA's (admittedly warmer) version of Blackpool and has plenty to offer in terms of attractions. Of course, this is not all Santa Monica has to offer. If you're into your shopping, the city is famed for its endless streets of high-end, and not so high-end, shopping, amazing nightlife, and colourful cultural scene. Of course, you don't have to be into your shopping, clubbing or roller coaster rides to enjoy a spot of lazing around on the beach! - Or lazing around in your superstar studio for that matter.
Santa Monica Pier
The historic carousel and solar powered Ferris Wheel of Santa Monica Pier can be seen from high in the sky. The pier is a popular attraction for tourists, especially if you're visiting as a family, with an amusement park, rides, candy floss stalls, restaurants and even a trapeze school! A visit to the pier will certainly keep the kids occupied while you off back to the comfort of your rooftop hot tub back at the apartment!
Shopping
Santa Monica is a great place to pick up some real fashion must haves, or bargain buys for that matter. As the tourist board nicely puts it, the shopping here certainly does 'cover the spectrum'. The malls in this part of town are also a popular place for the Santa Monica elite to parade around and show off their new purchases. So why not try life like a local, get your hair done and wear your new designer sun glasses as a fashion statement, you're not going shopping, you're going 'showing'. If you're not quite such an extrovert of course, you can always play Santa Monica star in the comfort of your own apartment, posing in your king size bed with a glass of bubbly.
Beaches
LA is famed worldwide for its excellent beaches; white sands, great surf, beautiful people… And Santa Monica beach is no different. Santa Monica bay, stretching over 3.5 miles long, is considered to be the prime coastline of LA. Holidaymakers and locals alike head here to soak in some of the 300 days of sunshine Santa Monica enjoys. It doesn't matter how swanky your studio is, the pull of the beach is undeniable. Here you can work on your California beach-babe (or dude) body with a spot of volleyball, or let yourself dry off in the cool breeze after a long swim in the sea.
Nightlife
Santa Monica has a unique range of bars, clubs, casinos and dancing venues. If partying with an ocean backdrop and cool sea breeze sounds like your thing, you won't be disappointed. There is a diverse range of styles, from rooftop lounges to studio bars with a more intimate vibe; from electro raves in secret basement locations to caribbean music style, bare-feet in-the-sand swings. You'd be hard pressed not to find something up your street.
Getting Around
The nearest airport to Santa Monica is LAX, which is only 20 minutes by shuttle. The city itself prides itself on being a green city and its easy to get around by foot, bike or bus. If all the travelling you want to be doing is a casual stroll down to the beach though, there are plenty apartments for rent on the seafront.
.
What are you waiting for? Get looking for studio rentals today and get booking that trip to Santa Monica - the sun is calling!