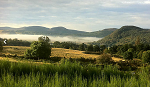 Scotland is roughly divided into two separate parts. The Scottish Highlands refers to the northernmost half of Scotland, in particular the land north of all the main settlements in Scotland, including Glasgow, Dundee and Aberdeen. This is historically the region divided from England, that made up Scotland proper. This is the region of Scotland dominated by mountain ranges, floodplains, lakes, Lochs and rivers. It is countryside through and through. If you've never been before, prepare yourself for high winds, storms, isolated areas and more natural wildlife, rare flowers and plants than you could ever imagine.
Where to stay?
Considering where to stay in the highlands? That depends what kind of holiday you're after. Inverness is technically the highlands' capital, but there are several other small towns, villages and settlements where you can stay, including Polin Oban, Orkney, Beauly, Killin, Aviemore, Fort Augustus, Lamlash, Isle of Arran, Stirling, Roybridge, Evanton, Carrbridge, and Kirkmichael. It depends whether you want to be tucked away in a cottage in the rolling hills or you'd prefer to enjoy the comforts of a bed and breakfast on the coast. When it comes to accommodation in Scotland, self-catering cottages and bed and breakfasts are the most common form, and 'rooms with a view' are of an abundance. If you really want to be at the heart of nature, then you can even stay in a cottage in Aviemore, situated in the Cairngorms National Park.
The Wimdu Experience: Self-catering accommodation in the Scottish Highlands
The Scottish Highlands isn't really the place to come if you're after 5 star hotels and other commercial accommodation. In fact, it is a great place to experience the unique "home from home" kind of holiday that Wimdu offers: a choice between self-catered accommodation or a homely bed and breakfast from which you can enjoy the Highlands your way and get tips from your local hosts about how to spend your time and what to see and do while you're there.
Interesting Facts
The Scottish Highlands became distinguishable from the lowlands during the middle ages.
The Scottish Highlands is one of the most sparsely populated areas in Europe.
Until the 20th Century, the area of the Highlands was different from most of the lowlands in terms of language, which naturally supported the divide.
A wider definition of the division between high and lowlands in Scotland is based on the Scotch Whiskey industry: The Highland Whiskey Malts are only produced to the north of Dundee and Greenock.
What can you see and do?
Exploration, exploration, nature, exploration. That pretty much captures the highlights of what there is to do in the Scottish Highlands. With such a sparse population, so little commercialisation and such a vast expanse of sprawling countryside, Scotland is most definitely the place to come if you want to explore the outdoors and experience some truly magnificent scenery, not to mention the masses of rare natural inhabitants: bird, animals, plants and flowers that are spread through the hills. If you like nature, you've come to the right place.
Trekking, trails and hiking
The obvious thing to do when you visit Scotland is to don your walking boots and head for the hills. Here in the Scottish Highlands there is plenty of opportunity for walking, trekking and hiking excursions, from short walks through the heather laden valleys to full-on mountain hiking. So whatever your level as a walker, there is something for everyone. The Cairngorms National Park is a good place to start, with designated paths to follow for the more inexperienced walkers, or if you fancy going off the beaten track a bit, you can always check out the marshes and cluster of Lochs near Inverness.
Pubs and breweries
The Scotts have a good reputation for drinking, with pubs playing a big part in the culture, especially in the highlands. If you fancy an evening away from self-catering in your cottage, then the local pub can be a great place to head for a 'proper brew', strong whiskey and some decent pub grub to wash it down with.
Bird watching
For avid bird watchers, the Scottish Highlands are a must. There are over 247 recorded bird species in Scotland. Most of around the 250 species of bird regularly recorded in Britain venture to Scotland. There are approximately 600 golden eagles, and more sea birds than in England, Wales and Ireland put together! You can even rent out self-catering cottages in the marshes especially catered for bird watching.
Fishing
There are over 42 species of fish that can be found in Scottish fresh waters, so fishing is a big leisure pastime in the area. The great thing about renting self-catering accommodation in Scotland means you can spend all day away from your cottage fishing, then bring your fresh catch back home for a truly delicious evening meal for the family.
Castles
If you love exploring historic monuments or castles, then the Scottish Highlands are a great place to visit. There are twelve major castles in the Scottish Highlands. Ballundalloch: Also known as the 'Pearl of the North' is considered to be one of the most romantic castles in Scotland and Urquhart Castle by the Loch Ness is actually over 1000 years p>