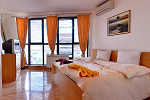 So you are thinking about visiting the exciting capital city of Bulgaria, Sofia? You won't be disappointed! It is a beautiful and exciting city, where busy cosmopolitan urban life is only a hop, skip and a jump away from the relaxed countryside. The grand Vitosha National Park is right next door, with its huge mountain that towers over Sofia means that residents and tourists alike can escape to nature whenever they like. There are plenty of things to see and do in Sofia and the city is one of Europe's best value places to visit for a city break. Wimdu offer a wide range of holiday accommodation, from city centre apartments and studios through to quieter guest houses on the outskirts. Wherever you decide to rent you'll have a great time in Sofia!
Fun Facts about Sofia
Bulgaria is the oldest country in Europe that hasn't had a name change since being established!
Sofia is the second oldest city in Europe
The world's first computer and digital wrist watch were invented by Bulgarians!
Sofia's situation, at the foot of Mount Vitosha makes it Europe's only city to be situated so close to a mountain
Sofia is the European Union's fifteenth largest city, with a population of 1.3 million
Where to Stay in Sofia - Apartments, Studios and Guest Houses
Sofia is an incredibly attractive city, and exploring it on foot or on bicycle is a real pleasure. For this reason, an apartment or studio in the city centre is a great way to get to know the town. If your tastes are more towards a healthy and chilled out break, then look at guest houses on the edges of the city on the Vitosha National Park side - you'll be able to easily go hiking for the day, or mountain biking if you are feeling adventurous! Wimdu offer a range of accommodation, from city centre apartments to rural guest houses, and you can search for en-suite bathrooms, extra bedrooms, children's facilities or anything else you need to make your holiday perfect.
Things to see and do in Sofia
We suggest you start off in the heart of the city at the Cathedral Saint Alexander Nevski. This huge orthodox church is one of Sofia's landmarks and you'll find images of the cathedral crop up all over the place – from postcards to souvenirs. It was built in the early 20th century and features three impressive large naves with grand arches and columns. It is beautifully decorated and there's also a museum inside the cathedral featuring the largest collection of religious icons in Europe. The cathedral is open to visitors from 7am to 6pm and is easy to locate in Sofia's city centre.
After you've had a good look round the cathedral, take a stroll along Vitosha Boulevard, it's recently been completely pedestrianised and you can grab a coffee or beer at one of the many cafes and bars lining the street. Café Momentos, located halfway down the boulevard is our recommended bar! Slaveikov Square is also worth a visit – it has a huge open air book market which has been there for over 100 years. There are many interesting, independent shops in the streets surrounding the square that are worth checking out too!
Sofia's most loved museum is the National Museum of Military History which is a pleasant 30 minute walk from the city centre. The museum has information in both Bulgarian and English and surrounding the museum are many tanks, planes and other military vehicles from throughout Bulgaria's history. There's plenty of information to immerse yourself in and the museum is well designed and put together.
Ivan Vazov Theatre is Bulgaria's national theatre and is loved for its rich and eventful history and extremely good value ticket prices. It's one of the most impressively decorated structures, both inside and outside, in Sofia and catching a Bulgarian show is highly recommended! Visitors to the city often find themselves returning to this cultural centre – it's that good! The Sofia Bike Tour meets by the theatre – this is a great way to see the various landmarks and learn the history of this ancient city.
Vitosha National Park
One of the things that makes Sofia so special is its proximity to the beautiful Vitosha National Park and the mountain within it that dominates the Sofia skyline. The park is the perfect place to escape the summer heat and also contains a number of ski slopes meaning Vitosha is ideal to visit all year round! Mountain biking and hiking are both popular activities, and the views from the top of the mountain are stunning! There are buses connecting Sofia with the park but the relatively low cost of taxi journeys means it might be better to take one of them. You'll be ready to collapse back at your studio apartment after a day of physical activity on the mountain!
Eating and Drinking in Sofia
Sofia is renowned for its great eating out options and you'll find restaurants and cafes to suit all budget ranges. Make sure you try local pastry banitsa which is made of cheese and filo pastry. It's typically eaten for breakfast with boza, a fermented wheat drink. The pancake known as katma is also worth trying – it's typically served with cheese or jam. Bulgarian yogurt is known to be of extremely high quality so make sure you try that too! Bulgaria is one of the world's biggest wine makers and you'll find some excellent local wine in the bars that line Vitosha Boulevard.
Getting Around
Sofia Airport is Bulgaria's busiest airport and is located 10km to the east of the city centre. The airport is used by over 25 airlines with direct connections with major cities such as Paris, London, Vienna and Athens. The best and cheapest way to get into Sofia from the airport is to take the number 84 bus which will take you into the city. Get off the bus at Orlov Most metro station if you wish to change to metro. Allow 30-40 minutes to get into the city as traffic is not always fast moving. The bus runs approximately 3 times an hour during the daytime so you won't have to wait long to get into the city.
Getting around Sofia city centre is made easy by the efficient metro and tram system that connects all areas of the city. There are two metro lines and 15 tram lines which run from 5AM to 12AM – there is no public transport is the night to use a taxi to get back to your holiday apartment if you stay out late. Buying a ticket for public transport is simple and the whole city is located within the same tariff zone – one ticket will take you wherever you wish to go.
It's possible to explore much of Sofia on foot and we recommend you spend time wandering the streets of Sofia – it's where you're likely to discover hidden gems and places off the beaten track! The streets of Sofia are quite uneven though so watch your step. Why not combine visiting Sofia with nearby Istanbul? The Turkish capital is just 600 km south-east of Sofia and there are several bus lines connecting the cities. The journey takes 8 hours and tickets are good value.