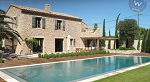 The South of France is one of the most popular tourist destinations in Europe and each year 10 million people visit the French Riviera. Southern France is colloquially known as 'le midi' which is a name that comes from Old French. Southern France enjoys beautiful bright sunshine and a Mediterranean climate which is certainly one of the main reasons why the area is so popular with visitors! Whilst Northern France has some things in common with the UK's climate and culture, Southern France is most definitely got more in common with Mediterranean countries such as Italy and Spain. The south of France is a very popular tourist destination amongst worldwide travellers, there is something for everyone to love, from its extensive beaches to charming towns and cities. Exploring France would take a lifetime and there is a huge range of things to see and do. Take your time in the south of France, soak up the relaxed pace of local life and don't get too hot!
Accommodation in the South of France
As Southern France is a popular tourist destination the area is full of excellent selection of accommodation such as hotels and hostels to cater for the plane loads of tourists that flock here. Wimdu offers a great selection of holiday villas, city apartments, converted farmhouses, guest rooms and beautiful French cottages to suit all types of travellers and budgets. Choose from sea front villas with private pools or an apartment in the heart of it all with enough room for family and friends! Whatever your accommodation needs are Wimdu has you covered.
Fun Facts
Wine has been made in the south of France since the Roman times!
Around 200,000 actors and agents visit Cannes Film Festival every year.
The Statue of Liberty was made in France and given to the USA in 1886!
Artist Henry Matisse did most of his painting in Nice in Southern France!
The French produce more than 60 million hectolitres of wine every year!
What to see and do in Southern France
Southern France is a diverse region with many different things to see and do. The Cote de Azur is the glamorous playground of the rich and famous and the beach resorts of St Tropez, Marseille, Nice and Cannes are all amazing for day trips, with a great selection of accommodation if you decide to stay for a night or two! If you like nature and the great outdoors then there are some excellent hiking and cycling options in the Cevennes and kayaking is popular down the Ardeche canyons. Cycling is best done along the small roads around Mount Ventoux and in the Luberon. Check out our selection of French cottages in these areas. The Alps begin in the south of France and stretch northward into Italy and Switzerland – cycling and hiking are hugely popular in this area. Southern France is full of history and you can step back into the Middle Ages at the huge palace in Avignon. There are also pre-historic paintings which can be seen at the Chauvet-Pont d'Arc and are examples of the first artists. Roman architecture can be seen at Pont du Gard and Nime. If you are planning on visiting a number of towns and cities, then take a look at what villas and apartments are on offer, you should experience the different towns by day and night! If you decide to rent a car, we recommend you take a drive around the country side, there are some beautiful French chateau's and villas that were build centuries ago that are definitely worth a visit.
Tasty Food
Food in Southern France is extremely important and a big part of the local culture. The Vineyards in the Cotes du Rhone are beautiful. You can even meet some of the winemakers and taste some of their latest wines! French bread is of course a treat and you can find tasty bakeries all over Southern France. French cheese is also very good and the simple combination of bread and cheese is simply divine! The region also produces a lot of fresh produce, if you decide to take self-catering option, they why not try a night of cooking in your apartment – grab a nice bottle of red and bon appetite!
Cities in Southern France
There are several excellent cities in Southern France. Nice is one of the prettiest cities in France and lies on the sparkling Mediterranean Ocean. It was the preferred summer destination of Queen Victoria and her residence can still be visited on Nice's seafront! Marseille is a great city to visit with a vibrant cultural scene, great beaches and excellent nightlife. The surrounding landscape around Marseille is worth exploring too and is popular with outdoor enthusiasts. Montpellier is a student city with quaint streets and excellent shopping opportunities. The city's main attraction is the Place de la Comedie, a huge square with origins in the 18th century. Toulouse is popular with Parisian's looking for an authentic Southern France experience. If you want to try and sport the odd celebrity then head to Cannes, with great beaches and host to the Cannes Film Festival, the town has made its name by wining and dining the rich and famous! One thing's for sure – you can always rely on the weather in the south of France!
Getting Around
There are various airports located in Southern France including major international airports at Marseille, Nice, Montpellier and Avignon. These airports have flight connections with most major European airport and places further afield such as cities in the USA and Asia. The roads in Southern France are considered to be excellent and getting around with a car is straightforward. Cities and towns are clearly signposted and various highways make travelling between the major cities relatively quick. Public transport in Southern France is very good and trains and buses link the major cities and the services are considered to be reliable and good value. Travelling from Paris to Nice is possible within a day but be warned – the journey is quite long! Several good motorways connect the south with the north - allow 8 or 9 hours travel time between the north and south!