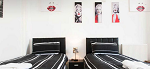 Brought into the spotlight by the introduction of the Westfield Stratford shopping centre in 2011 and the Queen Elizabeth Olympic Park built for the 2012 Summer Olympics, Stratford is still very much an up and coming area of London. Situated in the east of the city between Holloway and Illford, the area is a convenient connection for much of the outer city residents who commute into the centre for work.
Apartments in Stratford
The main reason for renting an apartment in Stratford is for the connections. Staying in Stratford means you're close to all the best parts of central and east London and just a stone's throw from Essex should you fancy a night out with the TOWIE bunch. You're also on the doorstep of one of the best shopping centres in London and just a stone's throw from Queen Victoria's Olympic Park. Stratford apartments are smart but small, reminiscent of hotel rooms. Modern and comfortable, and perfect for a business trip of short-stay accommodation in London.
Fun Facts
Stratford was historically an agrarian settlement in the ancient parish of West Ham, within the county of Essex, and was transformed with the introduction of the railway in 1839
Stratford only became part of greater London in 1965.
The name Stratford has its origins in old English and means, literally, 'ford on a Roman road'.
Originally Stratford was an agricultural community, from which farmers shipped their produce to the city. Potatoes were among its notable crop produces.
It took over 80,000 workers to construct The Olympic Stadium in Stratford.
Things to see and do
Since its revamp, Stratford has become a buzzing hive of activity, with new restaurants and bars springing up like hot cakes around the traditional pubs that still grace the area. If you've done the London sites and just want to socialise with friends, Stratford is the perfect place, with plenty of entertainment to keep you from wanting to return to your apartment.
Queen Elizabeth Olympic Park
The Queen Elizabeth II Olympic Park is Stratford's biggest attraction by far, constructed as recently as 2012 for the Olympic games held in London. With a capacity of over 80,000, the stadium in the centre of the park is the third largest sports stadium in England, after Twickenham Rugby Ground and Wembley Stadium. Following the event of the games in 2012, the stadium was closed and will remain closed until 2016, when it will reopen as the grounds for the National Competition Centre for athletics in the UK, a major live music venue and the new home of West Ham United FC. From 2012 the stadium will also be open all year round for other cultural events such as art exhibitions, other sports activities and guided tours for tourists. The stadium is also intended to host the Rugby World Cup in 2015, before it is reopened.
Surrounding the stadium there are many other events going on too, including poetry readings, sculptural exhibitions and of course some great green areas and playgrounds for indulging in a bit of outdoors fun. The Arcelormittal Orbit, the controversial sculpture in the centre of the park is an outstanding attraction, well worth a visit if you're staying in Stratford. The statue itself is over 114.5m tall and if you're lucky - or unlucky, depending on your tastes - you might even have a view of it from your apartment window.
Shopping
Westfield Stratford City is considered the 'city within a city', a huge retail complex, reminiscent more of something from Japan than London, it is a multistory building mainly made of glass, housing hundreds of brand stores, high-street chains, restaurants and bars. The complex sits within the Olympic Park site and hosts over 300 retail outlets. John Lewis, Waitrose and Marks and Spencer form the cornerstones of the great building. The building itself is like a cross between an art installation, factory floor space and spacecraft interior with its immaculate tiled floors, glass panelled store fronts and white plastic booths. The building was designed by a panel of young British creatives and has been used since as inspiration for interior design of apartments in the area.
Nightlife
If you want to eat out, or just go for a quick drink in Stratford, you'll have a hard time trying to choose between the truly extensive range of choice on offer. From the Caribbean scene to fruity cocktails, Indian feats to pub brews, Stratford covers the globe with a range of tastes and treats. There are over 82 food and drink alcoves in Westfield alone and many more restaurants and bars around the area. Stratford is also olnly a short tube ride away from some of London's best bars and clubs including Shorditch's renowned XOYO, Dalston's best Reggae venue, Passing Clouds and central's famous Pasha. If you prefer live music, there are plenty of small gig venues and jazz bars around this part of London, but some can be quite hard to find if you don't know where you're looking; which is where your Wimdu host will come in handy. Don't forget to check their reviews and guide book for tips before you leave the apartment.
Getting Around
As one of the major centres of London, Stratford has excellent connections to all parts of the city. It is served by the Jubilee, Docklands Light Railway (DLR) and central lines, London overground and by National Rail services Abellio Greater Anglia and C2c. You can get around Stratford itself easily by foot.