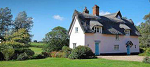 The picturesque countryside of Suffolk is one of England's prettiest corners. Situated in the East Anglia region of southeastern England, Suffolk lies right on the coast, sharing its borders with Norfolk in the north, Essex in the south, Cambridgeshire in the west and the cold north sea lies to the east of Suffolk. The county is home to some of England's oldest settlements with traditional thatched cottages peppering its quaint towns and villages. With beautiful beaches, unspoilt countryside and rolling hills, tourism is in Suffolk in on the rise. As a result, an abundance of bed and breakfasts and traditional self-catering Suffolk cottages have sprung up, offering the perfect escape from city life.
Where to stay
With more and more people after their own little piece of the country, the accommodation available in Suffolk has trebled over the recent years. Now nearly the majority of cottages in Suffolk are either available for rent - especially during the summer months - or include bed and breakfast and holiday homes. Whether you are looking for that quiet getaway tucked between the hills or an authentic cottage for the whole family, has got you covered with a wide selection of self-catering accommodation to suit all types of budget.
Fun Facts
Benjamin Britten, one of the 20th centuries most famous classical composers was born in Lowestoft, Suffolk!
The Nutshell pub in Bury St Edmonds, west Suffolk, is England's smallest pub – the bar measures just 15ft by 7ft!
Lowestoft Ness is Britain's most easterly point – next stop The Netherlands!
'Twinkle Twinkle Little Star', a popular children's song was written by local Suffolk lady Jane Taylor in 1806.
What to see and do
Suffolk's untouched and undiscovered beauty is perhaps the main reason why so many of those that visit the county come back time and again for a taste of the fresh sea air. There's plenty of countryside to get lost in and many walks and trails off the beaten track to explore. Peppered throughout this spectacular landscape are pretty market town and villages that have retained their old English charm: think candy-floss pink cottages, quaint family-run bed and breakfasts, thatched roofs and rose bushes.
Ipswich
Ipswich is the capital of Suffolk and is one of England's oldest town – a great place to come if you want to experience Suffolk's old world charm. Ipswich is perhaps most famous outside of Suffolk for its football club Ipswich Town but there's much more to see than just a game of football! Check out the recently developed Waterfront Entertainment District on the River Orwell and the interesting exhibits in the Ipswich Museum. One of Ipswich's most impressive and often overlook attractions is the Christchurch Mansion and Park. Inside beautiful parkland the mansion offers a glimpse into times gone by in Suffolk and the grand rooms, attractive statues and paintings all illustrate this. The staff at the mansion are helpful and knowledgeable and entrance is free. Ipswich is a popular destination for families with bed and breakfasts and sweet little self-catering cottages available all along the waterfront, only a few minutes walk from Ipswich Market, giving you really get a feel for local life.
Felixstowe
Felixtowe is a typical Victorian town that lies on the east coast of Suffolk. With some of the best beaches and coastal walks in Suffolk - maybe even in England - it is well worth a visit. If you're staying in self-catering accommodation why not get up early, prepare a picnic and head to the beach for the day. If you'd rather stay away from sea air, Felixstowe's pretty promenade is provides the perfect setting for a romantic stroll, where you'll find landscaped gardens and traditional English tea rooms. Need to burn off some energy with the kids? There are several typical seaside arcades in Felixstowe where you can enjoy crazy golf, whack-a-mole and tuck into a steaming bag of traditional fish and chips.
Other Interesting things to see and do in Suffolk
Newmarket is an ancient market town where Charles II once used to live. He loved town so much he set up a horse racing course here – it was the first of its kind in Britain! Bury St Edmonds is famous for the medieval ruins of a monastery destroyed by Henry VIII. Suffolk's 'Sunrise Coast' as it is affectionately known is great to walk along and there are many award winning beaches, and of course, many equally beautiful cottages. To the north of Suffolk are the Norfolk Broads.
Getting Around
Getting to Suffolk is straightforward and it is just a two hour train journey from London to Ipswich. You can also reach Suffolk quickly by bus and car via the UK motorway system from nearby Cambridge, Huntingdon and Norwich. Towns in Suffolk are well connected by road and public transport is good. You can also reach Suffolk from Europe via ferry at Harwich in Essex which is across the river from Felixstowe. Harwich has daily ferry connections with The Netherlands. Suffolk is conveniently located close to the Norfolk Broads that are very popular with people from all over the UK. Suffolk's towns of Ipswich, Bury St Edmonds and Felixstowe are all pleasant places to walk around and can be explored quite easily without the need to use transport. If you do require transport you'll find frequent buses will take you around each of these towns, so it is easy to get around no matter where your accomodation is situated.