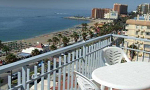 If you are looking for guaranteed sun, clean beaches and sparkling water, combined with great nightlife and quality holiday accommodation, take a look at Torremolinos on Spain's Costa del Sol. The town was the first resort in the area to be developed, back in the 1960s, and it has changed dramatically from its origins as a quiet fishing village! It is now famous throughout Europe for its hectic nightlife - but out of season, or in the sleepier areas of the town such as El Bajondillo or La Carihuela, you can still have a relaxing holiday, soaking up the Spanish sun!
Where to Stay in Torremolinos
Our favourite areas to rent accommodation are Los Alamos which is down by the beach, and La Carihuela, a small fishing town just a short walk down the beach from Torremolinos proper. If you're after something a bit more central, so you don't have too far to stumble after a night out, consider El Bajondillo which is still by the beach, but nearer to the town centre. Once you have decided on your area, you can use Wimdu to search for exactly the type of accommodation you need. We have family villas with swimming pools, apartments suitable for a group vacation, with multiple bedrooms and en-suite facilities, or simple bed and breakfast holiday rentals. Whatever you are looking for, Wimdu can help!
Fun Facts about Torremolinos and the Costa del Sol
Torremolinos means Tower of the Mills and refers to the mills that the Moors built when they conquered Spain
Costa del Sol - or Coast of the Sun - deserves its name! Temperatures average out at 29ºC over the summer months, and the sea temperature stays above 23ºC!
More Rolex Oyster watches have been reported stolen on the Costa del Sol than have ever been manufactured!
Things to Do and See
Torremolinos has everything you would expect for a Spanish holiday of sun, sea and sangria. But there is more to the town than that, and in fact the local tourist board have done a great deal of work over the last few years to get away from its "Full English breakfast package holiday" image. The beach especially is beautifully clean and there are many public parks and gardens - the town has over one thousand different species of tree! Torremolinos is also surrounded by beautiful forested countryside, and heading to the quiet shade of the trees for a family barbecue provides a nice change to baking on the beach!
Water sports are popular and you can rent windsurfers and kitesurfing boards easily and cheaply. Check when you make your accommodation booking though - some villas come complete with equipment. A really nice family afternoon out is to go dolphin watching on a boat trip from Benalmadena marina - and make sure you take the kids to Aqualand - the biggest waterpark in Andalucia!
Torremolinos is also handy for the rest of Andalucia and you can easily take a day-trip to see the Moorish castle at Malaga, the lovely mountain town of Mijas or take in the shopping and sights of Marbella. Why not make it an overnight stay and find a bed and breakfast for a night for a "holiday within a holiday"!
Eating and Drinking
If you are interested in the local Andalucian cuisine then you must head over to the small fishing village of La Carihuela which is famous throughout the country for its seafood. The village is totally pedestrianised, and filled with restaurants and it also has a good range of chiringuitos - beachside cafe-bars serving up food and drinks throughout the day and evening. After your meal try a glass of the local vino de Malaga, a tasty local fortified wine.
Torremolinos' nightlife is everything you would expect from a tourist resort on the Costa del Sol! It is also famous for its relaxed and tolerant attitude to gay and lesbian holidaymakers. The main gay clubs and bars are in La Nogalera, in the middle of the town. Gay or straight, whether you want to sip sangria at a beachside bar before heading back to your apartment, or go dancing till dawn, Torremolinos can cater to your every whim!
Getting Around
Malaga Airport has flights from most major European airports and from there you can take a train directly into Torremolinos. Once you arrive, you will find most places are fairly walkable, but there is also an extensive local bus network - you'll find this especially useful if your apartment rental is on the outskirts of the city, as that can be a few kilometres walk to the beach. Check with your Wimdu host, as sometimes villas come with a bicycle or two for you to borrow!