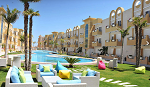 Tunisia makes up just a small segment of North Africa's vast horizontal expanse, however it has more history and diverse natural beauty than many countries twice its size. Its magical sand-fringed Mediterranean coast and jasmine scented sea breezes are a haven for families, sun seekers and travelers alike, but if you're looking for something a bit different from your typical Tunisian All Inclusive, Wimdu has plenty to offer in the way of a more authentic Tunisian experience, with a range of accommodation on offer from the locals.
Tunisia a popular location summer holiday location. Social travelers from all over the globe have been visiting here for years to soak up the sun, sand, and cuisine. Beyond the beautiful beaches and luxurious villa side pools, there is another side to Tunisia which can be seen in its bustling flea markets, desert landscapes and local towns: its distinct culture. The Arab capital of Tunis encaptures this side of Tunisia perfectly and if you're one to venture off the beaten - or in this case the beach - track, Wimdu has some truly special accommodation available.
Villas in Tunisia
Tunisia is a great and varied country, but small enough to travel around with relative ease. If you want to get out and explore the country, why not rent an apartment in the centre of Tunis (Wimdu travelers are recommended to try an apartment in Tunis), the ambitiously modern Arab capital, from where you can immerse yourself in the country's wonderful history and explore the medina (old city) and the ville nouvelle (new city). Or venture further out and get to know the fascinating Berber culture out in the desert. Smaller rentals and single rooms are also available around these parts if you're travelling solo. If you want to really head off the beaten track, there are the deep-green forests of the north, that rise up from the coast, dotted with olive and citrus trees. Here you will find a range of bed and breakfast options catering for a short stay before you head south, where the ever-enchanting sands of the Sahara stretch deep into Africa and the traditions of the indigenous Berbers persevere.
If on the other hand, you're looking for a great family destination, one of Tunisia's luxury villas may be more up your street. Villas are more common in the coastal areas around Kelibia, Nabeul, Djerbs, just a short walk away from the gorgeous golden sands of the scorching Tunisian beaches. Here you will find plenty to keep the kids occupied, with almost every water sport imaginable.
Fun Facts
Tunisia is the northernmost country in Africa.
Tunisia is a member of La Francophonie, the Arab League, and the African Union.
The island of Djerba has one of the oldest synagogues in the world.
While not an official state language, French is spoken by 64% of the population.
Over 20% of the seats in the Tunisian parliament are held by women, much higher than the Arab World average of 6.5%, and higher even than the world average of 17%.
Things to See and Do
Tunisia has a wide range of things to do, from exploring the rich history and architecture, to relaxing on the beautiful beaches, or trekking into the desert. Any trip to this fascinating country must include a visit to Carthage, just 15 km north of Tunis. Leave your apartment and explore the ruins of the base one of the ancient world's most powerful trading empires. See the ruins of the largest Roman baths outside Rome, the Basilica of Saint-Cyprien, and the Carthage Museum. If sea and sand is more to your liking, why not rent a Tunisian villa on the island of Djerba or the coastal town of La Goulette. Rent a bike to explore Djerba and definitely visit a Turkish bath. Let local Berbers cook you as they lead you on an overnight camel trip into the desert.Tourism plays a huge part in the economy but Tunisians are often surprised, and charmed by independent travelers who enjoy sharing stories and social travel. You'll discover apartments and bed and breakfasts in close proximity to traditional cafes and restaurants where you can gorge on Maghrebi favourites, plates of homemade pasta or perfect pastries for a fraction of the price of those in Italy or France, and often have the unbeatable historical thrill of kicking around a stunning ancient site with just you and the ghosts. The country's public transport is cheap and reliable. Find your next apartment or villa in Tunisia with Wimdu.
Getting Around
Tunisia is served by 2 main airports, Tunis-Carthage International Airport (TUN), and Habib Bourguiba, Skanes-Monastir (MIR) in Monastir. Low-cost charter flights out of Europe often fly to the latter, as it is close to many of the resort holiday destinations. Traveling from your villa to your apartment or vice versa is quite easy and there are a variety of options available to travellers. It is easy to find rental cars, and there are several modern highways to drive. Be warned, however, as Tunisian drivers can be quite reckless and driving on your own can sometimes be a harrowing experience. Modern trains run on the main routes and are easy to use and relatively cheap. Bus lines are also common to use, and when neither of those are available, local shared taxis known as louages offer a slightly less comfortable ride. Distances are not too long in Tunisia, however - it takes just 2 and a half hours to drive from Tunis to Sfax, so getting around from your apartment shouldn't be too much of a problem.