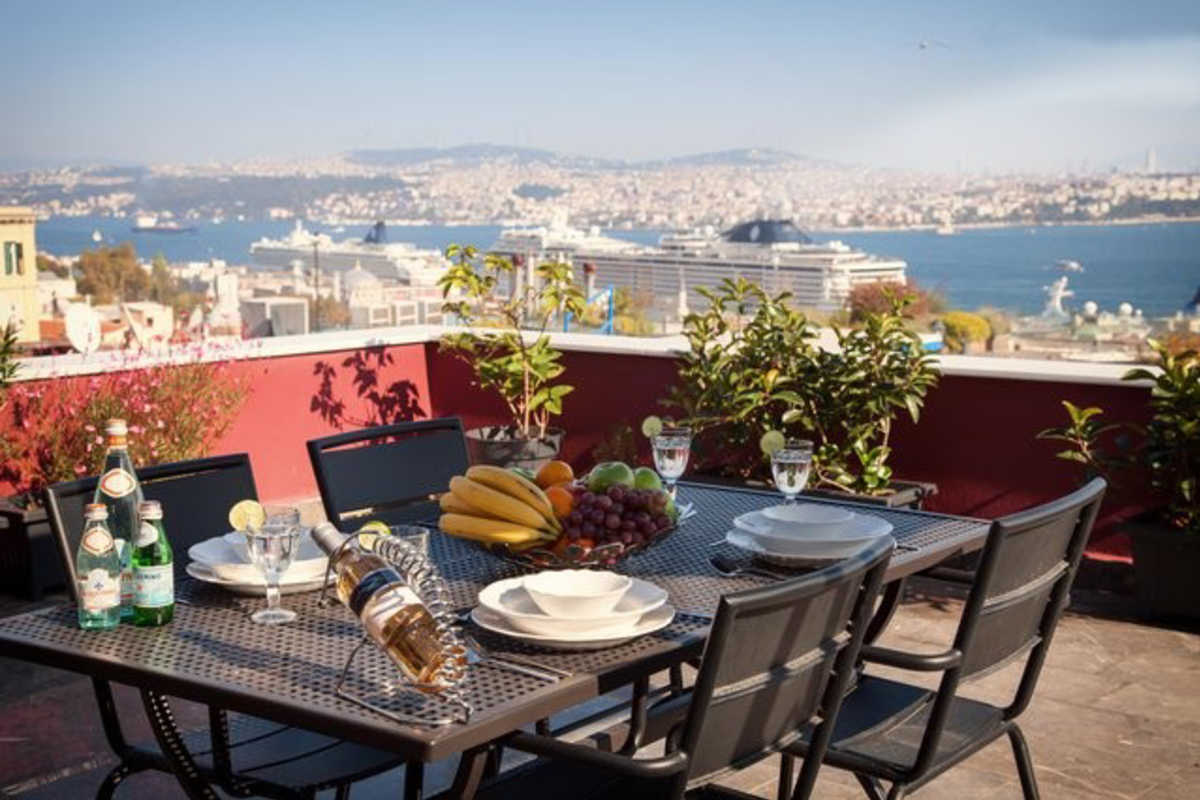 Turkey is a country that is steeped in history, culture and tradition and the cuisine is to die for! It's a fantastic holiday destination with much to offer visitors. Tourism has spiked within Turkey in the last number of years which has resulted in the development of many hotels, villas and self-catering apartments. The country has a perfect mix of exotic eastern cultures and familiar western influences and the country is known as the 'bridge between east and west'. Throughout the country there are some amazing archaeological sites, Islamic monuments, bustling bazaars, beautiful coastal resorts and some stunning landscape. In this guide we'll go through what we think are the best things to see in Turkey!
Where to stay in Turkey
There is a great range of accommodation all across Turkey, depending on where you stay will also depend on the price of your accommodation. Wimdu offer a wide range of accommodation such as holiday villas and self-catering apartments to suit all types of travellers and budgets. Whether you're travelling in a group, that someone special or a family getaway, Wimdu has you covered. Choose from costal seafront villas to inner-city self-catering apartments. We are sure no matter where your Turkish destination is, you will find the perfect accommodation with Wimdu!
Fun Facts
The Turkish city of Istanbul was built on 7 hills – just like Rome, Edinburgh and Lisbon!
There's only one city in the world that spans two continents – that's Istanbul!
Turkey is responsible for the tulips in The Netherlands!
The founder of modern Turkey, Mustafa Kemal Ataturk,is actually a Greek!
What to see and do in Turkey
The west of Turkey is much more developed and visited than other parts of Turkey and it's where there are many package holiday resorts. Istanbul is an exotic, bustling mix of eastern and western cultures and a visit to this large city is highly recommended. The city sits on the wide Bosphorus Strait which divides the city in two. It's a majestic stretch of water and is a walk along the water's edge is recommended! There are lots of popular tourist attractions in Turkey – check out the Blue Mosque, Galata Tower, Topkapi Palace and the Hagia Sofia, regarded as one of the most beautiful buildings in the world! Istanbul is famous for its bazaars and you'll find all kinds of food, knickknacks, souvenirs and household goods in these bustling markets. It would take several weeks just to scratch the surface of Istanbul – it's huge!
Also in Western Turkey is the Turkish capital of Ankara, a planned city that is known both for its concrete jungle feel and splendid museums, including the revered Museum of Anatolian Civilisation. There's much to see in the local area of North Central Anatolia including the beautiful town of Safranbolu, which is famous for the large amount of museums in the town. Western Turkey is also home to Mediterranean Turkey where some of Turkey's lushest landscape can be found. The Cilcian Mountains are great for hiking and are located close to some of Turkey's most beautiful beaches.
Towards the east of Turkey there are several interesting regions. Southeast Anatolia is a semi desert region with several interesting historical towns and villages worth exploring. It is a distinctly middle eastern part of the country with more in common with neighbouring countries Syria and Iraq then Turkey. Eastern Anatolia is a very mountainous region of Turkey and the Muradiye Waterfalls are a tourist highlight of the region. Nemrut Dagi Mountain is a UNESCO world heritage site too!
Food in Turkey
Food in Turkey is excellent! Fresh salads, Doner kebabs, tasty pide breads, sweet baklava pastries and much more, Turkish food has a great reputation all over the world! Turkish people take great pride in their cuisine and throughout Turkey you'll find excellent regional specialties! You also have the option of cooking with some great fresh Turkish produce in your self-catering apartment or villa.
Getting Around
To travel around Turkey you need to purchase a visa which costs as little as 15 euros. Turkey's main airport is Istanbul's Ataturk International Airport. Sabiha Gökçen Airport is located 50km of Istanbul and handles a lot of low-cost flights from airlines such as GermanWings, Easy Jet and Turkish Airlines. Turkey is also relatively accessible from Eastern Europe by road. A daily bus leaves Bucharest at 4pm for Istanbul at the cost of 125 lei. There are also buses running from Sofia in Bulgaria and Thessaloniki in Greece. Getting around Turkey is generally a pleasant experience and there is a great long distance bus network with a fleet of air-conditioned, modern buses that connect all the major cities and towns in Turkey. Trains are cheaper than buses but you will find them slower. Choose an airport that is closest to your accommodation, car hire is possible but you'll find petrol to be very expensive – it's probably best you get around Turkey via public transport!