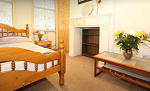 The United Kingdom is land of diverse landscapes, exciting culture, stunning coastline and excellent cuisine! It is made up of the island of Britain which includes the countries Wales, England, Scotland and Northern Ireland, as well as hundreds of smaller islands scattered off the coastline. There's so much to see and do that it is impossible to summarise it all! Wimdu has a huge range of accommodation available throughout the UK, from London flats to countryside bed and breakfast, through apartments in the thousands of charming towns and villages throughout the islands.
Fun Facts
The United Kingdom is where The Beatles are from, the biggest selling pop act in UK and US history
Tim Berners-Lee, inventor of the World Wide Web, is from the UK!
Almost 75% of the land in the United Kingdom is used for farming!
People in the United Kingdom drink more tea than any other nation on earth!
Where to Stay in the UK - Apartments, Flats and Bed and Breakfast
If you're visiting the UK, make sure to check out Wimdu's enormous range of accommodation. Whether you are looking for a family apartment with en-suite bathrooms and extra bedrooms, a homely bed and breakfast in the countryside, or a luxury flat with a rooftop swimming pool, Wimdu can deliver!
Things to See and Do in the United Kingdom
England
There's so much to see in England! London is the capital and is a hugely popular city for tourists to visit. There are so many amazing tourist attractions in London including Tower Bridge, London Eye, Shakespeare's Globe Theatre, Madame Tussauds and Oxford Street. You'll need several days to even scratch the surface of London – there's so much to see and do! England is not all about London, however, and there are many other excellent cities including Bristol, Birmingham, Sheffield, Manchester and Norwich to be explored. Each offers a unique take on British life, culture and architecture. The English countryside is a marvel to behold and on a sunny day there is no finer place to be in Europe! The Cotswolds, located just north of Bristol, is a beautiful part of the country and you can go walking, camping and fishing there! There are several amazing national parks in the UK including the Peak District and the Lake District.
Wales
Wales is a beautiful country with many, many miles of beautiful countryside, an exciting and individualistic culture and some vibrant towns and cities. Cardiff is the capital and the administrative and cultural centre of Wales. It's located in South Wales close to the border with England. There's many excellent tourist attractions in the city including the Millennium Stadium where the Welsh rugby team play, Cardiff Castle, Cardiff Bay and St David's Hall. Cardiff is relatively small for a capital city and was recently voted the best place in the UK for young people to live! It is just a short journey by train from Cardiff to the student city of Swansea, the pretty seaside towns of Tenby and Barry and the foody, market town of Abergavenny. West Wales is home to Aberystwyth, a popular student coastal town and Newport, a quaint seaside village. North Wales is home to the pretty towns of Bangor, Prestatyn and the island of Anglesey. There are many beautiful rolling hills, epic mountains and lush green farmland in Wales that is great for exploring! Wimdu have a range of apartments, flats and bed and breakfast throughout Wales, whether you want a buzzing urban break, or a relaxed countryside getaway!
Scotland
Scotland is home to the UK's second biggest tourist attraction, the city of Edinburgh, and some of the most epic landscape on the British Isles. Edinburgh attracts over 5 million tourists each year due to its picturesque streets, amazing castle and historic Royal Mile. Ben Nevis is the UK's biggest mountain and is popular with hikers who come from all over the British isles. Scotland is also home to the Hebridean Islands which are on the west coast of the country. They are popular with people looking to get away from the hustle and bustle of modern life! Glasgow is also a popular tourist destination and Scotland's best art galleries and museums can be found in the city.
Northern Ireland
Northern Ireland's capital of Belfast is becoming a more and more popular tourist destination and those who visit fall in love with the friendly attitude of the locals and good tourist attractions. The recently opened Titanic Belfast museum tells the story of the Titanic and its doomed voyage to America. The Titanic was constructed in the city and the museum has been getting rave reviews – the building that houses the museum is shaped like the front hull of the Titanic! Derry is also a popular tourist hotspot and the famous Giants Causeway is one of the country's most impressive natural phenomenons!
Getting Around
The UK is home to many major airports and it is both affordable and quick to get to from mainland Europe. Some of the biggest include London Heathrow, London Gatwick,Birmingham Airport, Manchester Airport and Edinburgh Airport. It takes just one hour to reach London from Paris, Amsterdam, Brussels! Getting around Britain is easy thanks to the good public transport system in place and high quality, well maintained roads. Taking the train is the best way to travel between cities and is also very quick. Train travel is quite expensive, however, and if you are looking to save money perhaps it is a better idea to avail of the bus system which also connects many cities and towns. National Express and Megabus operate long distance bus routes between cities such as London, Bristol, Birmingham and Manchester. If you are visiting more remote parts of the United Kingdom then expect to find less public transport and a lower quality of roads.