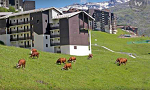 Val Thorens is the highest ski resort in the French Alps, and a must-do for ski and snowboard fanatics! It is generally open from November to May each year and has plenty to do both on and off the piste! From challenging black runs, through to a hot stone massage in the resort spa, you will get back to your chalet each evening feeling chilled out and exhilarated and ready for some serious après-ski! Book your holiday now and soon you could be looking out at the beautiful mountainous landscape, dotted with glacial lakes, filling your lungs with fresh, crisp alpine air and whooshing your way down some of the finest ski slopes in Europe!
Fun Facts about Val Thorens
Val Thorens resort altitude lies at 2300m and the highest lift is at 3200m, making it the highest ski resort in the Alps!
Val Thorens is part of Les Trois Vallées ski area, the largest linked ski area in the world!
More than 70% of the resort's visitors are non-French, making it the most "foreign" ski resort in France!
Where to Stay in Val Thorens
Booking your holiday accommodation through Wimdu is a dream. You can search for exactly what you need - whether that is a ski chalet with a hot tub or an apartment with extra bedrooms and baby-proofing. Wimdu have a great range of self-catering and bed and breakfast options in Val Thorens, so get online, track down your perfect guest house and get booking!
Things to See and Do
Heading for the snow
There's one main reason why you'd be heading for Val Thorens… and that reason is cold and white! The quality and reliability of the resort's snow is one of the reasons that Val Thorens is internationally famous and attracts skiers and snowboarders from around the world. There are various ski pass options open to you, depending on group numbers and ability.
Off-piste activities
If you're a bit snowed out but still fancy staying active, there are tons of other things to do at the resort. You could try something to get the adrenaline pumping, like paragliding or climbing, or just enjoy a relaxed day fishing at one of the ten beautiful high-altitude lakes at la Vallée des Belleville. There are special fly-fishing courses for teenagers who are keen to learn the art! If you would like to explore the area, why not hire mountain bikes for the family and set off on one of the marked trails around the resort - check when you book your holiday accommodation, as bikes and other sports equipment might even be available in your chalet.
And after all that… a spot of pampering
Make sure you book a session or three at the Val Thorens Sports Centre. There is an aquaclub with two swimming pools, and everything you would expect from a top-notch wellness centre - spa, jacuzzis, steam room, river showers, and general relaxation areas. You can also take part in various sports and wellness classes.
Kids Activities
As well as fun on the slopes, kids will love the fun pool at the Sports Centre, complete with paddling pools, jacuzzis, waterfalls and jets! It's all fully supervised by trained lifeguards, of course, and the lifeguards also organise various groups for children, such as baby swim groups, little dolphins and they can even learn water rescue. They'll be absolutely shattered and ready for a good night's sleep by the time you manage to get them away from the pool and take them back to the family apartment!
Apres Ski
And now it's wind-down time… and you will not be disappointed in Val Thorens' range of bars and restaurants. From fine French dining at La Piscine and Les Clarines through to drinks at Le Blanchot and Café de Péclet, Val Thorens offers chilled out evening entertainment throughout the season, and the size of the resort means that you're never too far away from your guest house or bed and breakfast at the end of the night!
Getting Around
The nearest airports to Val Thorens are Chambery and Geneva, or alternatively you can get a train to Moutiers, which is an hour by road to the resort itself - you can get a bus that goes direct. It is possible to ski in to Val Thorens from Les Menuires or Meribel (blue or red pistes) but be aware that if the weather is poor the high level lifts which are needed might be closed.
Cars are banned within Val Thorens itself, which makes for a very chilled out resort. There is a free resort bus should you need it, but the resort is small enough that you will be able to make your way around on foot. You can also hire bicycles, should the weather permit it.