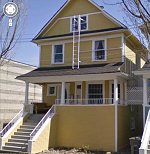 There is a good reason why Vancouver is consistently ranked as one of the most livable and attractive cities in the world. It is a vibrant, cosmopolitan city with a chilled out West Coast vibe that's all about good health, enjoying the outdoors and making the most of the simple things in life. Rent an apartment through Wimdu and enjoy a break exploring Vancouver.
Where to stay - Apartments and Accommodation in Vancouver
Most accommodation, from high-end to budget, can be found in downtown Vancouver. The downtown core isn't very big, and it is mostly surrounded by water so it's very easy to navigate.
Take the opportunity to live like a local and book a Wimdu rental, staying in a studio or an apartment and getting an authentic insight into what it would be like to be a real Vancouverite!
If you want to be close to the mountains and outdoors, take a look at the area around Lions Gate Bridge in North Vancouver. If you have a rental car, this is an ideal spot, and would be the perfect place to rent your own accommodation and have a real explore.
There really isn't a bad time to visit Vancouver, but the most popular period are the months between June and September. During this time hotels and hostels can get busy with low availability, so a good option would be to book one of Wimdu's many apartments or studios and get to know the city from a different perspective. If there are a group of people going, you can search for extra or en-suite bathrooms, childrens facilities, swimming pools and more.
Vancouver has several neighbourhoods worth exploring, each with its own distinct vibe, so do a little research before deciding where to book your holiday accommodation for your trip.
Things To Do
The list of things to see and do in Vancouver is endless, especially if you enjoy the outdoor life. For the first time visitor, here are a few of the most popular activities:
Hire a bike and cycle around the picturesque Stanley Park seawall.
Wander the cobblestone streets of historical Gastown and check out the iconic Steam Clock.
See whales and cute sea otters at the Vancouver Aquarium in Stanley Park.
Take the tram up Grouse Mountain, the peak of Vancouver (or you can hike the Grouse Grind if you're the adventurous type).
Visit the Capilano Suspension Bridge Park in North Vancouver and brave the cliff walk and treetop adventures.
Catch a Vancouver Canucks hockey game at Rogers Arena (hockey season is from October to April) or BC Lions football game at the iconic BC Place Stadium (football season is from July to November).
Rent a small boat from the charming village of Horseshoe Bay and explore Howe Sound, surrounded by misty fjords and snow-capped mountains.
Take a Trip to Whistler
Without question, the best day trip from Vancouver is a visit to Whistler. You can take a direct bus from downtown Vancouver but it's recommended to rent a vehicle so that you can stop and take pictures along the way, as you travel down the famous Sea-to-Sky Highway, arguably the most beautiful stretch of highway in the world.
Whistler Village is a cute, pedestrian only alpine village surrounded by snow-capped peaks and fresh water lakes. If you're the adventurous type, spend a couple of nights in Whistler, take an apartment rental or studio accommodation, and take advantage of the endless outdoor activities – skiing, snowboarding, mountain biking, zip-trekking, hiking, snowmobiling, boating, heli-tours, whitewater rafting, kayaking/canoeing, golfing, etc.
Fun Facts about Vancouver
Greenpeace, the international environmental campaign organisation, was founded in Vancouver.
Vancouver is known in the movie business as "Hollywood North" as it is the third largest film production centre in North America. Blade, Jumanji and Night at the Museum were all made in Vancouver, as well as the X-Files TV series.
Famous Vancouverites include Bryan Adams, Pamela Anderson, Michael J Fox and Seth Rogen.
If you are lucky you will see dolphins and whales in the waters close to the city.
Eating and Drinking in Vancouver
Vancouver is a very multicultural city, so there are literally hundreds of options for all budget types. Sushi lovers and caffeine addicts will be in heaven – there's a coffee shop or Japanese restaurant virtually every street in Vancouver.
The quality and range of fresh food available also makes staying in for the evening and cooking up a storm in your holiday apartment a very tempting idea, or you could always leave your accommodation and head down to one of the beaches with a tasty picnic.
Eat dim sum and shop for exotic treats in Vancouver's lively Chinatown or head to Yaletown for fine dining. When you are happily full, dance the night away at the Granville Street entertainment district, home to dozens of restaurants, bars and night clubs.
Getting Around Vancouver
Vancouver is very walkable and easy to navigate because most of the downtown area is surrounded by water. The city is surrounded by a scenic seawall that's perfect for roller-blading, running, cycling, skateboarding and walking.
Transport is very good. The Seabus is a 12-minute ferry that connects Vancouver with North Vancouver (where the mountains and provincial parks are located). And the SkyTrain/Canada Line connects downtown Vancouver with the suburbs. There is also the usual comprehensive bus system you would expect from a large city.
If you want to explore outside the city, it's best to rent a vehicle, or of course book a studio or apartment rental outside the city, and come in for a day trips.