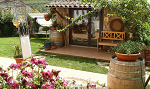 "Two households, both alike in dignity, in fair Verona, where we lay our scene..." Since Shakespeare put quill to parchment and wrote the most famous love story of all time, Romeo and Juliet, Verona has been known as the city of romance! Whisk your significant other away for a surprise weekend in a chic apartment and enjoy a romantic wander through the Roman ruins - you can even visit Juliet's house and recreate the famous balcony scene! Verona also gives its name to the region surrounding the city, and the whole area is a popular tourist destination, especially now that Verona has been given UNESCO World Heritage Status. Enjoy your holiday in this beautiful Italian city!
Where to Stay in Verona
Whether you decide to stay in the city itself, or one of the charming towns and villages surrounding it, you have the choice of some beautiful holiday accommodation. Valeggio sul Mincio, Peschiera del Garda and Villafranca di Verona are all lovely small towns, with a good range of restaurants and bars if you want a bed and breakfast or guesthouse for a quiet holiday. If you would rather stay in the city, look for an apartment in città antica area of the city - this is the ancient part that corresponds roughly with the old Roman city. Veronetta and Borgo Trento are both nice neighbourhoods with a variety of holiday accommodation available, and if you want something with the benefits of city and country, take a look at apartments in Parona, on the outskirts of the city. Booking your holiday home through Wimdu gives you the freedom to specify exactly what you want, to fit your vacation needs exactly - whether that is a family villa with a swimming pool, or a penthouse pad with views over the city.
Fun Facts about Verona
There are 27 other cities in the world named Verona - mostly due to the popularity of Shakespeare's plays!
Verona has three professional football teams! They are Virtus Vecomp, Chievo Verona and Hellas Verona which is in Italy's first division, Serie A
Julius Caesar used to come to Verona to chill out and get away from Rome!
Things to Do and See in Verona
Verona's Roman history is fascinating, and there are many preserved ruins - make sure that you check out the Roman Arena, a staggeringly big amphitheatre and still used for performing opera! If you are in the city during the opera season, make sure you get a ticket! The entire Roman city is pretty much intact, but about 6m under the surface! Other Roman ruins that you should go and look at are the Arco dei Gavi, the Porta dei Borsari and the theatre on the banks of the Adige river - again, this is now back in use and you can go and see plays performed there. Another must-see is Castelvecchio, a 14th century castle which is now also the Verona Art Museum, which is packed full of beautiful artworks and sculpture from Renaissance and Medieval times.
And of course, no trip to Verona is complete without a pilgrimage to the most famous balcony in literature at Casa di Giulietta, or "Juliet's House"! Even though the balcony was actually only added to the house in the 1930s in a slightly cynical bid to attract tourism, it's still worth going to see the hundreds of love notes written by the incurably romantic and tacked all over the walls (normally secured there with chewing gum, rather less romantically!)
Make sure that you wander down to the Piazza delle Erbe, Verona's bustling and picturesque city square. There is a daily food market there, so if you're in a self-catering flat it's the perfect place to pick up a bottle of wine and some fresh produce to take back for a proper Italian feast!
Day Trips
The region of Verona (as opposed to the city) is sprinkled with charming Italian towns and village, so if you are staying long enough make sure that you have a few days outside of the city. You could even rent a villa for a night and have a "holiday within a holiday"!
If you want to pick up an amazing souvenir, take a trip to the small town of Cerea is famous for its furniture, with over 500 furniture factories! Nearly all of them are artisan handicraft shops. Soave is another interesting day out - take a look at the imposing castle.
For a look at more archaeological remains, head out to Peschiera del Garda and explore the old fortress which is on an island in the river Mincio, which runs into Lake Garda. You can also spend a pleasant afternoon wander the banks of Lago del Frassino, which is protected as a site of importance for migratory birds, so keep an eye out for wildlife!
Getting Around
Getting to Verona is easy by plane - fly into Catullo Airport which is only 12 km outside the city. You can get a bus directly to Verona railway station in the city centre from the airport. Once you are in the city, most of the main tourist sites are within walking distance from each other, but we recommend you take advantage of Verona's city bike hire scheme to get around. Alternatively, check with your Wimdu host as many villas and guest houses come with a bike or two thrown in! If you want to really explore the countryside, look into renting a car, although there is a rail network if that's not an option.