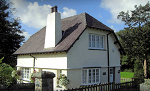 Welcome to Wales – one of Britain's most individualistic and beautiful countries. Welsh people are famous for their friendliness and openness and you can expect a warm welcome when you visit! Wales is a country of contrasts – South Wales is fairly industrialised and contains two of the country's main cities (Cardiff and Swansea) whereas the north of Wales is more remote and is a popular tourism destination for people from north England, particularly people from Liverpool. Mid and West Wales are the country's most under populated places and you'll find some beautiful scenery, gorgeous holiday cottages and stunning coastline if you head there.
Fun Facts about Wales
Did you know that world famous actors Anthony Hopkins, Catherine Zeta Jones and Christian Bale are all Welsh?
Mount Everest was named after a Welshman – Sir George Everest from Breconshire!
There are 4 times more sheep in Wales than people!
Saint David is the patron saint of Wales!
Sir Tim Berners Lee, inventor of the World Wide Web, owns a cottage in South Wales!
Where to stay in Wales
Obviously the type of accommodation you are looking for will depend on where you are staying, whether that is a city centre apartment in Cardiff to a cute country cottage in Pembrokeshire. With Wimdu, you can really tailor your search to make your perfect holiday, from self-catering holiday homes in the mountains or bed and breakfast by the coast, to a glitzy penthouse in the city. You can search for exactly what amenities you need, whether that is an en-suite bathroom, extra bedrooms, or children's facilities if you are travelling as a family. Wimdu have a huge variety of self-catering accommodation available, which is perfect if you are holidaying on a budget.
Things to See and Do in Wales
The Great Outdoors!
The Welsh countryside is famous for its wild moorlands, rolling hills and excellent hiking and mountain biking opportunities. Whether you're walking along a coastal path in Cardiganshire, scaling the dizzy heights of Snowdon (Wales' highest mountain), walking the Offa's Dyke path or mountain biking in Breconshire, the Welsh countryside is always amazing! Rent a holiday cottage in a Welsh village to really "live like a local" during your stay.
Castles
Wales has more castles per square mile than any other country and there are plenty of great examples of these historical landmarks. Cardiff Castle is perhaps the most famous Welsh castle and dates back to the 11th century. Cardiff Castle has managed to remain intact because it was renovated with profits from the booming coal industry in the 19th and 20th centuries. There are also notable castles in Caerphilly, Harlech, Pembroke and White Castle.
Cardiff – the capital of Wales!
Wales' capital is an exciting and youthful city with great tourist attractions, cultural scene and nightlife. Cardiff Bay has been given a makeover and today it's popular with tourists who enjoy visiting the Welsh Assembly, the Millennium Centre, the Norwegian Church and Techniquest, amongst other things. Cardiff Bay is located a short distance from the city centre and buses and trains connect the two. Cardiff city centre is a pleasure to walk around and you'll find many interesting shops and restaurants - renting holiday accommodation in Cardiff is a really great way to get to know the city, and also as a base to explore the Valleys towns to the north of the city. For food, try Cardiff Market, located in an impressive Victorian Structure, and a great place to get a taste of local life and a cheap bite to eat! The formidable Cardiff Castle dominates the city centre and guided tours are available of the lushly decorated interior of the castle. Welsh culture plays a big part in everyday life in the capital and the city has several well-loved arts venues including Clwb Ifor Bach, St David's Hall and Chapters Art Centre.
Pretty towns
South Wales has some beautiful market towns that are well worth visiting. Abergavenny is famed for its excellent food and beautiful surrounding hills, Hay-on-Wye is known as a 'book town' and features over 20 book shops not to mention an annual literary festival that attracts international names – impressive for such a small place! If you want to stay for the festival make sure you get your holiday accommodation booked well in advance, as it is very popular! In the valleys Brecon has some great pubs and great hiking opportunities in the surrounding hills. Tenby on the south coast is a popular seaside town with some nice beaches and colourful streets.
Getting Around
Wales' main and only proper airport is Cardiff Airport, located just outside the capital. The airport receives many flights from all over the UK and Europe. It's a 30 minute bus journey from the airport into town and special airport buses have recently been introduced. Wales has several railway lines, the biggest and most significant runs from Milford Haven in the southwest through Swansea and toward Cardiff then up the Welsh-English border northward until Chester. From Chester the line then runs west again toward North Wales and terminates on Anglesey. There is also a train line that connects Aberystwyth and also smaller train lines connecting towns in the South Wales valleys such as Merthyr Tydfil and Ebbw Vale. The M4 motorway runs from London all the way through South Wales past Newport and Cardiff and is the quickest Wales to travel around South Wales. Throughout Mid Wales and North Wales roads are less developed and slower. If you are exploring the countryside, and staying in a more remote guesthouse, then it is really worth looking into car rental, as public transport can be patchy.