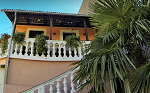 Like a film-set, or something out of a story book, Zadar almost doesn't look like a real place. It is perhaps as bizarre as the name suggests. A city set within a perfect rectangle in the Adriatic sea in Croatia, Zadar is a historic centre, consisting of Roman ruins and medieval buildings. It is not certainly not your typical tourist place, with its mish-mash of architecture and lack of greenery, but it is undeniably characterful and beautiful in a completely different way. It is also surprisingly uncrowded, considering its size. If you want an escape from the typical British holiday tourist hustle and bustle, overcrowded beaches and commercial hotels, Wimdu has a great selection of city apartments in Zadar, for the perfect alternative holiday.
Apartments in Zadar
Zadar apartments have a certain unique flavour. Cosy and compact, the Croatians tend to favour convenience over space. That is not to say, however, that you can't find some truly impressive modern apartments in Zadar. Continuing the theme throughout the city, the accommodation on offer comprises a mish-mash of architecture. There are modern apartments that boast slick laminate flooring and shiny white kitchens and there are more traditional Croatian apartments take on more of an Eastern European feel, with white-wash stone walls, colorful rugs and ethnic decor. So whether you're after grapevines snaked around your marble balcony or a new build that caters for 8 people, Wimdu has a whole host of apartments available in Zadar.
The Wimdu experience
Renting a Wimdu apartment in Zadar means you will get a high-quality home from home, with all the amenities you could possibly need for your travels. As the apartment is either owned by a Croatian local or someone who holidays regularly in the area, the experience you get is completely different from staying in commercial accommodation. Your host will be able able to give you tips and advice about the area, from an insider's perspective and they'll make sure you have more than you need for a comfortable stay in Zadar!
Fun Factsr
The origin of the name of Zadar dates back to pre-ancient times, thought to have been coined by the ancient Mediterranean people.
Only one of the summer months in Zadar sees less than 1.6 inches of rainfall, which means the climate is classified as a humid subtropical and mediterranean.
Zadar was one of the starting points for invasion in World War II, and has since seen the SFR Yugoslazia war in 1947 and the Croatian War of Independence in 1991, which went on for 4 years.
Today Zadar has over 11 cultural institutions.
Things to do
Streets of marble, interesting architecture, natural beauty, and very few tourists; Zadar is a great place to explore, chill out and learn about an amazing and diverse culture. There is so much to see here, from beautiful natural parks to stunning Roman ruins, impressive museums to breath-taking beaches, you probably won't be spending much time in your apartment at all!
Sun Salutation
The Sun Salutation is an interesting and unique creation by Croatian born architect Nikola Bašić. Cut into the pavement is a 22m circle of multilayered glass plates, collecting the sun's rays and producing a spectacular light show that supposedly stimulates the solar system.
Sound-and-light spectacle of the Sea Organ
Nikola Bašić has also created another unique sculpture in the city, the Sea Organ, which consists of a set of pipes set into the stone stairs descending into the sea. The sea itself is the musician for this mesmerising instrument, pushing air through the organ with its monotonous movement.
The Town Hall
The Town Hall and walls of Zadar present the only remains of the early medieval and ancient Roman fortifications of the city. You can take a tour of the city walls should you wish, which covers no less that four old city gates.
Archaeological Museum
The Archaeological Museum is a three floor homage to the ancient Romans, Illyrians and Liburnians, with artifacts ranging from metal work to marble statues. If you didn't already get your fill of historical stimulant just walking around the city, there are several excellent museums you can visit in Zadar.
The Museum of Ancient Glass
The Museum of Ancient Glass is a truly impressive museum, both architecturally and from a collection perspective. The layout consists of several giant light boxes and walking around you are accompanied by celestial music designed to enhance your experience. The museum itself takes you through the history of glass, from invention to present day usage, with thousands of glass artifacts on display. Leaving the museum is sure to leave you longing to return to an apartment of glass.
Nightlife
Although Zadar is primarily a place for poets, art lovers, ramblers and historians, you will find the city is also just as buzzing with life the minute the mosquitos come out. The bars in Zadar are full of atmosphere - where there are great drinks, there is also great music too. If you are staying in Zadar in August you will also be just in time to catch the Full Moon Festival where the quays are lit up with candle light and the strip is turned into a vibrant midnight market.