Is it possible to explore Berlin free of charge? If you're on a tight budget then you're in luck: the answer is yes! The fact that this global metropolis offers so many freebies is hardly a secret. In the vibrant German capital there's always something going on. You're guaranteed to be in for some real fun. While many of the city's most popular attractions charge for entry, there's also a broad selection of freebies on offer!
Berlin's wide range of free activities is bound to impress and some of the secrets are hidden in plain sight. For example, the radio station 105.5 Spreeradio offers free entry to many cultural institutions as part of their "Berliner Schätze" (English: Berliner Treasures) campaign. Each day a venue is announced on the radio. Visitors can then head there to claim free entry by using the password "105.5 Spreeradio – The 50/50 Mix".
In the vibrant Kreuzberg district the children's youth circus, Cabuwazi, also invites visitors in for free entry. The attractions offer a mixture of theatre, dance, circus tricks and music that are both interactive and free of charge. Check out the list below to see 30 other fun and free activities to enjoy with kids.
Why not pay a visit to the Knoblauchhauses in Berlin Nikolaiviertel? This well preserved mansion was built in the 18th century and is considered to be one of the most beautiful private houses in the city. Now, as a museum, the Knoblauchhauses offers a free-of-charge insight into Berlin upper class culture during the Biedermeier period.
While visiting the iconic Brandenburg Gate, why not take a detour and check in at the nearby Europäisches Haus (European House)? The institution offers access to a permanent exhibition, giving insight into the historical and political aspects of the European Union. Entry is free of charge, and visitors can enjoy interactive exhibits and discussions.
These are just a handful off the exciting activities on offer free of charge within the city. Our practical map, shown below, offers a concise overview of many of the great activities available to explore free of charge. While all of this comes without a price tag, please bear in mind that donations are welcome at many of venues, and also be aware that free entry may be limited to specific times. More detailed information is provided on the respective websites of each location.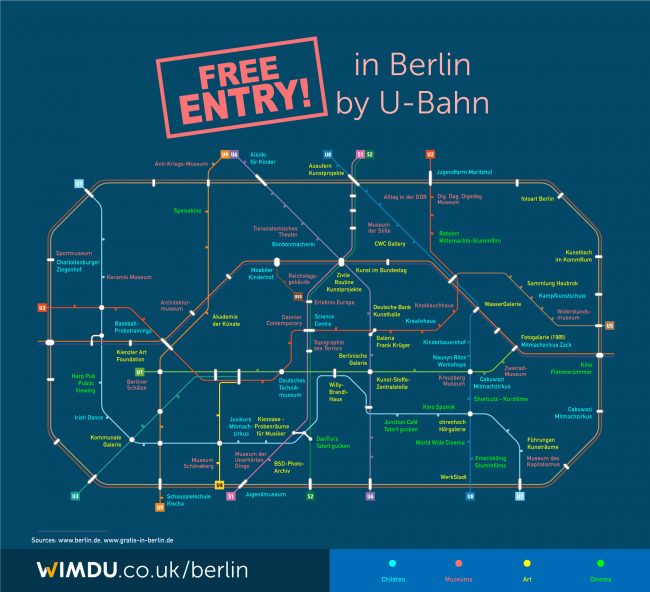 The full version: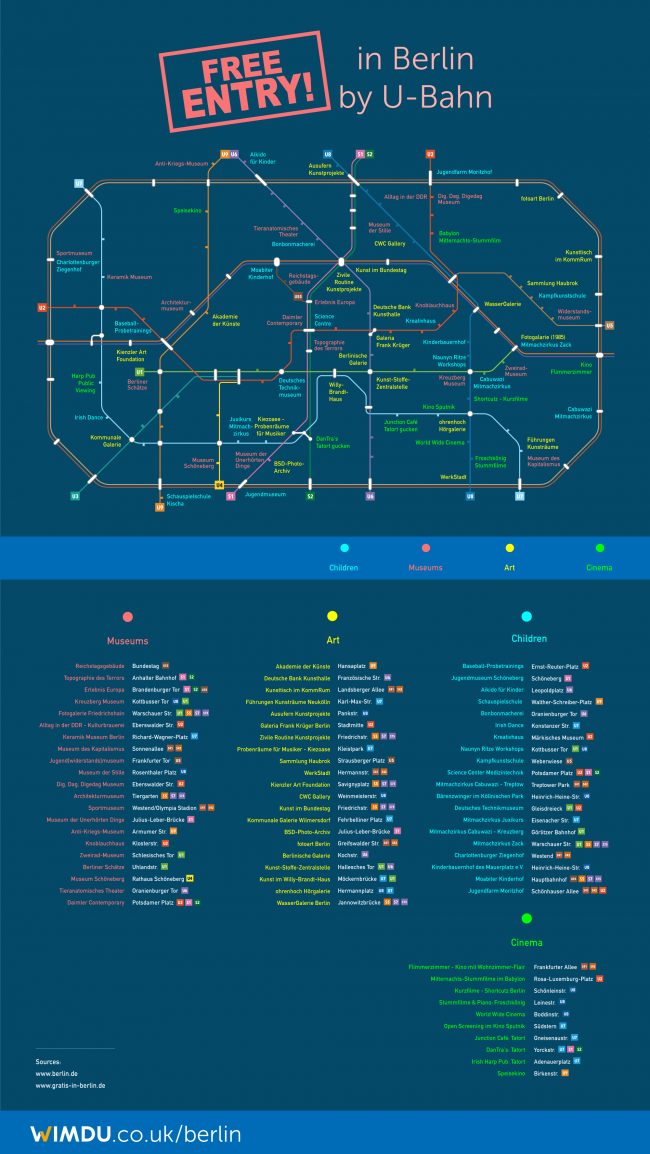 If you enjoy some of these activities and want to explore Berlin's nightlife via the Underground, check out our Berlin Clubs by U-Bahn post, or the infographic below!
Affordable accommodation in Berlin can be found for for the whole family with Wimdu!
Below you will find the information of all free activities. Please be aware that in many venues admission is only free on certain days of the week, once per month or for children below a certain age. Take a closer look at this list and fill your itinerary with free things to do in Berlin!
Charting the Freebies
| | | | | |
| --- | --- | --- | --- | --- |
| Category | Activity | Address | Station | Validity |
| Children | Bunter Kindernachmittag | Rudower Str. 37 12557 | Spindlersfeld | Thursdays |
| Children | Baseball – Probetrainings | Schillerstraße 125 10625 | Ernst-Reuter-Platz | Sundays |
| Children | Jugendmuseum Schöneberg | Hauptstr. 40/42 10827 | Schöneberg | |
| Children | Aikido für Kinder | Triftstraße 67 13353 | Leopoldplatz | Mondays and Fridays |
| Children | Schauspielschule | Bornstrasse 11 – Gartenhaus, 12163 | U Walther-Schreiber-Platz | Mondays |
| Children | Zwergenmusik | Gensinger Straße 58 10325 | Friedrichsfelde Ost | Mondays |
| Children | Bonbonmacherei | Oranienburger Str. 32 10117 | Oranienburger Tor | |
| Children | Kinderbauernhof Pinke Panke | Am Bürgerpark 15-18 | Wollankstraße | |
| Children | Irish Dance | Westfälische Strasse 16A 10709 | Konstanzer Str. | Tuesdays |
| Children | Renntage auf Trabrennbahn Mariendorf | 222 Mariendorfer Damm 12107 | Alt-Mariendorf | |
| Children | Kreativhaus | Fischerinsel 3 10179 | Märkisches Museum | |
| Children | Naunyn Ritze Workshops | Naunynstraße 63 10997 | Kottbusser Tor | |
| Children | Kampfkunstschule | Palisadenstr. 49 10243 | Weberwiese | |
| Children | Science Center Medizintechnik | Ebertstr. 15a 10117 | Potsdamer Platz | |
| Children | Mitmachzirkus Cabuwazi – Treptow | Bouchéstr. 7412435 –Treptow | Treptower Park | |
| Children | Bärenzwinger im Köllnischen Park | Rungestraße 3 10179 | Heinrich-Heine-Str. | |
| Children | Deutsches Technikmuseum | Trebbiner Straße 9 10963 | Gleisdreieck | Up to 18 years, from 3pm |
| Children | Juxikurs Mitmachzirkus | Barbarossastr. 65 10781 | Eisenacher Str. | Over 10 years |
| Children | Mitmachzirkus Cabuwazi – Kreuzberg | Wiener Str. 59h10999 | Görlizer Bahnhof | |
| Children | Mitmachzirkus Zack | May-Ayim-Ufer 410997 | Warschauer Str. | |
| Children | Charlottenburger Ziegenhof | Danckelmannstraße 16 14059 | Westend | |
| Children | Kinderbauernhof des Mauerplatz e.V. | Leuschnerdamm 9, 10999 | Heinrich-Heine-Str. | |
| Children | Moabiter Kinderhof | Seydlitzstr. 12 10557 | Hauptbahnhof | |
| Children | Jugendfarm Moritzhof | Schwedter Str. 90 10437 | Schönhauser Allee | |
| Cinema | Speisekino | Siemensstraße 27 10551 | Birkenstr. | Fridays |
| Cinema | Flimmerzimmer – Kino mit Wohnzimmer-Flair | Finowstraße 33 10247 | Frankfurter Allee | Fortnightly, on Thursdays |
| Cinema | Mitternachts-Stummfilme im Babylon | Rosa-Luxemburg-Str. 30 10178 | Rosa-Luxemburg-Platz | Saturdays |
| Cinema | Kurzfilme – Shortcutz Berlin | Pflügerstr. 19 12047 | Schönleinstr. | Wednesdays |
| Cinema | Stummfilm & Piano: Froschkönig | Weisestraße 17 12049 | Leinestr. | Wednesdays |
| Cinema | World Wide Cinema | Wissmannstraße 32 12049 | Boddinstr. | |
| Cinema | Open Screening im Kino Sputnik | Körtestraße 15 10967 | Südstern | Every third Wednesday |
| Cinema | Junction Café: Tatort | Gneisenaustr. 18 10961 | Gneisenaustr. | Sundays |
| Cinema | DanTra's: Tatort auf Leinwand | Kulmer Straße 20 a 10783 | Yorckstr. | Sundays |
| Cinema | Irish Harp Pub: Tatort | Giesebrechtstraße 15, 10629 | Adenauerplatz | Sundays |
| Art | Akademie der Künste | Hanseatenweg 10 10557 | Hansaplatz | Tuesdays |
| Art | Deutsche Bank Kunsthalle | Unter den Linden 13-15 10117 | Französische Str. | Mondays |
| Art | Kunsttisch im KommRum | Straßmannstraße 17 10249 | Landsberger Allee | Thursdays |
| Art | Führungen Kunsträume Neukölln | Karl-Marx-Straße 131 12043 | Karl-Max-Str. | Saturdays |
| Art | Ausufern Kunstprojekte | Badstr. 41a 13357 | Pankstr. | 1. – 4. des Monats |
| Art | Galeria Frank Krüger Berlin | Mohrenstrasse 30 10117 | Stadtmitte | |
| Art | Zivile Routine Kunstprojekte | Dorotheenstraße 12 10117 | Friedrichstr. | First Monday of the month |
| Art | Probenräume für Musiker – Kiezoase | Barbarossastraße 65 10781 | Kleistpark | |
| Art | Sammlung Haubrok | Strausberger Platz 19 10243 | Strausberger Platz | Sundays |
| Art | WerkStadt | Emser Straße 124, 12051 | Hermannstr | |
| Art | Kienzler Art Foundation | Bleibtreustraße 54 10623 | Savignzplatz | |
| Art | CWC Gallery | Auguststraße 11-13 10117 | Weinmeisterstr. | |
| Art | Kunst im Bundestag | Schiffbauer Damm 10117 | Friedrichstr. | |
| Art | Kommunale Galerie Wilmersdorf | Hohenzollerndamm 176 10713 | Fehrbelliner Platz | |
| Art | BSD Photo Archiv | Gustav-Müller-Straße 1 10829 | Julius-Leber-Brücke | |
| Art | fotoart Berlin | Bötzowstrasse 37 10407 Germany | Greifswalder Str. | |
| Art | Berlinische Galerie | Alte Jakobstraße 124-128, 10969 | Kochstr. | Until 18 years |
| Art | Kunst-Stoffe-Zentralstelle | Alexandrinnenstraße 4 10969 | Hallesches Tor | |
| Art | Kunst im Willy-Brandt-Haus | Wilhelmstraße 140 10963 | Möckernbrücke | |
| Art | ohrenhoch Hörgalerie | Weichselstr. 49 12045 | Hermannplatz | Sundays |
| Art | WasserGalerie Berlin | Stralauer Straße 33, 10179 | Jannowitzbrücke | |
| Museum | Reichtagsgebäude | Platz der Republik 1, 11011 | Bundestag | |
| Museum | Topographie des Terrors | Niederkirchnerstraße 8 10963 | Anhalter Bahnhof | |
| Museum | Erlebnis Europa | Unter den Linden 78 10117 | Brandenburger Tor | |
| Museum | Kreuzberg Museum | Adalbertstraße 95 A 10999 | Kottbusser Tor | |
| Museum | Fotogalerie Friedrichshain (since 1985) | Helsingforser Platz 1 10243 | Warschauer Str. | |
| Museum | Museum in der Kulturbrauerei: Alltag in der DDR | Schönhauser Allee 36 10435 | Eberswalder Str. | |
| Museum | Keramik Museum Berlin | Schustehrus 13 10585 | Richard-Wagner-Platz | Last Monday of the month |
| Museum | Museum des Kapitalismus | Böhmische Str. 11 12055 | Sonnenallee | |
| Museum | Jugend[widerstands]museum | Rigaer Straße 9/10 10247 | Frankfurter Tor | |
| Museum | Museum der Stille | Linienstraße 154 A, 10115 | Rosenthaler Platz | |
| Museum | Dig, Dag, Digedag Museum | Knaackstraße 97 10435 | Eberswalder Str. | |
| Museum | Architekturmuseum | Straße des 17. Juni 152 | Tiergarten | |
| Museum | Sportmuseum | Hanns-Braun-Straße 14053 | Westend/Olympia Stadion | |
| Museum | Wassersportmuseum | Regattastr. 141 12527 | Grünau | |
| Museum | Museum der unerhörten Dinge | 10827 -Schöneberg | Julius-Leber-Brücke | |
| Museum | Anti-Kriegs-Museum | Brüsseler Straße 21 13353 | Armumer Str. | |
| Museum | Knoblauchhaus | Poststr. 23 10178 | Klosterstr. | |
| Museum | Spandovia Sacra | Havelstraße 16, 13597 | Zitadelle | |
| Museum | Zweirad-Museum | Köpenicker Straße 8 10997 | Schlesisches Tor | |
| Museum | Elektropolis | Reinbeckstr. 9 12459 | Schöneweide | |
| Museum | Blinden-Museum | Rothenburgstr. 14 12165 | Rathaus Steglitz | |
| Museum | Deutsch-russisches Museum | Zwieseler Straße 4 10318 | Karlshorst | |
| Museum | Berliner Schätze | Kurfürstendamm 207-208 10719 | Uhlandstr. | |
| Museum | Museum Schöneberg | Hauptstraße 40, 10827 | Rathaus Schöneberg | |
| Museum | Tieranatomisches Theater | Philippstraße 12/13, 10115 | Oranienburger Tor | |
| Museum | Daimler Contemporary | Alte Potsdamer Straße 5, 10785 | Potsdamer Platz | |