Lisbon is an alpha-level city with plenty of history and a mix of cultures. This is apparent in its architecture, habits, food and general daily life. The city is extending its boundaries farther and farther nowadays but it still has the atmosphere of a village nestled below St. George Castle. On the other hand, Lisbon is a modern city, which welcomed 3 million tourists in 2017. With plenty to experience in the Portuguese capital, it might be a little difficult to figure out where to stay. Fear not! Help is at hand! Check our guide to the best neighbourhoods in Lisbon, each with its own selection of wonderful Wimdu apartments.
The Four Bairros
If you are in Lisbon for a 3-day weekend break and it is your first visit, we highly recommended staying in one of the four main barrios: Belém, Baixa, Alfama and Bairro Alto. The last three barrios are in the heart of Lisbon, where most of the main attractions are within walking distance or easily reachable by public transportation. But let's start with the farthest barrio.
Belém
Belém is a good choice if you are looking for a peaceful location within walking distance of main sights such as Belém Tower, Jeronimos Monastery and the Monument to the Discoveries, all situated a short distance from one another. This neighbourhood is located at the mouth of the River Tagus, four miles from the centre. It offers a long promenade where you will come across many Lisboetas walking or jogging. A great number of museums can be found in the area: the Cultural Centre of Belém, the Museum of Art, Architecture and Technology, the National Coach Museum and the Museum of the Orient. It is a very safe district with a number of embassies and beautiful mansions.
Baixa
Baixa, also known as Baixa Pombalina, was rebuilt by Prime MinisterMarquês de Pombal after the 1755 earthquake. It is considered downtown Lisbon, starting from the Praça do Comercio near the river. It is a very nice and convenient place to stay as it stands in the centre of the city, within walking distance of Alfama and Bairro Alto. There are a great number of pedestrian streets where you can shop, eat or watch the street entertainment. It has two large squares, Praça da Figueira and Praça do Rossio, lovely terraces and the famous Rua da Rosa street.
Alfama
Alfama is the oldest district of Lisbon. Named after the Moorish conquest, it means 'fountain' and indeed you can still find some springs of potable water when walking around. Luckily, Alfama was not destroyed by the 1755 earthquake and its labyrinthic narrow streets are still here for you to get lost among. The barrio was originally inhabited by fishermen and people from humble origins that have remained for generations.
Nowadays part of Alfama's buildings have been renewed and a great number of beautiful apartments can be found with an authentic Portuguese style and modern amenities. Visitors here will be close to typical restaurants, Fado bars and wonderful Miradouros with panoramic views over the city, such as Miradouro de Santa Luzia and Portas do Sol. At the top of Alfama stands St. George's Castle and below it is Lisbon Sé, the oldest cathedral in the city. From there you can take the famous 28 tram to Bairro Alto.
Bairro Alto
Bairro Alto is the nightlife district of Lisbon. So, if you need a good night's sleep, it is not the right place for you. On the contrary, if you intend to spend time enjoying the Portuguese nightlife, choose accommodation in this area. Between 7-8 pm, Lisboetas begin filling the streets and the fun continues until very early in the morning. Low, colourful old buildings with steep stairs and attic rooms are characteristic of this area. In terms of things to do in the area, we recommend having a drink in the beautiful garden-terrace of Miradouro de São Pedro de Alcântara, visiting the Carmo Convent ruins, strolling down to Praça Camões, having a coffee at the Brasileira and taking a selfie with Fernando Pessoa's statue.
Portuguese Riviera
The Portuguese Riviera is called as Linha by the locals. This is a reference to the railway connection that links Lisbon to this area. It is located west of Lisbon and includes the towns of Sintra, Estoril and Cascais. It gained its Riviera designation because, during the World War II, the kings of England, Spain and Italy settled there.
Cascais and Estoril
A convenient train will take you from the centre of Cascais to Cais do Sodré metro station in Lisbon in 40 minutes. Cascais became popular in the 19th century when the royal family elected it as their seaside resort. It first attracted the nobles and then the rich and famous from all over Europe. In fact, Cascais has its own aerodrome for private jets. In the past, it was a fishing village and also played a part in defending the entrance to Lisbon. Nowadays, it is a wealthy neighbourhood, with a centre that has a charming and informal atmosphere that will seduce you. A number of small beaches can be found and a beautiful one for surfers is Praia do Guincho.
Estoril is four minutes away by train from Cascais. Formerly home of the F1 Portuguese Grand Prix, it is now home to the Motorcycle Grand Prix. Moreso, it is known as a stylish beach resort with top-notch restaurants and the largest casino on the Iberian Peninsula. Estoril also has its fair share of surfing beaches, as well as a number of family-friendly beaches.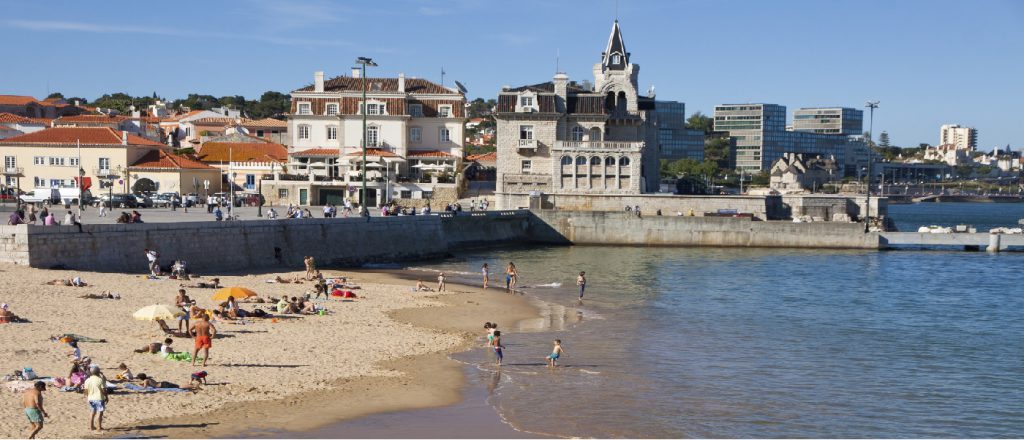 Sintra
Sintra, located 11 miles from Cascais and 21 miles from Lisbon, has played an extensive role in Portuguese history. As a result of its location high in the Sintra Mountains, it was the home of various royal families during the hot summers. Sintra is a jewel of 19th-century romanticism and a mystical place that inspired a number of poets and writers, such as Eça de Queiroz, Luís de Camões and Lord Byron. Notable attractions in the area are the Castle of the Moors, the National Sintra Palace, Pena Palace, the Capuchin Convent, Montserrat Palace and Quinta da Regaleira. Be aware that if you stay in this area, it can be very humid in the summer and chilly in the winter.
Lisbon is a precious city often left off typical tourist destination lists but that is changing. Over the past years, it has developed very quickly, in part thanks to the increase in visitors. Check it out for yourself! Book a typical Portuguese home now and enjoy a city that ranks high for safety, healthy food, historical monuments and good weather.