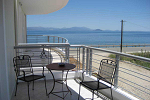 Greece is perhaps Europe's most beautiful and intriguing holiday destination. It's a country of contrasts – barren landscape meets gorgeous coastline and dusty city living meets quiet island lifestyles. It's a country steeped in ancient history with many historical sites still standing. Cuisine and culture has a distinct Greek attitude – no nonsense with a slightly theatrical edge to it. There's much more to Greece than Athens and in this guide we'll run through the other highlights of this fantastic Mediterranean nation, including ideas of where to stay, and the sort of Wimdu accommodation you might want, from luxury villas to self-catering city apartments.
Fun Facts
Greece receives 16.5 million tourists each year – that's more than the country's population!
Greek is one of the oldest languages in Europe – it's been spoken for nearly 3,000 years!
40% of Greece's population lives in Athens
Nearly 80% of Greece is mountainous landscape!
Feta is the national cheese of Greece!
Where to Stay in Greece - Villas, Apartments and More
Throughout Greece there are many accommodation options for tourists. Tourism is the lifeblood of this country and holiday accommodation reflects this, in its cleanliness and maintenance. Staying in Greece can be a unique experience however and a part of this experience is lost in a boring chain hotel. Why not stay in a typical Greek villa or self-catering holiday apartment and experience what it's like to live as a Greek and wake up in your own Greek home! Wimdu have villas, holiday apartments and self-catering accommodation in Greece – find your ideal holiday home today! If you are going as a family or larger group, then you can use the Wimdu search function to find a villa with extra bedrooms, en-suite bathrooms and children's facilities.
Things to Do in Greece
Athens: The legendary city of Athens is a big draw for tourists. The city's eventful and colourful history comes alive in the city, especially in the area surrounding the Acropolis which is full of ancient remains. The Parthenon which is perched on top of the Acropolis is certainly one of the world's most impressive ancient remains. For a small entrance fee you can explore the large flat top of the Acropolis and there are some amazing views of the sprawling city of Athens. The suburb of Plaka sitting directly under the Acropolis is packed with authentic Greek restaurants and lively bars. In the summer start your night with some Greek retsina wine before enjoying some souvlaki or gyros in an atmospheric al fresco restaurant.
Away from the obvious tourist spots in Athens you'll find a city rich with exciting things to see and do. The flea market at Monastiraki is full of interesting knick-knacks and souvenirs. The pointed hill of known as Lycabettus is also worth climbing for magnificent views out to the Mediterranean. Keep an eye out for the local markets and take a picnic spread back to your self-catering villa to enjoy on your balcony or by the swimming pool.
The Greek Islands: There are an amazing number of Greek islands - around six thousand in total. The larger Greek islands are divided up into groups – theDodecanese,Ionian, Saronic, Sporades and the most popular group of islands – the Cyclades. The islands in the Cyclades are among some of the most beautiful islands in the world and people visit them from all over the world. Santorini is perhaps the most famous and its world famous sunset attracts tourists in their thousands. Santorini is a popular cruise ship destination and often these huge ships can be seen moored off the coast. Other well-known islands include Paros, Naxos and Mykonos. Islands in the Dodecanese are popular with package holiday companies and Rhodes, Kos and Karpathos are often very busy in the summer. For quieter islands which have been largely overlooked by tourists try the Sporades on the east coast of Greece.
Mainland Greece: There's much more to Greece than just Athens and the Greek islands! Why not visit Meteora – the impressive Greek orthodox monasteries that are perched atop large rock formations. You can find them Kalampaka and Kastraki in northwestern Thessaly! The Peloponnese, located west of Athens is a stunning region with lots to offer visitors including quaint villages, excellent local food and plenty of historical Ancient Greek sites. Greece's second biggest city, Thessaloniki, situated on the coast in the north of the country is a lively student city with a good dining culture and fine seafront boulevard which is a great place to people watch during the summer. Down the coast of Greece south towards Athens the large town of Volos is a great place to spend a couple of days in if you are touring the country. Further south is Mount Olympus, the highest mountain in Greece. The mountain is famous for the large amount of flowers you can find on the mountainside. Olympus is fairly easy to climb and most people set off from Litochoro which is located at the base of the island.
In the west of Greece perhaps the most notable area is the island of Corfu, which is an extremely popular with sun seeking tourists! Getting to Corfu is straightforward – there are many flights to the island from all over Europe! The famous writer Henry Miller spent plenty of time on Corfu and wrote about the island in his book 'The Colossus of Maroussi'.
Getting Around
Getting to Greece is very straightforward and affordable. There are major airports in Athens and Thessaloniki and smaller airports located in popular tourist destinations such as Santorini, Corfu and Mykonos. The best way to get around rural Greece however is by car. This will also give you even more flexibility when you are deciding where to rent your villa or holiday apartment. There are many buses and trains linking Athens and the north of Greece. In the summer months the Mediterranean sea is full of ferries taking tourists to various islands. Piraeus is the main ferry port in Athens. If you are feeling brave, hire a scooter - it is definitely the best way to get around the Greek islands and you can hire one on any island!